How Jensen Ackles And Jessica Alba Became Close After Butting Heads As Co-Stars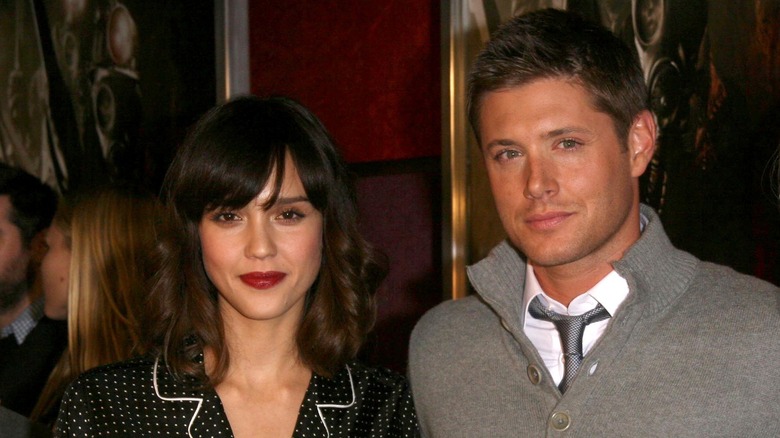 s_bukley/Shutterstock
On-screen chemistry doesn't always translate off-camera. Rachel McAdams and Ryan Gosling didn't get along at first, clashing consistently while filming "The Notebook," while Patrick Swayze and Jennifer Grey were reportedly at odds in their "Dirty Dancing" days, and, believe it or not, even Gillian Anderson and David Duchovny weren't always the best collaborators during their time on "X-Files." As the latter told Metro, "Familiarity breeds contempt," adding, "We used to argue about nothing. We couldn't stand the sight of each other." 
That being said, with the exception of a few decades-long Hollywood feuds, most actors learn to put their differences aside for the good of the project. In some cases, animosity can turn into life-long friendships or even romance. McAdams and Gosling, for instance, went from bickering off-screen to dating in real life. The "La La Land" star made headlines when he famously told GQ that their love story was "a hell of a lot more romantic" than "The Notebook." 
Although the pair never actually dated, Jensen Ackles' relationship with Jessica Alba on the "Dark Angel" set followed a similar trajectory. Over the course of Season 2, they went from constantly butting heads to relying on one another for support, with Ackles ultimately considering his former tormentor a friend as he told actor Michael Rosenbaum on his podcast, "Inside of You." 
Alba frequently made fun of Ackles on set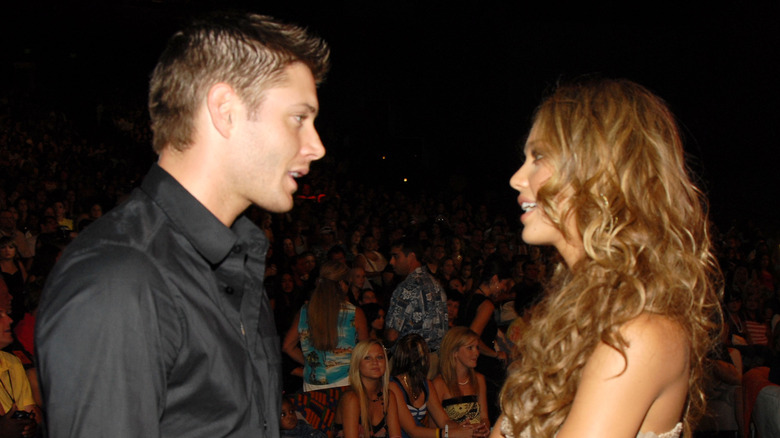 Kmazur/Getty Images
Years before his "Supernatural" fame, Jensen Ackles landed a role in the sophomore season of the hit sci-fi series "Dark Angel." The show, which Jessica Alba headlined, followed a group of genetically-engineered super soldiers. When asked by "Inside of You" host Michael Rosenbaum what it was like to work alongside Alba, Ackles answered honestly. "She was horrible," he admitted, before quickly clarifying, "I love Jess, which I know kind of contradicts what I've just said ... She was under an immense amount of pressure on that show." 
According to the future monster-hunter, Alba made fun of him behind the scenes, assuming he was just "the pretty boy that network brought in for some more window dressing." But, although the actors bickered like siblings, they were quick to help each other out in times of need. Alba was there for Ackles after the death of his grandfather, and he supported her throughout her rocky relationship with their "Dark Angel" co-star, Michael Weatherly. 
As to whether the off-screen frenemies ever dated? "She would have kicked me in the nuts if I had tried anything," Ackles told Rosenbaum, going on to call her a "very tough little vixen." Alba, who was 19 when filming began, explained on the "Who's Talking to Chris Wallace?" talk show that she often felt sexualized on set. According to The Honest Company founder, her tough exterior protected her from the male-dominated world of Hollywood.
Alba isn't the only co-star that Ackles clashed with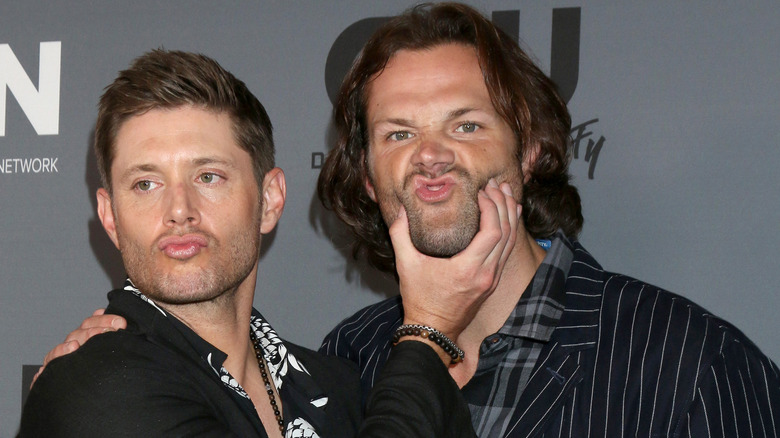 Kathy Hutchins/Shutterstock
Jensen Ackles and his wife, Danneel Ackles, teamed up with "Supernatural" producer Robbie Thompson to create a "Supernatural" prequel series called "The Winchesters." The show, which aired on the CW to mixed reviews in October 2022, followed the early lives of Mary and John Winchester before their children, Sam and Dean, entered the picture. Reprising his role as Dean Winchester, Jensen Ackles narrated the monster-hunting horror series. 
"I always felt like my character, Dean, would have wanted to know more about his parents' relationship and how it came to be. So I love the thought of having him take us on this journey," Ackles told Deadline prior to the show's release. Unfortunately, his former on-screen brother, Jared Padalecki, was upset about the "Supernatural" prequel series. Allegedly, the actor wasn't told about the spin-off in advance, and publicly expressed his disappointment on Twitter. 
"Dude. Happy for you. Wish I heard about this some way other than Twitter," he wrote to Ackles, noting, "I'm excited to watch, but bummed that Sam Winchester had no involvement whatsoever." However, the co-stars eventually made up just as Ackles and Alba did years before. "@JensenAckles and I had a great talk, as we do often, and things are good," Padalecki later confirmed, acknowledging how long they'd known each other. "Once brothers, always brothers."