The Flaming Color You Should Bring Into Your Wardrobe In Exchange For Kelly Green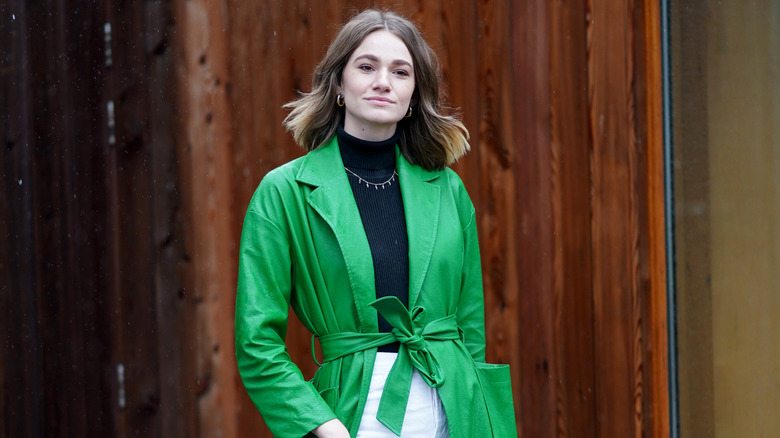 Edward Berthelot/Getty Images
In the past, if you wanted to dress in a vibrant spring shade or simply stand out by using a bright color to draw attraction, it was common to don a bold Kelly green piece of clothing. After all, you can't exactly blend in when dressed in Kelly green.
However, today in certain circles, the color can seem outdated or even matronly. Luckily there is another color that you can easily sub for Kelly green that will give you the same stand-out features while also being alluring and inviting.
Fashion designers are currently all about bright red, and the color appeared in New York Fashion Week often. "Red has been a color I've been forecasting for months so I am beyond thrilled to see it on the runway!" Marissa Galante Frank, the fashion director of Bloomingdale's, told Harper's Bazaar. "As we embrace this minimalist cycle, the color red really gives classic, tailored pieces an element of excitement and breathes new life into basics."
Why bright red says a whole lot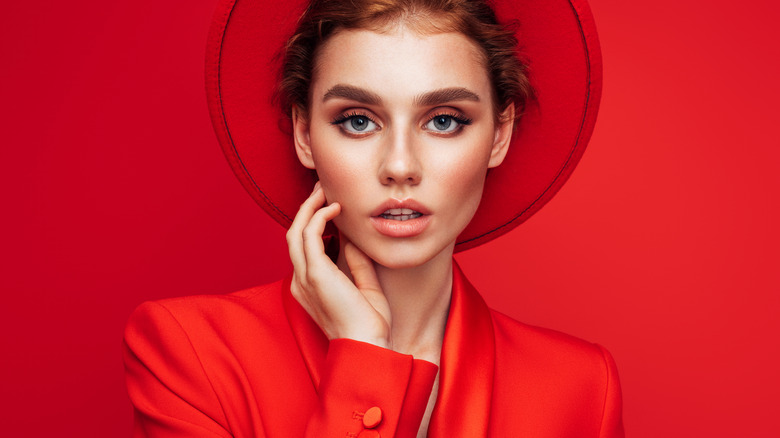 Coffeeandmilk/Getty Images
To say that wearing bright red is bold is quite an understatement, since others often perceive you for the colors you wear, and bright red is arguably the most eye-catching hue. As Charlotte Sinclair writes in Vogue, red denotes power, fire, and passion. "We are hard-wired to red. Red takes no prisoners," writes Sinclair. "Red is adrenaline, fireworks, the break with convention. Red is shorthand for high passion."
Wearing red says something. It is both a symbol of confidence and strength, and the unwillingness to sit in the background. It can also influence how you feel and how others feel around you. Not only does it symbolize power, but it is a color that is linked with attraction and allure.
"When women wear red they often want to be noticed and seen," says Karen Haller, an international authority in applied color psychology, as per Good Housekeeping. "It can make you appear more attractive. For example, when you're wearing a red dress, or a red lipstick — it's very sensual."
How to incorporate bright red into your wardrobe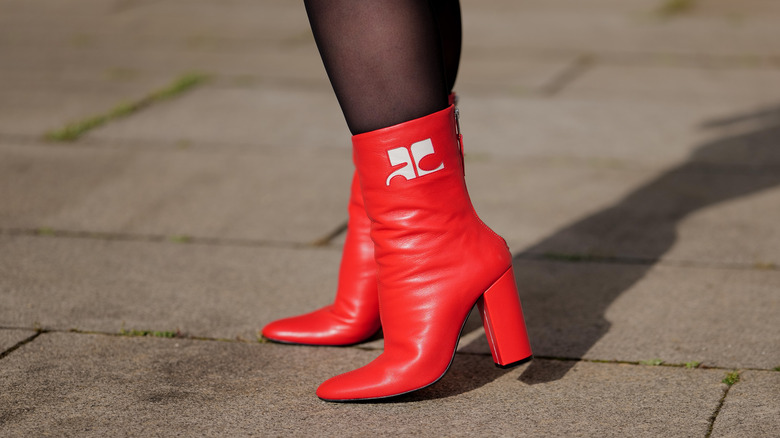 Edward Berthelot/Getty Images
You don't need to go full out and wear bright red from head to toe, though if you feel like doing that, by all means, go for it. According to The Trendspotter, you can pair the same shade of red for a jacket and pants or a skirt, and then add a lighter or darker shade of red for a blouse. Of course, you can also add varying shades of red accessories throughout, like a purse and shoes.
For those who don't want to go full monochromatic but want to make a statement, a bright red pair of pants or a skirt will do the trick. Your top, jacket, and accessories can be a subdued hue, as in white, black, gray, or brown, but the addition of the red bottom will stand out. A red jacket can do the same to a lesser degree when paired with basic colors, largely because red jackets are more commonly seen.
For those that just want to give just a little pop of bright red, try a pair of red shoes or a red purse, or even a classic red lipstick. While they aren't as forward as red clothing, they will most certainly attract attention.