Kate Middleton Is 'Still Learning' What It Takes To Be A Royal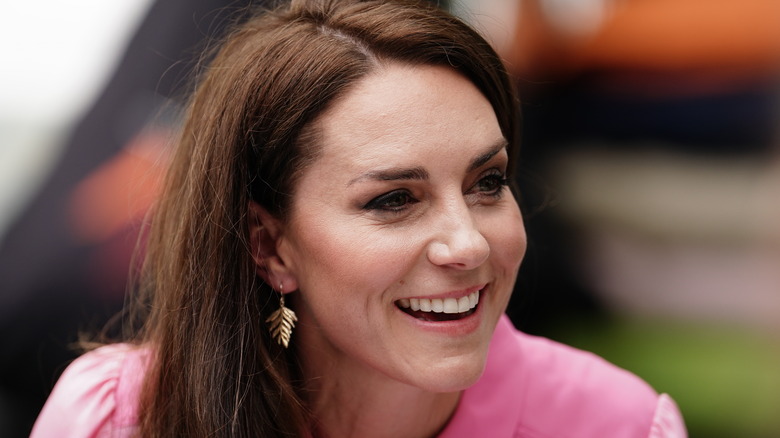 Wpa Pool/Getty Images
Catherine, Princess of Wales has been part of the royal family since she married William, Prince of Wales in April 2011. Over the past 12 years, Kate's undergone a stunning transformation in the evolution of her impeccable style, become a mom to three kids, and tackled her royal duties. These job responsibilities will only increase in preparation for the time when Kate will become queen consort.
During a May 2023 visit to Bath, Kate talked about her experiences as a working royal. The princess' life and career plans were dramatically altered when she met William, Prince of Wales at the University of St. Andrews. Kate's love for William as a person rather than a prince impressed Queen Elizabeth, and the late monarch took charge of her granddaughter-in-law's royal training. "From the beginning, Kate Middleton had a great deal of support from the Royal Family which was really instructed by the Queen," journalist Ashley Pearson detailed in the documentary, "Kate Middleton: Working Class to Windsor," per My London. "This was to make sure she knew as much as she could possibly know and what to do in every situation — bearing in mind, of course, that she didn't grow up in this world."
Given her popularity and status as a style icon over the last decade, it's safe to say Kate was an excellent student in the queen's courses. And now, at the Bath appearance, the princess also revealed another secret to her success: her willingness to keep learning.
Kate is constantly honing her public speaking skills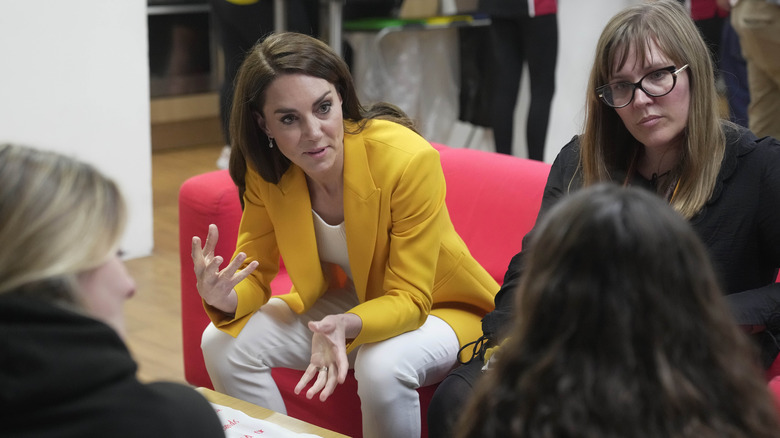 Wpa Pool/Getty Images
Catherine, Princess of Wales was invited to Bath to participate in an event hosted by the Dame Kelly Holmes Trust, an organization partnering athletes and youth. During the event, Kate candidly spoke to students about her life as a royal as a work in progress. "[Kate] said she had to learn," Dame Kelly Holmes informed The Times. "It's a struggle to know that you can be accepted and fit in and you are still learning every day."
As an example of a relatable skill she's endeavoring to improve, Kate mentioned public speaking. "She was saying she is still working that out but has to project," Holmes reported, per The Times. "She humanized everything. Not everyone is perfect." On St. Patrick's Day 2023, one fan posted a TikTok video of Kate standing quietly and preparing to make a speech in honor of her new role as Colonel of the Irish Guards. The poster, along with some of the commenters, thought Kate's demeanor indicated she was feeling nervous. "A great reminder that she is indeed human like the rest of us," noted one fan. "She carries her responsibilities with such dignity and class."
Kate's technique has come a long way since her early speeches. In 2020, Susie Ashfield, a public speaking expert, told Express, "With a restrained smile, determined hand movements and extended pauses, Her Royal Highness has the glowing confidence of a newsreader, and there's not a word (or a hair) out of place."
Kate's mindset and warmth make her approachable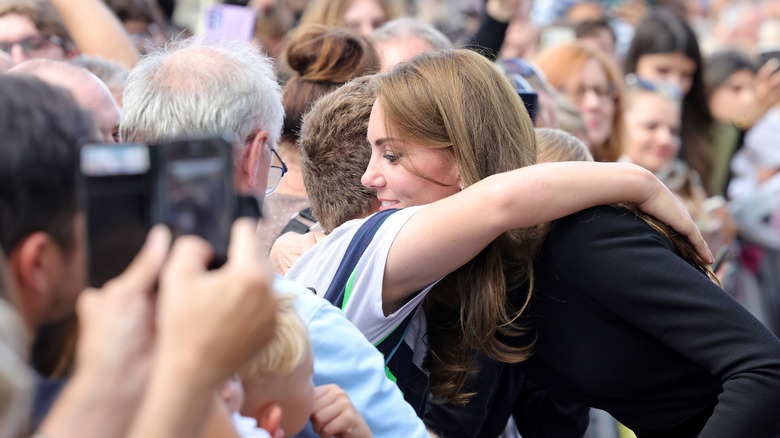 Chris Jackson/Getty Images
By recognizing there's more to learn, Catherine, Princess of Wales gives us something we can all relate to: we're all still developing. Kate's also established a rapport with fans by her willingness to share personal struggles. When asked if she ever experienced "mom guilt" during a 2020 interview on the "Happy Mum, Happy Baby" podcast, Kate answered unequivocally (via People), "Yes, absolutely — and anyone who doesn't as a mother is actually lying!"
After 12 years on the job, Kate's also become more at ease when she's interacting with fans during royal outings. "Kate always springs out of the vehicle after arriving at an engagement," body language expert Darren Stanton described to the Mirror. "Her arms are often stretched out and she has good eye contact when shaking hands with others."
Kate doesn't just stop at a handshake, either. The princess exudes warmth when chatting with people in the crowd, prompting comparisons to her late mother-in-law, Princess Diana. "She is showing the kind of empathy, mirroring, and bonding behaviors that Diana used to be known for, and which made her feel like a personal friend," body language expert Judi James observed to Express. "Kate is no longer waiting for the fans to ask for touches, handshakes, and hugs — she is prompting them in a way that suggests very high levels of not just confidence, but the type of relationship optimism that suggests she has finally realized her own popularity with the public."