How Kate Middleton Reportedly Impressed The Queen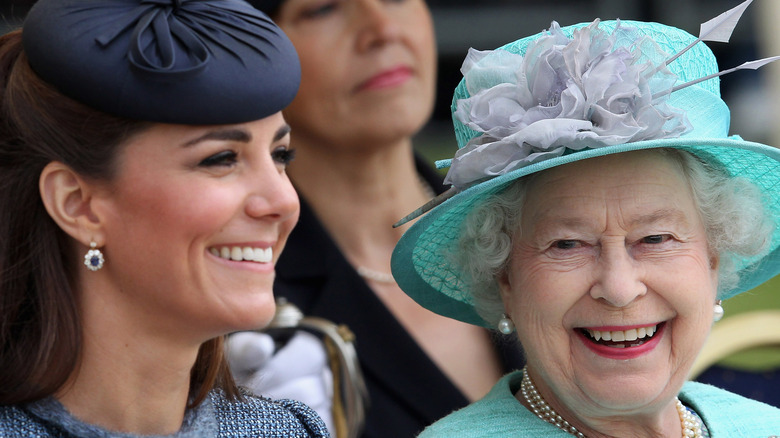 Chris Jackson/Getty Images
When you're in a relationship, bonding with your partner's family can be a bit nerve-wracking. When your significant other's relatives include the Queen of the U.K., the stakes are even higher.
After 11 years of marriage and three children, it's hard to imagine a time when Kate Middleton was not a part of the British royal family. However, it wasn't always easy. "In the beginning, nobody in the royal household expected for a second that the university romance with Catherine and William would continue for any time after they graduated," Andrew Morton, journalist and royal biographer, told Ok! Magazine.
When William started college at Scotland's University of St. Andrews, he wasn't contemplating serious romance. "I'm only going to university. It's not like I'm getting married," he told the BBC in 2001. Then he met Kate; they started out as friends, became a couple in 2003, and later split in 2007. "We were growing up, and so it was just sort of a bit of space and a bit of things like that, and it worked out for the better," the Duke of Cambridge later told Tom Bradby, per Glamour. After taking time to reflect, they rekindled their romance. The couple married on April 29, 2011.
Over the last eleven years, Kate and the queen have shared a close relationship. That bond got off to a great start early on when Her Majesty first got to know her new granddaughter-in-law.
Queen Elizabeth appreciated Kate Middleton's authentic feelings for Prince William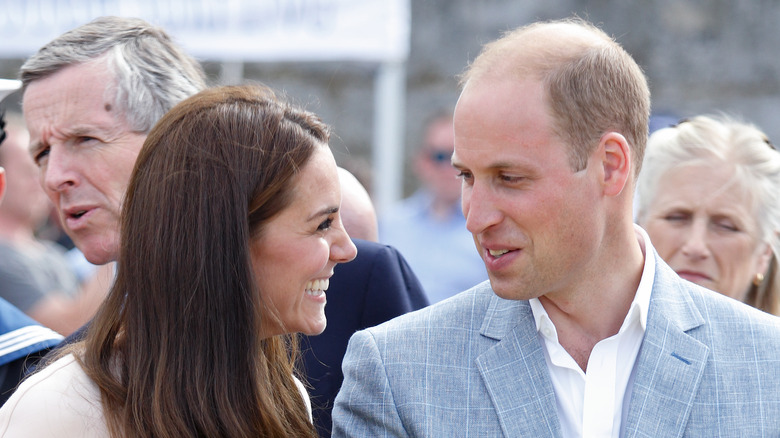 Max Mumby/indigo/Getty Images
According to author Andrew Morton, Queen Elizabeth respected Kate Middleton's genuine affection for her grandson. "The Queen was impressed [Kate] adored and loved William for himself, not for his title," Morton told Ok! Magazine.
Kate first met the queen in 2008 at the wedding of William's cousin, Peter Phillips. "She was very friendly," the future Duchess of Cambridge later remarked. The monarch reportedly took the initiative to seek out the young couple. "We had a little chat and got on very well," Prince William said (via Us Weekly).
While the world watched with enthusiasm when the couple married in 2011, none of the well-wishers was more excited than Elizabeth. "The Queen was positively playful on the day of her grandson's nuptials, 'practically skipping' according to one observer," Morton wrote in his new biography about the monarch, per the Mirror. According to him, not only did she like Kate, but she also sensed the public's approval of her new granddaughter-in-law. The queen felt the match would bode well for her country and her family.
For her part, Kate also does her utmost to maintain the Queen's high regard. At the 2019 Chelsea Flower Show, the Duchess of Cambridge gave the queen a personal tour of the "Back to Nature" garden she designed. Kate made sure everything was perfect prior to the queen's arrival and even stowed wayward foliage into a purse in a last-minute clean-up (via Mirror).
Queen Elizabeth and Kate Middleton's relationship continues to grow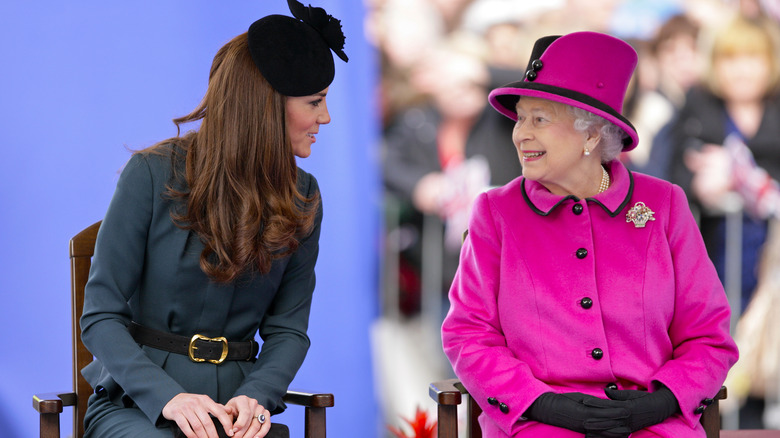 Max Mumby/indigo/Getty Images
Since Prince William and Kate Middleton are the future of the British monarchy, Queen Elizabeth is doing her utmost to ensure their success. Andrew Morton told Ok! Magazine that the queen spends time "supporting and nurturing the relationship between William and Catherine." Since the Cambridges moved to Kensington Palace, they are conveniently close to Buckingham Palace. A royal source told Us Weekly that this proximity allows Kate to pop over for afternoon tea, as well as sessions "where the queen will give intense one-on-one training about taking on the crown."
According to author Victoria Murphy, Kate and the monarch get along well due to their common temperament — "not an extrovert but quietly self-assured with a love of the outdoors and the ability to compartmentalize" (per Yahoo U.K.).
Their relationship is also based on mutual respect. Kate shows her esteem for the queen by learning all she can. "She's proud to be Catherine's go-to adviser about royal life," an insider told Us Weekly. In 2019, the monarch honored Kate with the Dame Grand Cross of the Royal Victorian Order, per British Heritage. Elizabeth bestowed the award in recognition for the duchess' service.
Due to her mobility concerns, the queen has demonstrated how much she relies on the Duchess of Cambridge. Kate has increased her number of royal appearances, including greeting and interacting with the 8,000 attendees at a royal garden party for the queen's Platinum Jubilee, per Express.