Your Guide To Building The Perfect Athleisure Wardrobe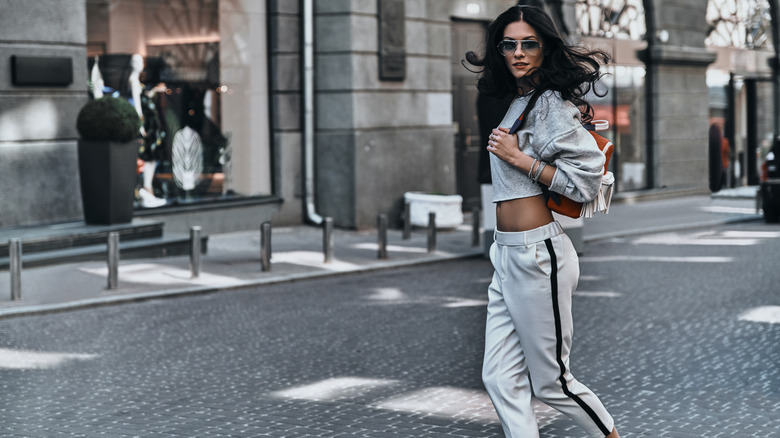 G-stockstudio/Getty Images
Athleisure pieces are no longer just for working out, and they can be seamlessly incorporated into your wardrobe for an effortless, casual chic style. You can slip into a pair of joggers and rock a cute athletic fit that you can wear on a day out running errands or to the gym. Athleisure style is currently trending, with celebrities like Hailey Bieber showing us just how trendy sporty staples can be. Athleisure style is all about comfortable but hip outfits that are functional, cozy, and easy to wear. 
Lindsay Flores, a celebrity fashion stylist and style director of Respin by Halle Berry tells InStyle: "What began as a distinct class of performance activewear for fitness lovers has become its very own look and phenomenon, from high-end to fast fashion."
Curating the perfect athleisure wardrobe is simple and only takes a few key staple pieces that will elevate your closet. These are our top picks that will help you build an athleisure wardrobe.
An oversized hoodie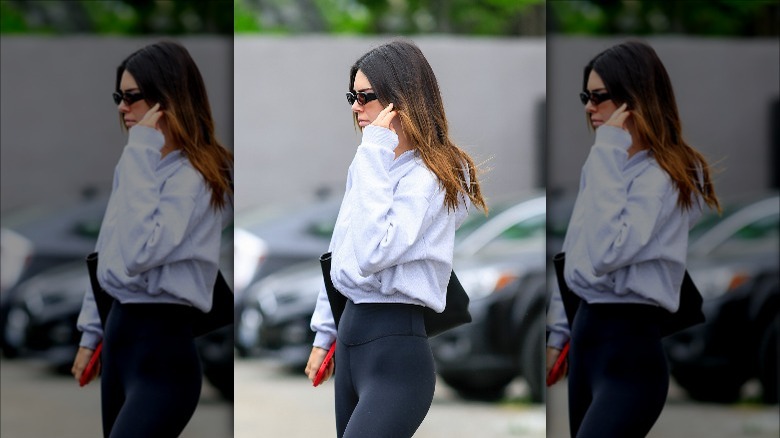 Rachpoot/bauer-griffin
You can't put together the perfect athleisure wardrobe without having a go-to classic oversized hoodie. This athleisure staple is the go-to piece when you want to feel comfortable without compromising your trendy look. Wear your oversized hoodie with a pair of tight leggings for a balanced, chic outfit. If you want to go for ultimate comfort, embrace the baggy trend by styling your hoodie with a pair of sweatpants to curate a cute matching set.
Depending on the look you're going for, you can rock a colorful hoodie with a cute print for a bolder, brighter style. If a toned-down minimalist aesthetic is more your thing, wear a neutral and monochrome hoodie and match it with white or black bottoms. We recommend athleisure shorts, a plaid workout skirt, or a pair of loose sports pants that will give you that trendy silhouette.
Everyday leggings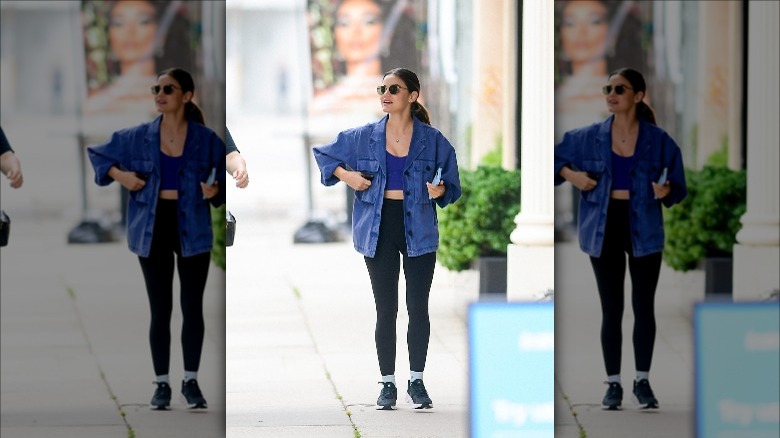 Bg029/bauer-griffin
When you need a mainstay piece to wear that can elevate any outfit, leggings are the way to go. Wear a pair of classic everyday leggings for a cute, polished, and put-together look. The best part about leggings is that they're super versatile and comfy and can be worn with almost anything. For outfits that are easy to style, we recommend a classic pair of black everyday leggings. If you love a pop of color, snag a pair of tights in any hue that you can easily mix and match with other garments.
Put on a pair of leggings and a sports bra with a loose sweater for a classic style that you can wear to the gym afterward. You'll be comfortable in a soft, sleek pair of tights, or you can easily switch things up and dress up a pair of leggings while still keeping things casual and chic. 
Sports bra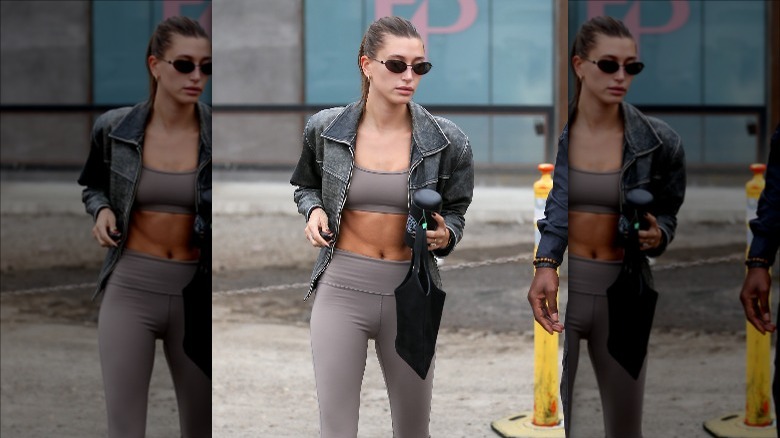 Bellocqimages/bauer-griffin
Keep things easy and comfortable with a chic sports bra that's a classic athleisure staple piece you need in your wardrobe. You can style a sports bra when you're going out for a run, for a yoga class, or for a casual day out with friends. The sports bra can be casually matched with a pair of leggings or sweatpants for a trendy look. For a cooler day, put a cardigan over your sports bra and leggings for an adorable athletic ensemble. 
When you're on the hunt for a trendy sports bra that fits just right, try wearing them during a workout to see if you can wear them comfortably on a day out. Abby Gordon, the VP of design and merchandising for Alo Yoga, tells Harper's Bazaar, "I test the level of support in my sports bras through my workouts and rank them based on the level of impact."
Oversized tees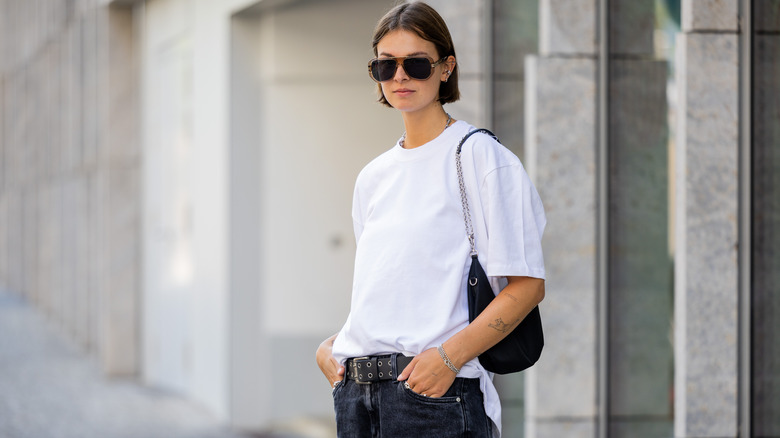 Christian Vierig/Getty Images
For a loose and casual look, throw on an oversized tee with a pair of leggings or athletic shorts to stay comfortable and stylish. This is one of the classic pieces you need in your wardrobe, especially if you're just starting out in curating your athleisure style and aren't sure what to wear. Oversized tees are super versatile and easy to wear since they go with everything. 
If you want to rock a cute fit, wear your oversized tee off the shoulder for a unique look. To create a silhouette that flows, style your tee with a pair of tights for a cozy ensemble that you can stay comfortable in all day long. You can also combine your oversized tee with a pair of casual, sporty jogger pants or sweatpants for an ultra-sporty vibe.
Sports hat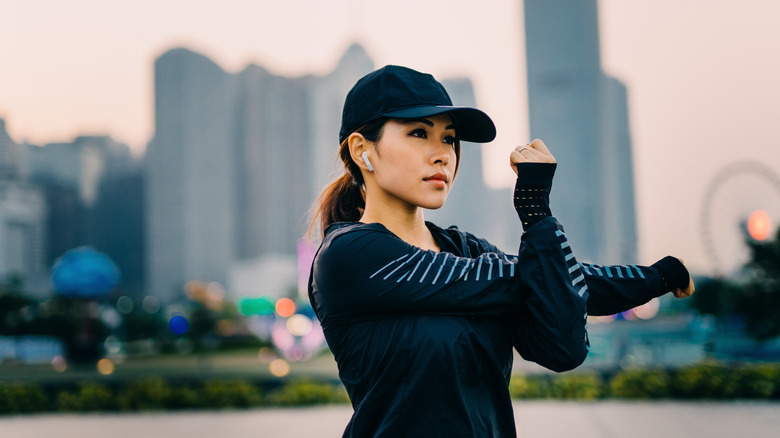 Asiavision/Getty Images
Top off your look with a cute, sporty hat. This trendy hair accessory can be added to any outfit to tie it together and give it that sporty chicness. Per Fashionista, the baseball cap is a street style favorite that everyone is loving right now. According to Marie Claire, Megan Thee Stallion, Hailey Bieber, and Bella Hadid have all been spotted rocking the trend, showing us that it's a classic staple piece anyone can wear. If you're having a bad hair day or want to go for a makeup-free look, simply put on a sporty baseball cap to rock a stylish fit with minimal effort.
You can even opt for designer baseball caps to add a luxe aesthetic to your look while still keeping it casual and chic. To rock the dad-inspired ensemble, style a baseball cap with the logo of a popular sports team like the New York Yankees.