General Hospital Relationship Timeline: Robert And Holly
While many "General Hospital" fans assume that Anna Devane (Finola Hughes) was the love of Robert Scorpio's (Tristan Rogers) life, there was another romance for Robert that competed with it. The role of Holly Sutton was originated in 1982 by actress Emma Samms, and Holly and Robert would go on to be a super couple in the 1980s. When Luke Spencer (Anthony Geary) was pining for his wife Laura Spencer (Genie Francis), who was believed dead, he got involved with Holly. When he learned she was a grifter, he left her and headed to the mountains, and was believed to have died in an avalanche. Holly was going to be deported after learning she was pregnant, so Robert decided to marry her to prevent it. The two planned to raise Luke's baby, but Holly miscarried after their wedding.
Robert and Holly eventually fell in love, only to have Luke turn up alive shortly thereafter, causing a rivalry, but Holly finally realized she loved Robert. After this, the three became good friends. Anna Devane arrived in Port Charles in 1985, and it was revealed that she and Robert had been spies together for the WSB and had gotten married. This put a huge strain on his and Holly's marriage, so they decided to move to Australia, and Holly went first.
Robert soon learned that a little girl named Robin Soltini (Kimberly McCullough) was his and Anna's daughter, and after saving her from kidnappers, he joined Holly in Australia. 
Holly ransomed Port Charles for an encephalitis cure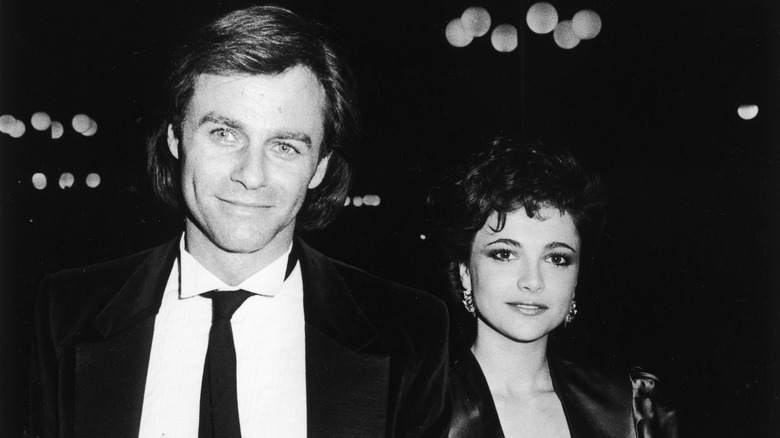 Darlene Hammond/Getty Images
In 1987, after a plane crash killed Holly, Robert came back to Port Charles, and eventually, he and Anna got married in 1992. However, Holly returned to Port Charles alive, explaining that she'd been in a coma. The villain Cesar Faison (Anders Hove) soon kidnapped Anna, so Robert went to rescue her. He entrusted Robin to his brother Mac Scorpio (John J. York) and Holly's care. Robert, Anna, and Faison were reportedly killed when a boat exploded. Holly then left Port Charles in 1993, and Robert and Anna later turned up alive. 
Luke returned from the Markham Islands in 2006 and inadvertently spread an encephalitis infection throughout Port Charles. Holly also returned with an antidote that she offered to Robert for $1 million. Luke and Robert set a trap to catch her, but she escaped with the antidote. Clues led Luke and Robert to subdue Holly and send her back to the Markham Islands to face criminal charges. Later, Luke and Robert tried to break her out of the dangerous prison, but all three got captured, eventually escaping into a jungle. Robin Scorpio and Patrick Drake (Jason Thompson), along with Luke's daughter Lulu Spencer (then Julie Marie Berman) and Dillon Quartermaine (Robert Palmer Watkins) all showed up to find Luke and Robert. After narrowly escaping bounty hunters who were looking for jewels that Holly stole,  the group escaped. Anna Devane intercepted a fleeing Holly and retrieved the gems.
Holly helped save the world
Sometime later, it was revealed that Holly had a son named Ethan Lovett (then Nathan Parsons), and Luke was his father. In order to protect Ethan from the evil Helena Cassadine (Constance Towers), Holly lied, claiming Robert was actually his dad. When Robin was presumed dead and Robert was stricken with grief, Luke continued the lie so that Robert would find a new purpose in life. He claimed Ethan was being pursued by Helena, so Robert went to find him on a wild goose chase.
Robert got a call in 2020 and learned that Holly died when a boat she was on sank. He didn't know she was being held prisoner by Victor Cassadine (Charles Shaughnessy). After dealing with long Covid, Emma Samms returned as Holly in 2022, and Holly was forced to do Victor's bidding because he had also kidnapped Ethan and threatened to kill him. With Robert's help, Holly faked having catastrophic injuries so Victor would leave her alone.
In 2023, with the help of Tracy and Anna, Holly rescued Ethan, and she later joined a task force of Port Charles citizens who banded together to stop Victor from annihilating the planet. After saving the world, Holly professed her love for Robert, but they both knew it wouldn't work out, and she left town once again. Diane Miller recently stated that Holly was the love of Robert's life, but whether that's true or not remains to be seen.