What We Know About Emma Samms' Long COVID Battle Amid General Hospital Return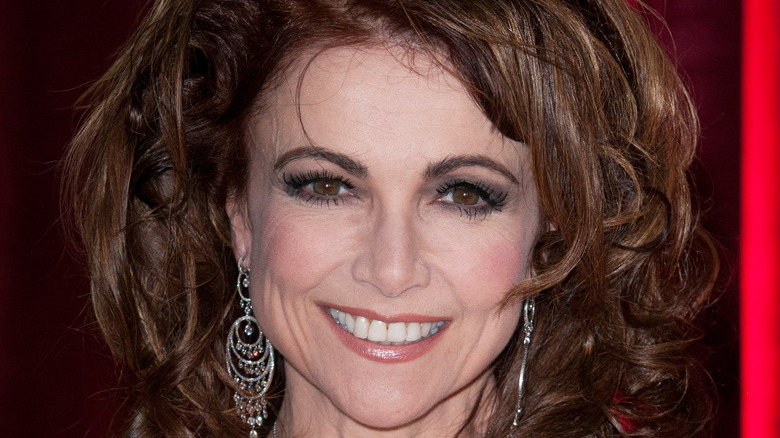 Featureflash Photo Agency/Shutterstock
In 1982, actress Emma Samms took on the role of Holly Sutton on "General Hospital," and has been a fan favorite ever since. After participating in several adventures on "GH," including the Prometheus Disc storyline, Holly and her then-husband Robert Scorpio (Tristan Rogers) went to live in Australia in 1987. When Robert came back to Port Charles, he informed everyone that Holly died in a plane crash. In reality, she was comatose due to a car accident, but because she saw that Anna Devane (Finola Hughes) and Robert were now lovers, she kept her distance (via Soap Central).
As Soap Hub explains, although Holly had been presumed dead once before, Robert and Anna were also supposedly killed in a boat that exploded — but they survived. In 2020, Holly was once again believed dead even after Robert went to Monte Carlo thinking she was still alive. But one quick scene that aired was of Holly still living and imprisoned in an unknown location. The shot was of her on a security monitor as she yelled, demanding to be freed, per the YouTube clip.
There's also speculation that Luke Spencer (Anthony Geary) is also still alive — after being supposedly "neutralized" by Victor Cassadine (Charles Shaughnessy) — and is imprisoned with Holly (per Celeb Dirty Laundry).
However, per TV Shows Ace, right after that scene aired, the entire world went into lockdown due to the pandemic and Samms was hit particularly hard by the virus.
Emma Samms fights back against COVID-19
The scene of the imprisoned Holly on "General Hospital" had to be filmed at Emma Samms' home, with the help of her partner, due to the fact that she had COVID-19 (per People) — but the virus turned into long COVID. Because of the debilitating effects that Samms experienced, she participated in a virtual reunion with the cast of the show "Dynasty," to raise money for the Southmead Hospital Charity to fund coronavirus research, according to the BBC.
Samms was excited not only to be reunited with her former castmates — as she played Fallon Carrington for four years — but also to be "proactive" about studying the virus and raising money for the endeavor that will also attempt to find therapies for it. When Deadline posted the news of her return to "GH" on Twitter, Samms retweeted it expressing her gratitude to the producers "for making this possible."
Samms' older sister, Louise Gustafson, also posted on Twitter a request to the "GH" producers asking, "Please everybody, especially the 'GH' production and crew, look after her. She is not better, she is just battling through it." Gustafson went on to explain that Samms didn't want to disappoint her fans and implored the producers to "understand." One fan responded to Gustafson's post with, "I will continually pray for Emma's well being. We love her as Holly and love Emma even more."
Once Samms returns to "GH," the mystery of Holly's whereabouts will finally be revealed.