How To Watch Shiny Happy People: Duggar Family Secrets
We may receive a commission on purchases made from links.
"Shiny Happy People: Duggar Family Secrets" will premiere in June 2023. The documentary is a four-part series meant to peel back the layers of the "19 Kids and Counting" and "Counting On" family, the Duggars, and the toxicity of their religious practices. The Duggars followed a subsection of Christian Fundamentalism called the Institute in Basic Life Principles (IBLP). IBLP was founded by Bill Gothard, a preacher who urged parents to homeschool their children and avoid exposing them to popular culture. Gothard also believed in a family structure that considered husbands the most important and wives and children as submissive.
"The biggest feature of Bill Gothard's teachings is authority," one interviewee says in a voiceover for the series trailer. "Kids obey the parents. Wives obey their husbands. Everyone obeys Bill Gothard." Another interviewee adds, "Gothard turned every father into a cult leader and every home into an island."
The docuseries explores the Duggars and IBLP as a whole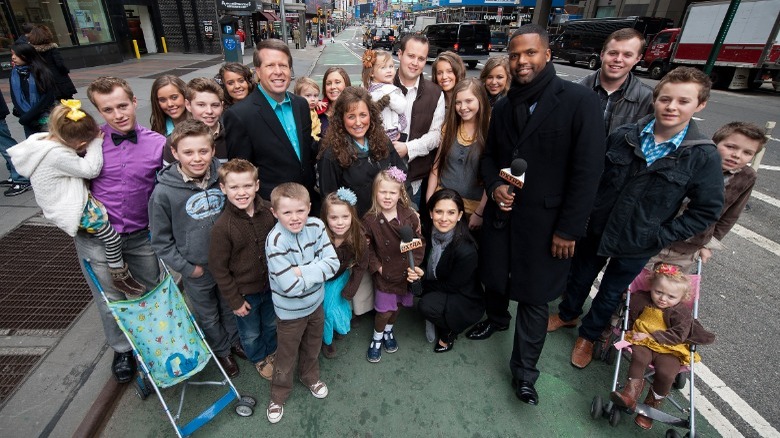 D Dipasupil/Getty
If you aren't sure what to expect when watching "Shiny Happy People," the docuseries features interviews from former IBLP members discussing the traumatizing truth behind the cult. This includes former "19 Kids and Counting" star Jill Duggar Dillard, whose relationship with her parents is strained and is seen getting emotional in the series trailer.
The description for the documentary series on Amazon gives a glimpse into how the documentary will expand from focusing on the Duggars to being about IBLP. When interviewed on the "Reality Life with Kate Casey" podcast, the docuseries producers Olivia Crist and Julia Willoughby Nason discussed this. Willoughby Nason tells Casey that the Duggar family is a "jumping off point for us for a much, much larger story" on the IBLP. When asked what she thought was the most dangerous part of the cult, Willoughby Nason also mentions the authority structure that puts men above women and children, saying, "This sort of structure is just ripe with abuse."
'Shiny Happy People' will be on Prime Video -- not TLC
Unlike "19 Kids and Counting" and "Counting On," which were TLC shows, "Shiny Happy People" will be available to stream only on Amazon Prime Video starting June 2, 2023. All four episodes will be available to watch on the same day. You can purchase a monthly subscription for $14.99 a month or an annual subscription for $139, but there are discounts available for certain individuals, such as students or people receiving governmental financial assistance.
If you want to learn more about the Duggars and IBLP prior to the show's release, Jinger Duggar Vuolo has published a memoir titled "Becoming Free Indeed: My Story of Disentangling Faith from Fear." Her book delves into the fear instilled in her at a young age due to the IBLP teachings and how she is continuing on a new faith journey separate from the cult. When discussing the book with People, Duggar Vuolo says, "The teaching I grew up under was harmful, it was damaging, and there are lasting effects. ... I want to share my story, and maybe it will help even just one person to be freed."