All The Relationship Hurdles That Led To Kim Kardashian And Pete Davidson's Split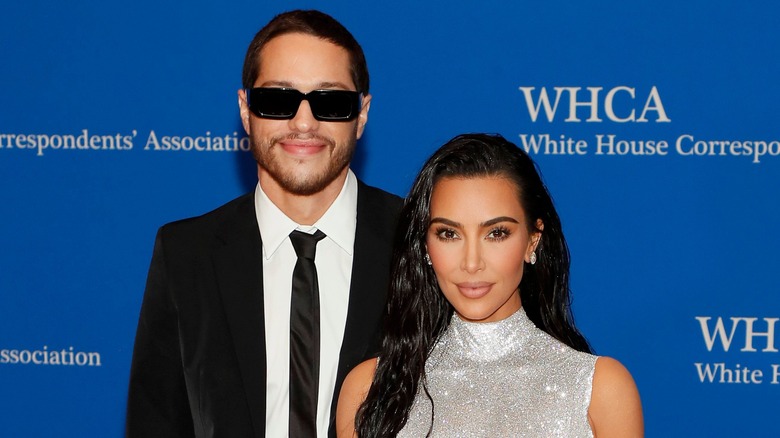 Paul Morigi/Getty Images
Kim Kardashian and Pete Davidson were certainly one of Hollywood's most interesting couples. The pairing between the reality star and the comedian took many fans by surprise. However, they seemed to have a solid relationship as their romance rolled along. After nine months of dating, Kardashian and Davidson officially called it quits, but both were rather quiet about the split. Many fans wanted to know why the two had broken up, and sources later revealed that there were many reasons that the duo simply couldn't make their relationship work.
Kardashian and Davidson had crossed paths before. However, when the "Keeping Up With The Kardashians" star hosted "Saturday Night Live" in October 2021, she and the actor reconnected. Just days later, the duo was seen holding hands during a trip to Knott's Scary Farm, which sparked dating rumors. In early November 2021, Kardashian reportedly flew to Davidson's hometown of Staten Island for a romantic date night.
The two eventually publicly confirmed their romance and Davidson even made an appearance on Kardashian's reality series. The duo appeared to be happily dating – and even had compatible zodiac signs – but reports of a breakup began to circulate in August 2022. "They really hit it off and had a ton of fun together, but it feels like it ran its course," a source told People Magazine of the split.
Time apart hurt Kim and Pete's relationship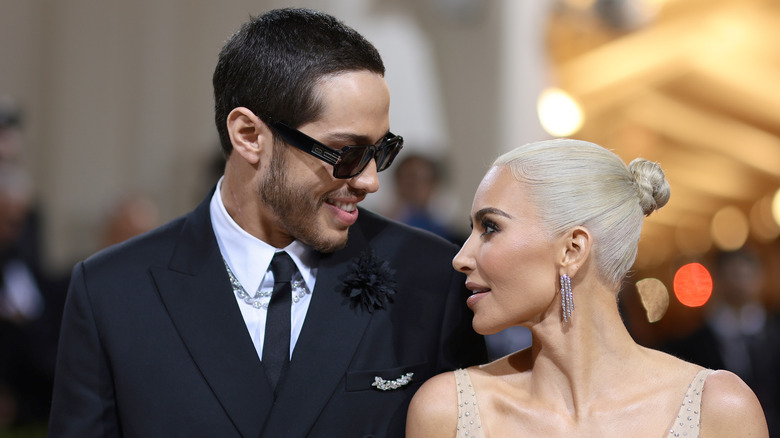 Dimitrios Kambouris/Getty Images
During Kim Kardashian and Pete Davidson's relationship, the duo had to face many hurdles. One of the biggest was Kim's ex-husband, Kanye West. The rapper spoke out criticizing Davidson many times during the couple's romance, which created a media firestorm surrounding the couple (via Complex). However, West wasn't the only bump in the road for Kardashian and Davidson. The couple's busy schedules were also said to play a big part in their split. Because of their work commitments, the duo was often trying to make their romance work long-distance, which seemed to take a toll on them. "Pete and Kim broke up. The distance has been hard and things were starting to fizzle out," a source told ET at the time. "Pete being away for so long was hard for them. Kim is doing well and she knows she has a lot going on. Pete has been super busy as well."
As many fans know, Kardashian lives and works in Calabasas, California, where she lives with her four children, North, Saint, Chicago, and Psalm. Her busy personal life and career made things difficult, as Davidson lives and worked in New York and Staten Island. Although the couple tried to make time for one another by flying out to see each other and going on romantic vacations, it wasn't enough to keep them together. 
Meanwhile, another major problem for the couple was said to be their age difference.
Their age difference was a factor in their split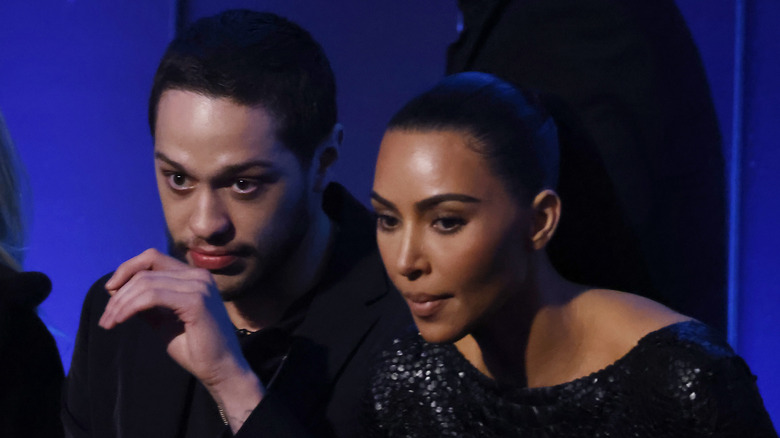 Paul Morigi/Getty Images
While Kim Kardashian and Pete Davidson struggled to deal with the distance between them during their relationship, the couple also had another big issue. At the time of their romance, Kardashian was 41 years old and Davidson was just 28. The age gap was said to play a part in the pair's demise, as they simply wanted different things in life, and had different priorities as well. "Pete is 28 and Kim is 41 — they are just in very different places at the moment," the source told Page Six. "Pete is totally spontaneous and impulsive and wants her to fly to New York, or wherever he is on a moment's notice." The source continued, "but Kim has four kids and it isn't that easy. She needs to focus on the kids," the insider stated, adding that Kim was "totally exhausted" by the relationship.
Despite their breakup, Kardashian and Davidson have reportedly remained friendly. "They had tons of chemistry, and still do, but she kind of wants to be single and date. Kim still adores Pete and will always be friends with him. She still thinks he's the nicest and sweetest guy in the world and there's no drama or anything weird between them now," a source told ET.
In 2023, Kardashian and Davidson were seen smiling at each other during a conversation at the Met Gala, proving they're still on good terms.