How Compatible Are Kim Kardashian And Pete Davidson Based On Their Zodiac Signs?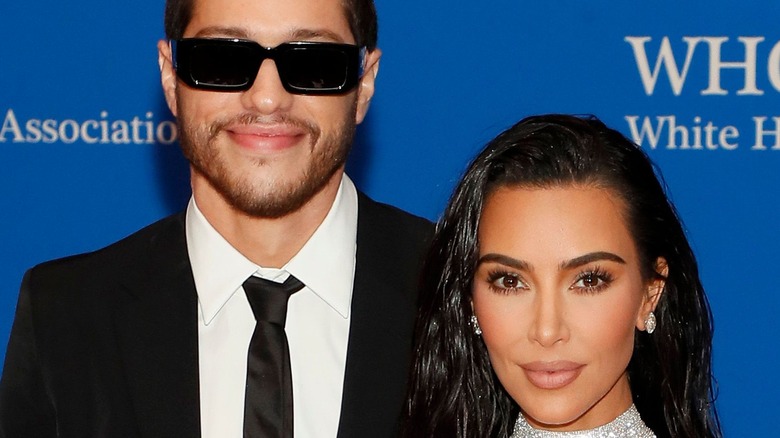 Paul Morigi/Getty Images
Kim Kardashian and Pete Davidson surprised fans when they were first linked back in the fall of 2021. The pair were spotted out together just days after they shared a kiss during Kardashian's stint as host on "Saturday Night Live," per Cosmopolitan. From there, rumors about the couple's relationship began to spread like wildfire, and eventually, the couple made their romance official. Kardashian and Davidson began to be seen hitting the town together and even posted snaps of one another on their Instagram pages.
The duo kicked off the new year by vacationing together in the Bahamas and then began to appear on the red carpet together. The couple made appearances at events such as the premiere of "The Kardashians" and the Met Gala (via Page Six).
Since they began dating, Davidson also dedicated a few tattoos to his girlfriend, per People. The former "SNL" star has Kardashian's name on his chest, a tattoo that reads "Jasmine and Aladdin" in reference to their first kiss on the comedy series, and a phrase that says "My girl is a lawyer." 
While Kardashian and Davidson may seem like a mismatch at first glance, could their zodiac signs tell a different story?
Kim Kardashian is a Libra while Pete Davidson is a Scorpio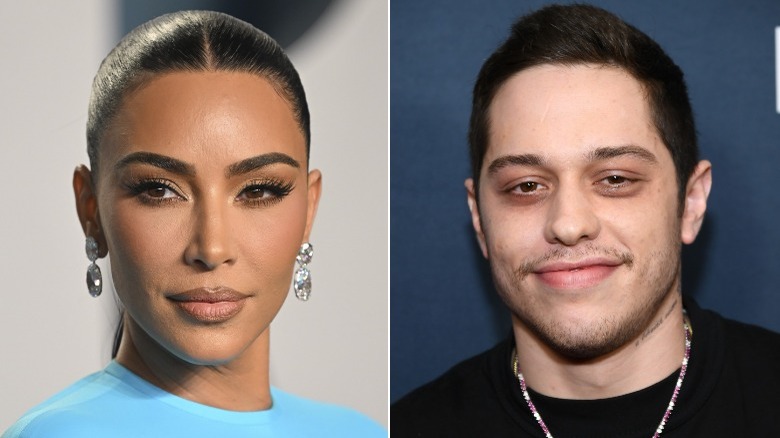 Dimitrios Kambouris & Karwai Tang/Getty
Kim Kardashian's birthday is October 21, 1980, which makes her a Libra zodiac sign (via The U.S. Sun). Libras possess many great qualities such as a joy for life and a love of fun and laughter. Libras are also known for being beautiful and confident which makes it easy for them to connect with people (via Astrology.com).
Thought Catalog notes that Libra women are very socially dynamic and usually have a plethora of friends. They also become peacemakers in many situations as they like to keep things easygoing. They've been known to be good listeners and problem solvers. It may also be hard for Libra women to make big decisions in their lives.
Meanwhile, Pete Davidson's birthday is November 16, 1993, making him a Scorpio sun sign, per the New York Post. Male Scorpios are known for being passionate and intense, as well as brooding. They're said to be very emotional as well as possess a confident and competitive nature. These men are also said to be very sexual and like to live their lives in their own way without judgment, per Love to Know. The outlet suggests that Scorpios can also be brutal with their words if they feel that they've been wronged in any way.
So, do Kardashian and Davidson's zodiac traits line up?
Kim Kardashian's air sign prove to be a compatible match for Pete Davidson's water sign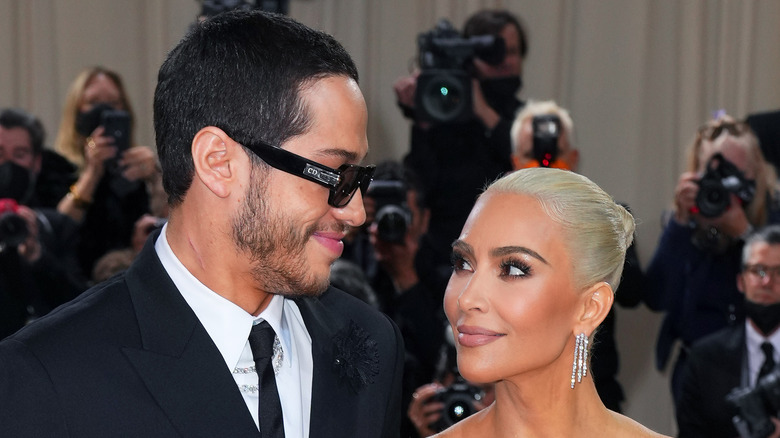 Gotham/Getty Images
Libra women and Scorpio men like Kim Kardashian and Pete Davidson are said to be fantastic matches for each other. As a couple, the signs are said to be committed to their relationships and have the same general belief systems (via My Today's Horoscope). They're also known to teach each other many things. Libra women can see Scorpio men as a challenge for her to crack his tough exterior. Meanwhile, Scorpio men are said to give Libra women butterflies due to all their charisma. Together, the signs are said to be motivated by the more expensive things in life.
Stylecaster predicted that Kardashian and Davidson could have bumps in their relationship, partly due to their age difference and the comedian going through his first Saturn return — a transformative stage in life that happens between the ages of 27 and 30. It seems that the outlet was right, as the pair reportedly called it quits in August 2022 after nine months of dating, per People. 
It seems that Kardashian and Davidson are compatible based on their zodiac signs. However, their romance just wasn't meant to be.