The Hollywood Ties To Grace Kelly's Stunning Wedding Dress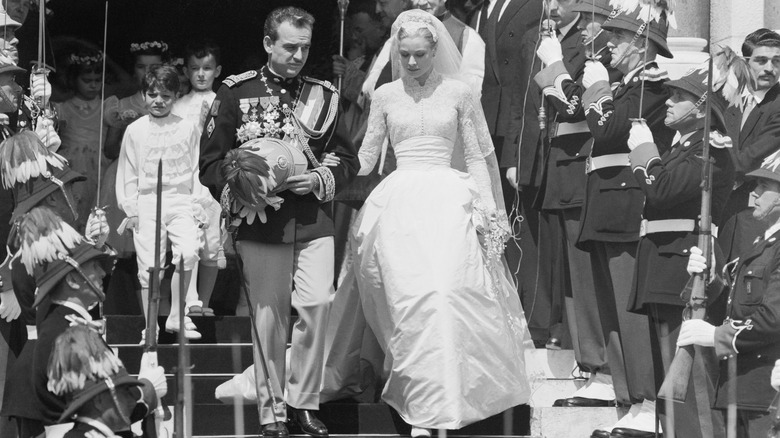 Bettmann/Getty Images
Today, royalty is nothing if not partial to tradition. For example, during King Charles III's coronation, there was a great deal of symbolism in Queen Camilla's gown, such as the flower emblems on her cuffs representing the United Kingdom's four nations. Meghan Markel's bridal veil also had a floral motif highlighting the countries of the Commonwealth.
It stands to reason when Hollywood star Grace Kelly became official royalty by marrying Prince Rainier III of Monaco in 1956, much thought was put into her dress. But we love that the glamorous icon featured connections to a title all her own — the darling of the Golden Age of film — even if it meant bucking tradition. Instead of covering her iconic gown in Monaco's national flower, carnations, she paid homage to Hollywood. The result was a stunning bridal ensemble that is still one of the most celebrated wedding looks of the 20th century, even inspiring current royalty like Kate Middleton, Princess of Wales.
Kelly knew that her gown needed to be fit for a princess while representing her personality. A woman who was at the height of her career and had worked hard to get there, Kelly must have known that her wedding would be one of the most significant events of the decade. And indeed, it was viewed by over 30 million people. So what's a starlet to do, other than hire an Academy Award-winning costume designer to fashion her a dress that would be trend-setting and infinitely timeless?
A fabulous farewell gift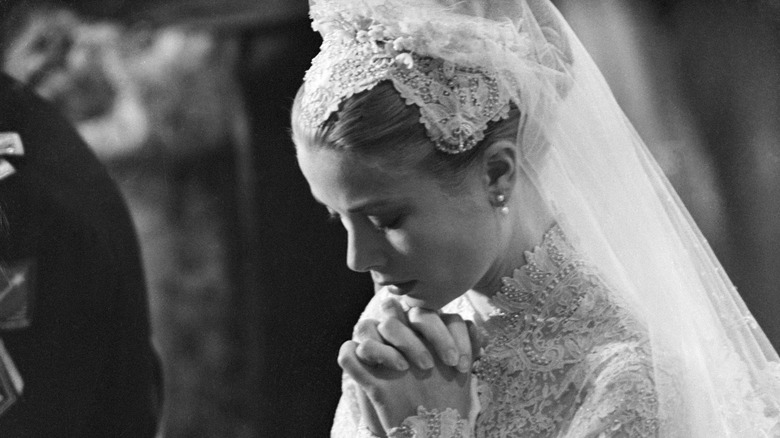 Bettmann/Getty Images
Grace Kelly became engaged to the prince in December 1955, and they announced the news in January 1956. The question on everyone's mind wasn't "When is the wedding?" Rather, it was "What would the bride wear?" Though some assumed Kelly's friend, designer Edith Head, would be bestowed with the honor, the job went to Helen Rose. The Academy Award-winning costume designer had prior connections with the princess-to-be, working with her on "The Swan," "High Society," and two other films. Although Rose designed the dress in a conservative style, the time, effort, and labor put into creating it was anything but, as it likely required more than thirty seamstresses to complete.
Several separate pieces composed the gown, including its high neckline, voluminous skirt, and demure lace sleeves. Fortunately, the studio was prepared to handcraft the 400-plus yards of fabric into a beautiful bridal ensemble. Yes, the studio. Kelly's dress was a gift from her Hollywood bosses at Metro-Goldwyn-Mayer Studios, according to the Philadelphia Museum of Art. The studio executives footed the bill for the silk taffeta, 125-year-old Brussels lace, and hand-sewn pearl embellishments. In 1956, the iconic gown rang up at an estimated $65,200, which would be around $623,000 in 2021, via Insider. That easily earns it the title of one of the most costly royal wedding dresses of all time.
A true style icon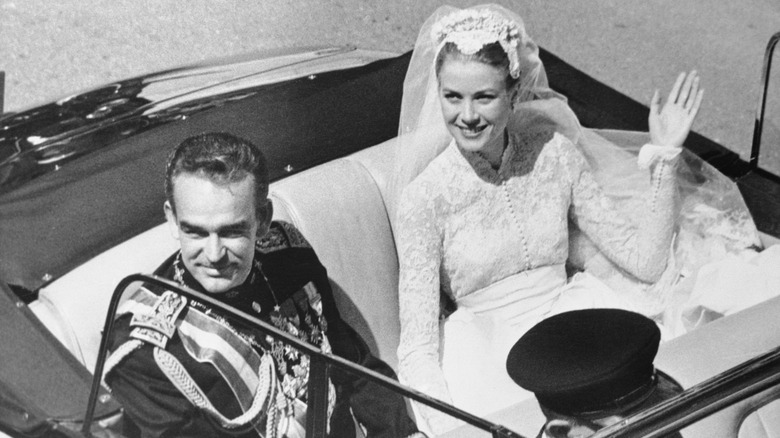 Bettmann/Getty Images
Grace Kelly would go down in history as a fashion icon, and her bridal accessories stayed true to her personal style. Instead of the traditional tiara that princesses are expected to wear on their wedding day, she opted for a Juliet cap made with pearls and lace. A gifted actor, Kelly was strategic with her wishes for the veil, making sure it was crafted so that the wedding guests and television viewers could always see her face. In another deviation from royal tradition, Kelly chose to carry a silk-and-pearl-decorated prayer book with a petite bunch of lilies of the valley instead of a full, ostentatious bouquet.
The final piece of Kelly's wedding day trousseau was her custom-made pumps. David Evins, a famous shoe designer for former first ladies and celebs alike, designed the shoes with a lace motif and seed pearls creating a rosette at the top of the toe. Then, he put on a few personal touches, including an inset copper penny for good luck, and an embossed "Grace Kelly" inside the shoe. The heels were only 2.5 inches high, so Kelly wouldn't be taller than her husband-to-be.
The retired actress wed her fairytale prince on April 18, 1956. She was no longer destined to only play royalty on screen but henceforth to be known as Princess Grace of Monaco. Kelly later donated her wedding attire, including the iconic gown and shoes, to the Philadelphia Museum of Art.