Swap Out Your Smocked Dress For A Stylish Drop-Waist This Summer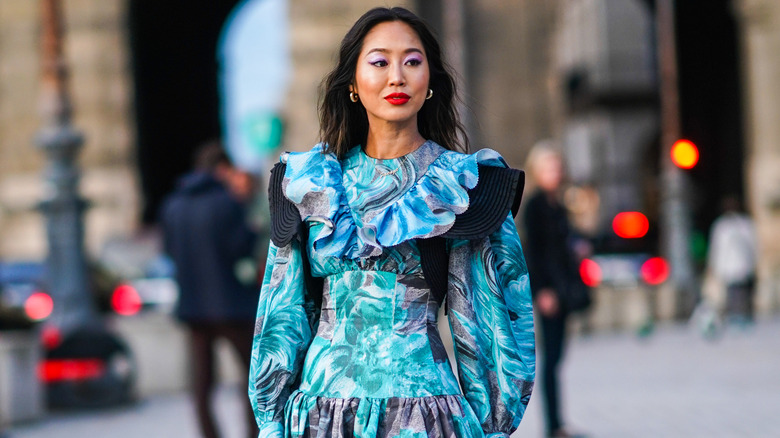 Edward Berthelot/Getty Images
Smocked dresses have been ruling the casual dress world for a while now, but has their reign come to an end? Fashion experts seem to think so. "While they've definitely been popular in recent years, I'm tired of the smocked dresses that were everywhere. This summer, I'm into drop-waist dresses that are just as easy to wear but lend a forward and elevated feel to even the simplest of warm-weather outfits," shared Anna LaPlaca, fashion editor at Who What Wear.
Drop-waist dresses were set to make a 2023 comeback, so it makes sense that they are becoming more popular. If you're not familiar, a drop-waist silhouette is when the waist of the dress will fall not at your natural waist, but at your hips instead. They became popular during the 1920s before disappearing once again, only to make a shy reemergence in the past few years.
Similarly to a smocked dress, drop-waist dresses are super comfortable thanks to the lack of cinching on your waist, though some are tighter than others depending on the style. Still not quite convinced? Here's how to make the style work for you.
Drop-waist dresses have much more styling potential than you may think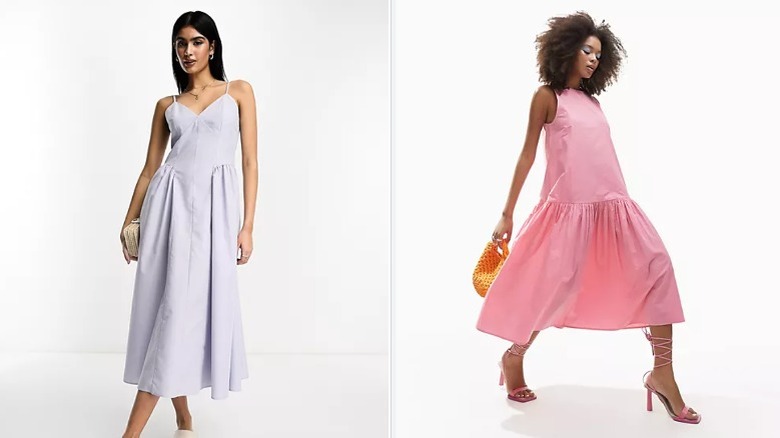 ASOS
Drop-waist dresses are the summer staple piece your wardrobe needs thanks to their versatility, but because of their design, you may find them more difficult to style. If one of your main concerns is about looking shapeless in a drop-waist dress, solve this concern by opting for one with a v-shaped corset bodice.
This drop waist skater dress from ASOS features a corset-style bodice that will still cinch you in despite the lower waist. Although the style is more formal, it's made from cotton so would be an ideal choice for dressy casual summer weddings or more formal daytime events. It's available in pretty dusky blue or classic black.
If you want something that will be super comfy to wear, this sleeveless cotton sundress, also from ASOS, will keep you feeling cool and looking cute even on the hottest of days. Featuring a breezy, laid-back look thanks to the oversized silhouette, it's available in a yellow, green, and pink striped print or a sweet sugar pink shade.
Drop-waisted dresses don't just have to be sundresses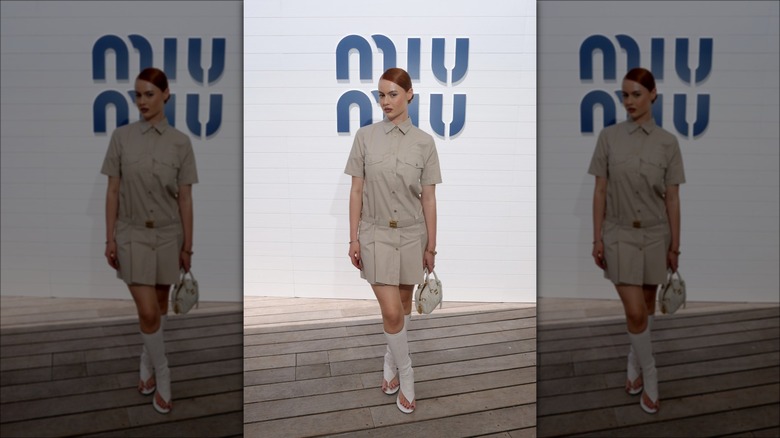 Victor Boyko/Getty Images
Though they are perfect for summer, drop-waist dresses can be styled for more than one occasion, like when influencer Jordan Grant wore a drop-waist dress in a utility style to a Miu Miu event at Cannes. The trend of utility-style clothing has been around for a while now, and we don't see it going anywhere anytime soon. When it's too hot for cargo pants and utility jackets, reach for a drop-waist dress with plenty of pockets to jump on the trend instead.
As (most) drop-waist dresses have a looser silhouette, they're also a good style for a variety of body types. Don't feel comfortable showing too much off or prefer modest outfits? A flowy drop-waist dress like the ones above will make you look like you have put a lot of effort in but won't leave you feeling exposed.
Of course, if you plan to simply swap out your smocked dress for a drop-waist dress, pair your new dress with your usual sandals or sneakers. However you plan to style it, the drop-waist dress could be your new favorite item of clothing this summer.