Where Shania Twain Stands With Brad Pitt Today After Shading Him In Her Hit '90s Song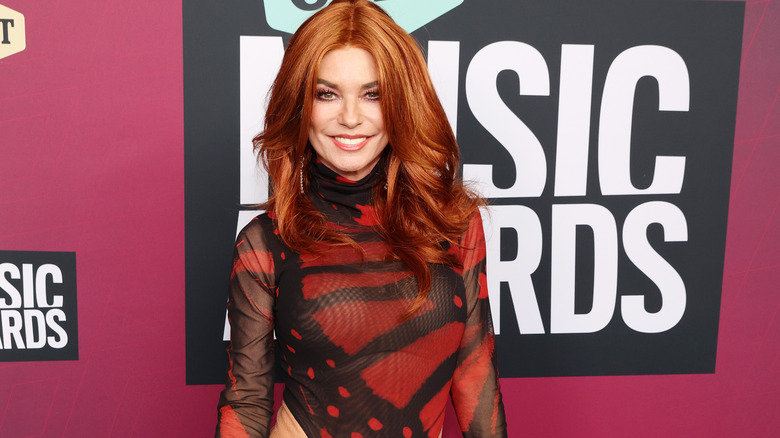 Rick Kern/Getty Images
In 1997, country superstar Shania Twain gave an iconic shoutout to "Bullet Train" actor Brad Pitt in her hit single, "That Don't Impress Me Much." The empowering tune calls out overconfident men, and the Grammy winner croons directly to Pitt, "Okay, so you're Brad Pitt / That don't impress me much." So, what did Twain have against Pitt when she wrote that, and are they feuding to this day? Fortunately, there's actually no bad blood there.
The truth is that the country singer doesn't even know the actor, so the lyric isn't personal. She even references another male celebrity in the same track, "King of Rock and Roll" Elvis Presley, and she replaced Pitt's name with actor Ryan Reynolds' name during a December 2022 live performance of the song, too. At the end of the day, it's just pretty hard for men to impress the legendary Twain — and she likes to poke friendly fun at them sometimes. She only has positive things to say about Pitt in real life. "I mean, you know, Brad Pitt, he's stunning, as successful as it gets," she told Entertainment Tonight. "Of course, he's very impressive."
Why she referenced Brad and where they stand today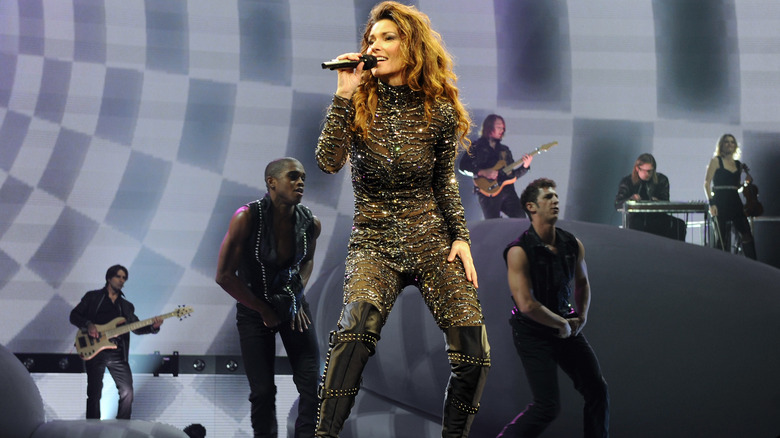 Denise Truscello/Getty Images
Back in August 2017, Shania Twain revealed the reason why she references Brad Pitt in her song, "That Don't Impress Me Much," telling Billboard that when she was writing the anthem, Pitt's name happened to be in the headlines. "I was writing this album and there was a scandal of [Pitt] and Gwyneth [Paltrow] where there was naked photos of him [in Playgirl]," the singer recalled. She simply didn't understand the "fuss" about it at the time, noting, "We see naked people every day." Twain confirmed to Billboard, "I wasn't picking on Brad Pitt." His name was just on her mind at the time, so she used it.
The country queen and the A-list actor have actually still yet to meet, even after all these years. During a March 2023 episode of the YouTube series "Chicken Shop Date," Twain told host Amelia Dimoldenberg, "I wrote about Brad Pitt. I never met Brad Pitt." She joked, "I think he's avoiding me — honestly."
Brad takes the diss in good fun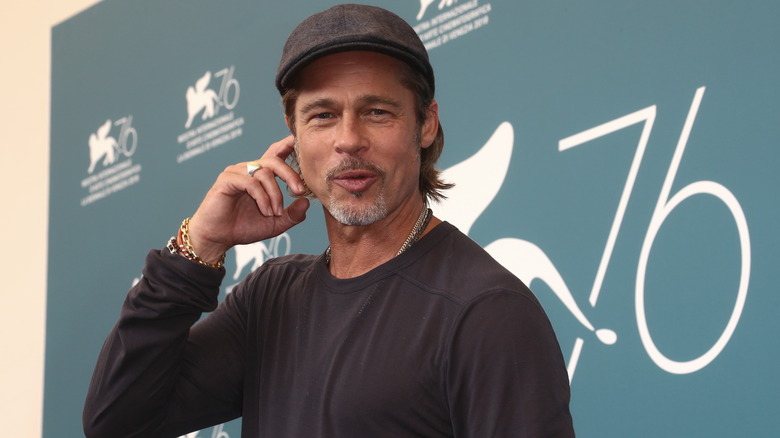 Matteo Chinellato/Shutterstock
Brad Pitt doesn't seem too bothered by Shania Twain's 1997 musical diss — he even cracks jokes about it. During a January 2023 interview with The Movie Dweeb, the actor was asked about Twain replacing his name with Ryan Reynolds during a recent live performance of "That Don't Impress Me Much," and he was happy to chat about the subject. Pitt denied that Reynolds "stole his thunder" and said jokingly, "I think we can share the wealth there." He added, "Ryan's a good egg, too. He deserves some love." 
The "Babylon" star also had some ideas for actors who Twain could shout out in her next performance of the song. "Next time she oughta sing it to Austin Butler...maybe Leo [DiCaprio] in between, then Austin Butler," he suggested. It seems like if Pitt and Twain do ever meet, they'll be able to have a good, long laugh about her famous and ever-evolving reference.