What George Clooney Did Before Becoming A Hollywood Icon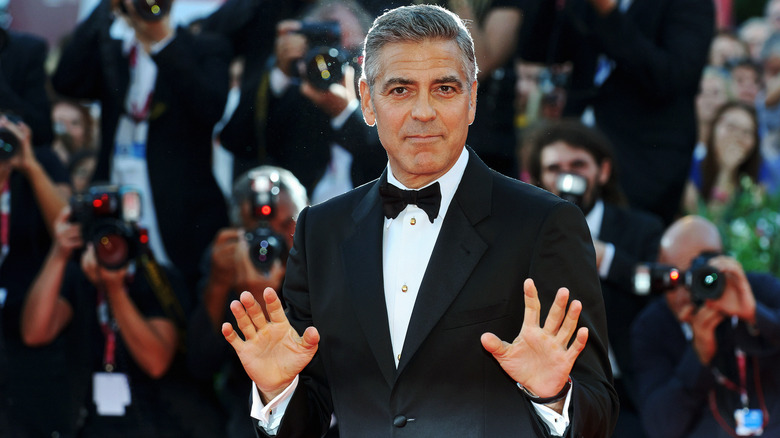 Silvi Photo/Shutterstock
George Clooney has solidified his status as a true icon in the entertainment industry. The stunning transformation of Clooney in Hollywood and his journey to success are proof of his timeless charisma, undeniable talent, and unwavering dedication to his craft. Aside from his charm, he captivates audiences by effortlessly embodying characters with depth and authenticity. This has even resulted to a total of 96 awards including an Academy Award for Best Supporting Actor for the film "Syriana" in 2006.
While he seems to have it all today, his journey to the top was paved with hardships. Despite having familial connections in the industry, Clooney had to work his way up. His aunt Rosemary Clooney was a famed singer, his mother Nina Bruce is a beauty queen, and his father Nick Clooney is a former journalist and anchorman. At the age of 21, Clooney decided to drop out of college and move to Los Angeles to focus on his acting career. Prior to becoming the icon that he is, he used to work odd jobs including selling insurance.
A little detour before George Clooney found success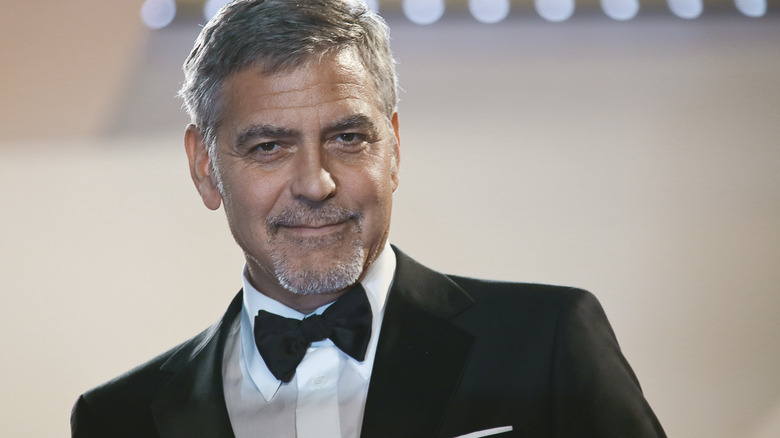 Denis Makarenko/Shutterstock
George Clooney's journey began with an unexpected detour as an insurance agent to make ends meet. During an appearance in David Letterman (via Evening Standard), he said, "I had a lot of rotten jobs. I sold insurance door-to-door, but it didn't work out well. The first day I sold one (policy) and the guy died." Little did he know that closing his doors to selling insurance would be the catalyst for his extraordinary career in the entertainment industry.
Eventually, Clooney found his way to fame. He rose to prominence with his breakout role as Dr. Doug Ross in the medical drama series "ER" in 1994. This role has not only showcased his acting abilities but also catapulted him into the limelight. From there, he seamlessly transitioned to the big screen, demonstrating his range through captivating performances in films such as "Out of Sight," "Ocean's Eleven," and "Up in the Air." Today, Clooney is considered to be one of the biggest stars in Hollywood. The charming actor has definitely come a long way from doing odd jobs to having a $500 million net worth.
He once rejected a multimillion dollar offer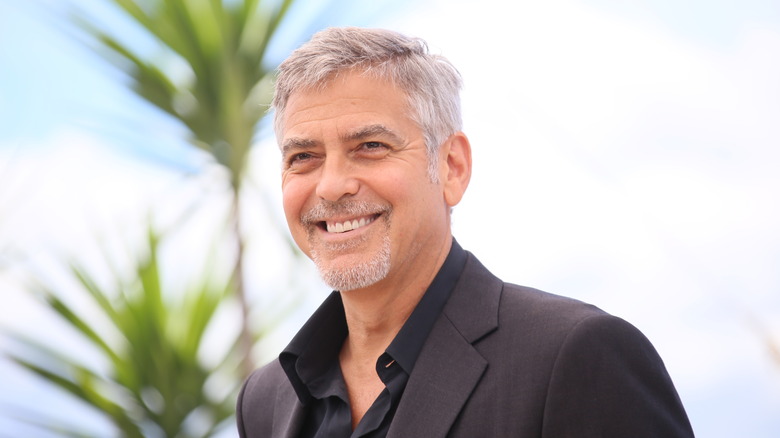 Denis Makarenko/Shutterstock
George Clooney can now be picky with his projects, he even proudly admitted that he walked away from a multi-million dollar deal because the project had a conflict with his personal values. He told The Guardian, "I was offered $35m for one day's work for an airline commercial, but I talked to Amal [Clooney, the human rights lawyer he married in 2014] about it and we decided it's not worth it. It was [associated with] a country that, although it's an ally, is questionable at times, and so I thought: 'Well, if it takes a minute's sleep away from me, it's not worth it.'" He no longer needs to work as much to earn a living, in fact, it was even reported that Clooney was only paid $3 upfront for the Oscar-Nominated film "Good Night, and Good Luck." This was because the film was his way of honoring his father.
He's not only regarded as an actor but also as a highly talented director. Beyond his acting career, Clooney has also established himself as a director, writer, and producer. His directorial efforts in films like "Good Night, and Good Luck" and "The Ides of March" have garnered critical acclaim, showcasing his multifaceted talents and his commitment to meaningful storytelling.