Everything We Know About Selena Gomez And Justin Bieber's Split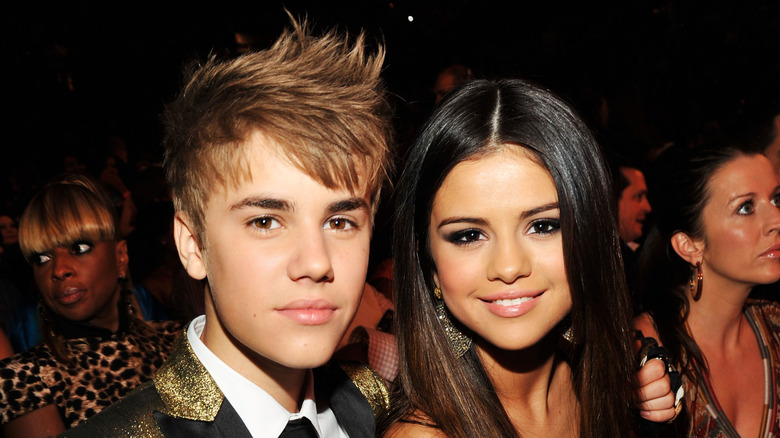 Kevin Mazur/Getty Images
Justin Bieber and Selena Gomez are two of the most popular celebrities in Hollywood. The two share many similarities, including getting their big breaks at a young age and making headlines in the tabloids. So, when the duo began dating in 2010, fans took notice. The couple earned the nickname "Jelena" and quickly became a hot topic in the entertainment world. Later that year, they were spotted kissing in St. Lucia during a romantic vacation. As two of the most beloved young stars, Bieber and Gomez garnered a ton of attention everywhere they went. In addition, when the couple finally called it quits, a ton of rumors and backlash followed.
As many young couples do, Bieber and Gomez broke up multiple times during their romance. The first split was in 2012. Sources told People that their busy careers and the distance between them made things complicated. "She had some trust issues. It's not easy, but the relationship needed to end," the insider stated. Bieber also spoke out about the split. "[The breakup] affected us, especially when we are in front of so many people," Bieber said during a radio interview with Big Boy on Power 106 Los Angeles in 2013. "It's such a public thing. It's just hard for the both of us. But you know, she's a great woman. I love her [to] this day."
Bieber and Gomez confirmed their reconciliation via Instagram in 2014, but a few months later, Gomez announced that the couple had split again.
Justin and Selena broke up for the final time in 2018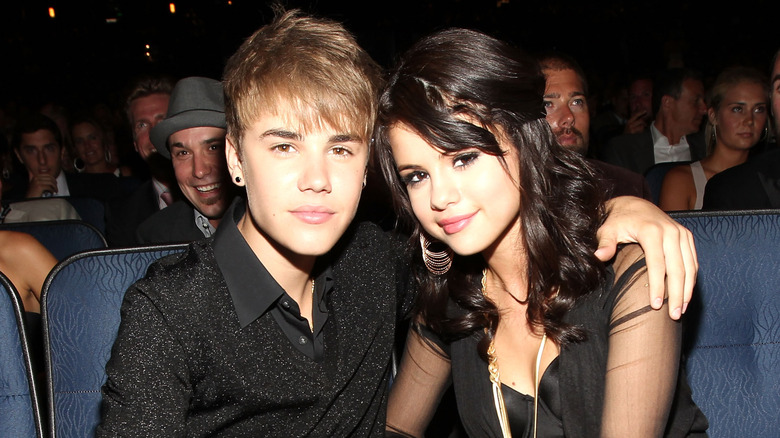 Christopher Polk/Getty Images
In 2017, Justin Bieber and Selena Gomez were said to reunite yet again. The two were photographed while out on a bike ride together. However, five months later reports of trouble between them started to brew. The next year, it was revealed that the young pair had broken up for the final time in March 2018. "Selena started seeing the bigger picture when it came to their relationship," a source told Us Weekly of the split. "Like what was more important: her general happiness and her family and friends approval, or her being together with Justin, where no one really supported their relationship."
In 2011, Gomez opened up about her relationship with Bieber in her documentary "Selena Gomez: My Mind & Me." The singer admitted that the romance with Bieber haunted her because of how public her life was. "I feel like I had to go through the worst possible heartbreak ever and then just forgetting everything at the drop of the [hat], it was really confusing," she stated, per Entertainment Tonight. "But I just think that needed to happen and ultimately it was the best thing that ever happened to me."
After Bieber and Gomez's final split in 2018, both parties moved on in their careers as well as in their love lives. 
The pair have since moved on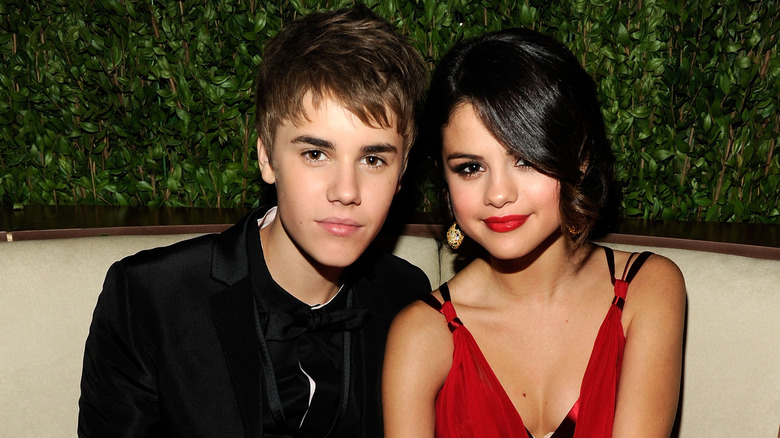 Kevin Mazur/vf11/Getty Images
After his final breakup with Selena Gomez, Justin Bieber quickly moved on and began dating Hailey Baldwin. Rumors of a romance between Baldwin and Bieber were reported in June 2018. The following month the couple were said to get engaged during a trip to the Bahamas and by September they had officially tied the knot, per Cosmopolitan. The relationship prompted some fans to pit Baldwin against Selena Gomez. Things got so bad that in March 2018, Bieber asked fans to stop bullying his wife and ex-girlfriend. "I absolutely loved and love Selena she will always hold a place in my heart, but I am head over heels in love with my wife and she is absolutely the BEST THING that has ever happened to me period," Bieber wrote (via ElleL).
Sadly, things didn't die down among fans and in April 2022, Baldwin asked fans to leave her alone. "Leave me alone, please. Enough time has gone by where it's valid to leave me alone," she said. In March 2023, both Baldwin and Gomez told fans to cool it and revealed that there is no bad blood between them. "I've always advocated for kindness and really want this all to stop," Gomez said.
It seems that no matter how hard Bieber and Gomez try, their names will be linked together in pop culture history forever, despite the fact that they broke up many years ago.