How Many Kids Does Florida Governor Ron DeSantis Have?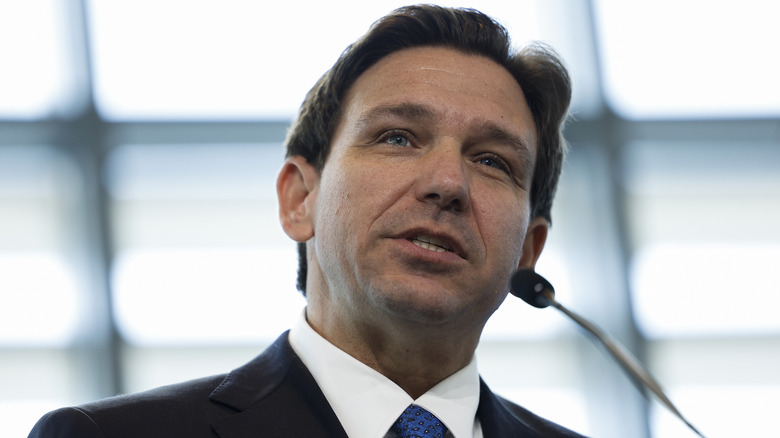 Anna Moneymaker/Getty Images
Florida native, governor, and 2024 Republican presidential hopeful Ron DeSantis first introduced many of us to his kids in a 2018 campaign ad packed with controversial, tongue-in-cheek humor about DeSantis's political endorsement by former President Donald Trump. If you forgot about this or were tuned out of Floridian politics, don't worry — the video still lives on YouTube. 
But now that the governor is running for presidential office, his family's presence in the public eye has understandably expanded tenfold. DeSantis and his wife, Casey DeSantis, have often acted as a political duo. While speaking in Ohio, DeSantis recalled canvassing with his wife and watching constituents fall more in love with her than him, according to Business Insider.
Indeed, DeSantis is not averse to bringing his family along for the journey, whether by knocking on doors, filming ad campaigns, or inscribing them in the dedication of his book. Here's everything you need to know about the DeSantis family.
From the green to Disney World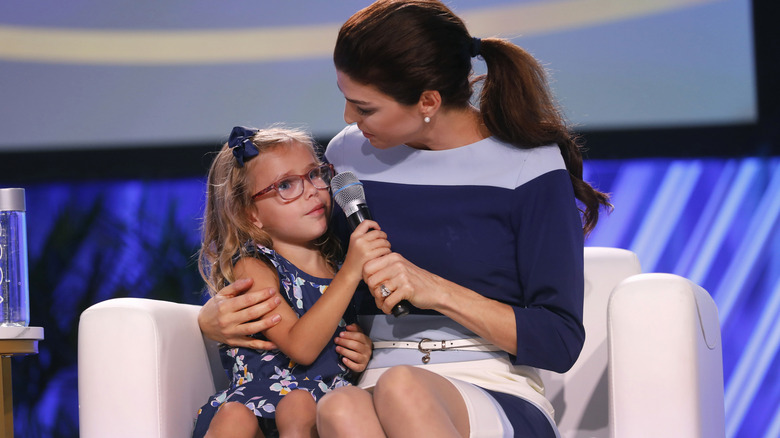 Octavio Jones/Getty Images
In an interview on "Piers Morgan Uncensored" (via YouTube), Ron DeSantis coyly reminisced about using golf balls to meet the future mother of his children. The couple first crossed paths on a University of North Florida golf course, where DeSantis believed Casey kept throwing looks his way. Her story, meanwhile, was that she had her eyes on a bucket of golf balls that she wanted for driving practice. 
Regardless of whether it was the golf balls or DeSantis himself, they started talking and, eventually, began dating. Their courtship turned into an engagement and subsequent, 2009 wedding at the Grand Floridian's wedding pavilion, which overlooks Disney World's Cinderella Castle and Seven Seas Lagoon. In a nod to their Italian roots, the couple's reception was held at Epcot's Italy Isola, per Business Insider.
Seven years later, in 2016, Casey gave birth to their first child, Madison, seen here with her mother at a Moms for Liberty event in 2022. Their middle son, Mason, was born in 2018 during DeSantis's gubernatorial campaign. On the day of DeSantis's inauguration, the family opted against political celebrations and chose to baptize Mason with special holy water that Desantis brought back from Israel's Sea of Galilee (via the Tampa Bay Times).
The youngest child in the Governor's Mansion in 50 years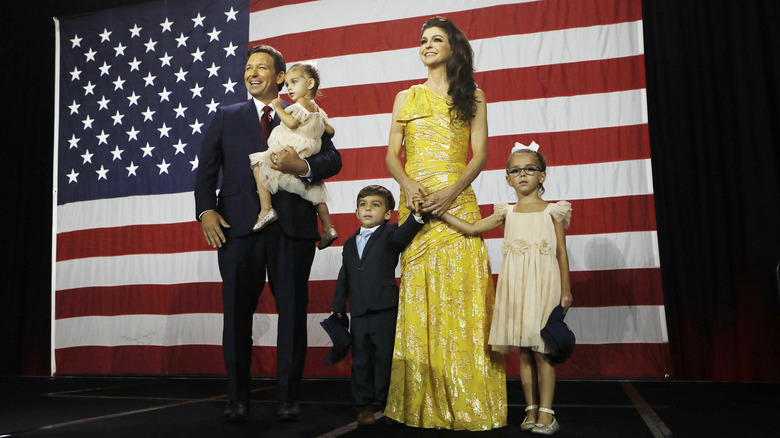 Octavio Jones/Getty Images
The third DeSantis child, Mamie, was born in March 2020. Ron DeSantis is one of the youngest governors in Florida's history, and his children are following in his record-breaking steps. The Florida governor's website states that Mamie was the first baby born living in the Floridian Governor's Mansion in over five decades. "At 7 lbs 4 oz she was the smallest of the bunch, but she is already holding her own," Casey DeSantis tweeted shortly after Mamie's birth. 
She added, "Madison and Mason are so excited for their new baby sister!" The governor retweeted the sweet message to his own timeline, writing, "Counting our blessings. Casey and the kids are doing great." The personal details surrounding the three young DeSantis kids are understandably private, but their dad will likely continue his trend of including his family in his political endeavors regardless. 
Whether they remake his 2018-era ad — complete with Donald Trump-themed bedtime stories and building walls with building blocks — with little Mamie in tow remains to be seen. Still, there's no doubt we'll see much more of the DeSantis family following his announcement to run for president in 2024.