The Easiest Way To Hide Grown-Out Roots, Based On Your Hair Color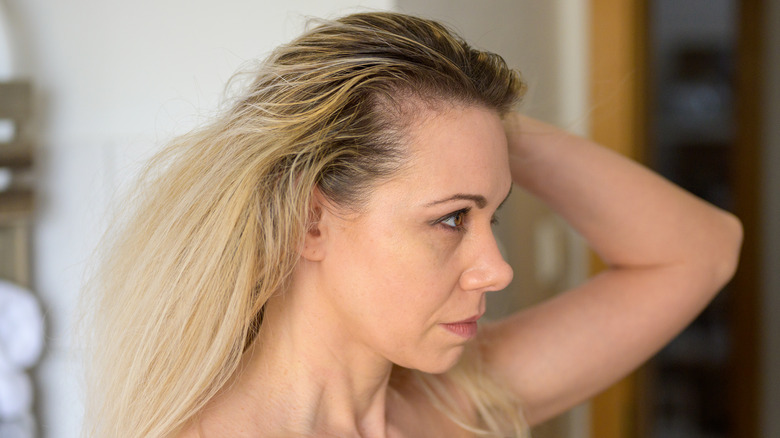 Mheim3011/Getty Images
Whether you have grays growing in and want to keep them covered or you simply want to go lighter or darker than your natural shade, a good hair dye can help achieve the look that you want. However, it does come with a price in terms of never-ending root touch-ups.
Many of us would never believe that our hair grows as fast as it does without first-hand witnessing how quickly our roots appear. Some stick to a rigid retouch schedule to keep new hair growth at bay but for many of us, life gets in the way and we let our roots go longer than we should.
Some people resort to just grabbing a box of store-bought hair color whenever they can and touching up their roots at home. Yet, in the meantime, there are other quick ways to mask your roots and it all depends on your hair color.
What type of product to use for your color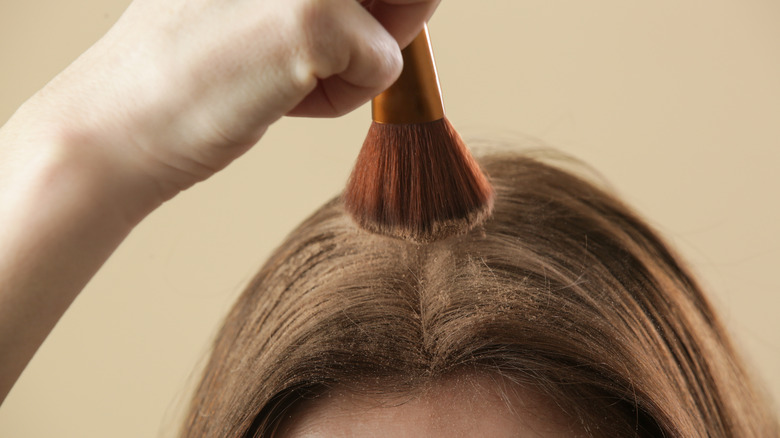 Triocean/Getty Images
If you have blonde hair and your roots are dark brown or black, you can try to conceal them by using dry white powder shampoo as a temporary fix. "Obviously when you're blonde and have darker roots, nothing but peroxide or bleach will whiten them," colorist Victoria Hunter told Marie Claire. "We use Sachajuan Volume Powder for a dusting of light color."
For red or brown hair look for a powder touch-up that is closest to your dyed color. There are several brown- and red-tinted hair powders that can blend new hair growth for redheads and brunettes.
When your roots are light and your dyed color is dark, Hunter said to opt for Root Vanish to camouflage gray or light roots. "Root Vanish is great for Asian hair or people who have black hair with whites that come through quickly," explained Hunter. "You twist the brush and the color comes out onto a little mascara brush for hair."
Other ways to mask roots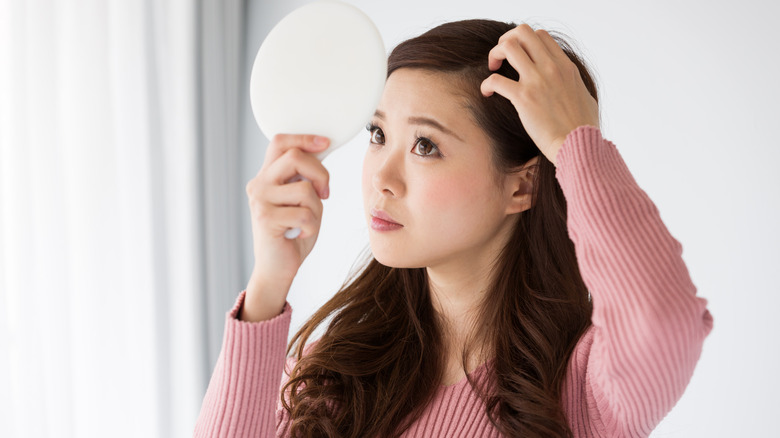 kei907/Shutterstock
Besides adding temporary color in the form of hair products, you can do simple styling techniques that can hide roots.
If your hair is curly or wavy, you will likely be able to get away with letting your roots go longer than someone with fine, straight hair, as per All Things Hair. That is because when hair has a lot of volume to it, the hair is higher on the head and the hairline is less visible through all the bounce. So if you have curly or wavy hair, you can try to pump up the volume as much as possible by teasing it or using curling mousse or a waving tool to add extra volume.
However, if you have straight hair you can try flipping your parting to the other side. The reasoning is that wearing a parting on the same side results in your hair naturally falling into the same position every day which flattens it a bit. If you flip it to the other side, there is more height because hair is less used to falling on that side. The added height can help cover up roots. If you typically part on one side or wear a center part, flip to the other. A fish comb is your best bet to achieve the new part.