What Erin And Ben Napier's Wedding Was Really Like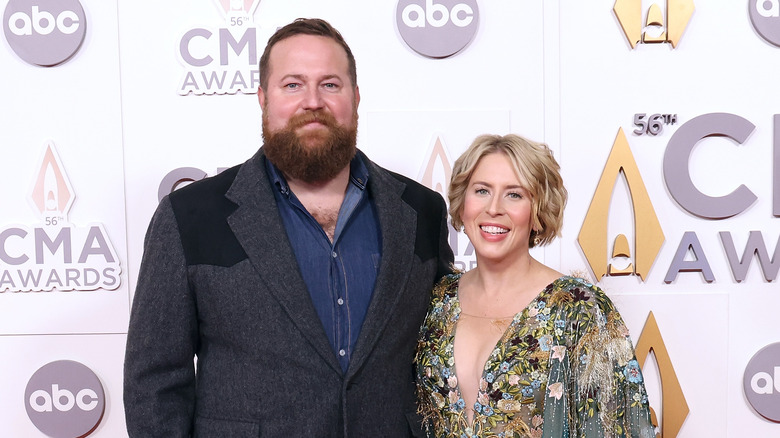 Taylor Hill/Getty Images
After the launch of Joanna and Chip Gaines' television network, which marked their departure from HGTV, a new duo has come into the home improvement spotlight. Mississippi's own husband-and-wife renovation and design team, Erin and Ben Napier, have garnered the attention and affection of fans across America with their big hearts and familiar mission to revive their town in their TV show, "Home Town." Whereas the Gaineses specialized in the "modern farmhouse" aesthetic, the Napiers' style is called "grandmillennial" and features endearingly eclectic vintage concepts, bold colors, and plenty of fun patterns. It is a perfect departure from the mid-2010s obsession with clean lines and minimalist values. 
The Napiers have charmed viewers with their easygoing Southern hospitality and the portrayal of their devoted partnership. To further connect and engage with their fans, Erin and Ben often give glimpses into their marriage, family values, hobbies, and important life events, including their wedding, through social media posts. In what has become a bit of a tradition, both Erin and Ben take to Instagram on their anniversary to share touching throwback photos and videos of their wedding. These posts are always accompanied by loving captions and comments to one another in which they affectionately reminisce about their special day and reflect on their joyful lives together. 
It's through these shared memories that fans, who are smitten with the TV personalities' love story, are able to get a little taste of what the Napiers' wedding was really like.
It was on one of the coldest days of the year
The Napiers chose November 22 as the date for their wedding, and in Oxford, Mississippi, one can expect mild autumn weather that averages from mid-50 to mid-60 degrees Fahrenheit in the daytime, according to Wanderlog. Because of the South's often balmy autumn months, November is a popular time for nuptials among Mississippi couples, and it can probably be assumed that the Napiers were expecting more common weather conditions.
However, in the case of the Napiers' wedding day, November 22, 2008, was one of the coldest November days in Oxford's recorded weather history, with a high of only 46 degrees Fahrenheit.
When Erin posted a touching 14-year anniversary picture on Instagram, friends of the couple jokingly recalled the weather conditions only seemed to add to the memory of the day. One friend, Amanda Blackwell McLeod, wrote, " ... the pews were like ice and my dress was strapless ... I sat at full attention so my back wouldn't touch the pew!" She added a laughing emoji and well-wishes to the Napiers on their anniversary. Another one of their guests, Anna Lee Patrick, replied to the comment praising Erin for being a good sport when taking photos outside in her sleeveless wedding gown for hours in the unprecedented weather. She also wrote in a separate comment, "I'm cold just thinking about that day."
The ceremony took place on their college campus
Bspollard/Getty Images
Erin and Ben's wedding paid homage to many people and places they hold near and dear to their hearts. One of the most evident examples of how they incorporated their history as a couple into their wedding ceremony was by getting married at the University of Mississippi's Paris-Yates Chapel, as they had completed their education at the very same institution.
According to the chapel's history provided by the University of Mississippi, the building was completed in 2000 after a 25-year student-led effort that began in 1975 with a "chapel fund" of $12,000 which had been painstakingly collected by Ole Miss' religious groups and alumni. After years of planning and multiple private monetary donations for its construction, the Paris-Yates Chapel opened to the students who had long awaited its coming.
The high, arched ceilings give the building a large and open feel. Dark wooden pews line the aisle of the sanctuary, and stained glass windows provide a wash of color throughout the space, giving life to the elegant, white walls. The chapel is intended for the use of all religious denominations and includes 200 seats, a stunning bell tower, a pipe organ, and 36 bronze bells that chime hourly and play melodies on occasion. For their wedding, Erin and Ben decided to let the beauty of the chapel speak for itself, as they only utilized minimal decorations, placing only a couple of floral arrangements on podiums near the altar.
Their wedding cake matched Erin's gown
Most sweets enthusiasts will tell you that the cake is the centerpiece of a wedding reception, and the Napiers' cake certainly did not disappoint with theirs, especially in terms of glamour and originality.
Instead of opting for the traditional, multi-tiered cake commonly enjoyed at weddings, Erin and Ben chose a more unique display of confections. Tiered trays held dozens of cupcakes decorated with frosting and shavings of white chocolate, making it easy for guests to indulge while mingling. 
At the top of the mountain of cupcakes was a single-tiered cake that had been decorated with fondant and icing to mimic the pattern of the lace featured on Erin's wedding gown. Also featured on the cake was a fondant bow painted with champagne-colored edible paint that also matched the one on the back of Erin's gown, which can be more closely seen in one of her anniversary Instagram posts. Though the cake looked almost too good to eat, Erin and Ben are pictured happily slicing it up in the Instagram photo Erin posted on their 10th anniversary. In their wedding video, also posted on Instagram, the couple is shown laughingly feeding each other bite-sized pieces of the gorgeous cake, which appeared to be either vanilla or almond flavored based on the color. 
Erin changed into another dress during the reception
Whether or not to have a separate reception/send-off dress is a question many people struggle to decide on when planning their big day. With one's wedding dress typically being such a significant investment, many brides elect to get as much use out of it as possible by wearing it all night long. However, Erin Napier decided that two looks are better than one when it comes to wedding-day outfits, and she certainly pulled it off well. Both dresses embodied the classic and endearingly vintage style that Erin is known for.
The dress she wore for the ceremony, family photos, and the first portion of the reception was the ivory, V-neck, floor-length, lace gown with the champagne sash and bow accented with stunning lace and beadwork. This gown is the one featured in most of the couple's social media posts about their wedding and anniversaries.
The second dress sported by Erin on the occasion was a white, knee-length cocktail dress with large bows on the shoulders. This ensemble is featured in the couple's wedding video shared by Erin on Instagram in honor of their 12th anniversary, wherein there is a clip of Erin and Ben slow dancing toward the end of the night. Erin is also wearing the second dress with a matching white blazer in their send-off photos. She paired both looks with neutral-toned makeup and statement earrings featuring large pearls haloed with diamonds.
They let their personalities show throughout the festivities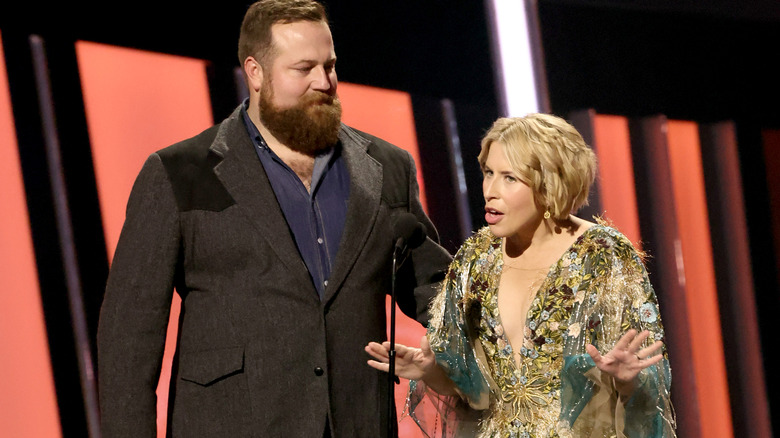 Michael Loccisano/Getty Images
The Napiers often make mention of and display their traditional, family-centric values on their show, "Home Town," and fans can see from the couple's shared photos that they let those same values ring true at their wedding years before the film crews entered their lives. From the religious ceremony in the chapel to the warm, rustic decorations of the wood-paneled reception venue, Erin and Ben made their wedding day distinctly reflective of who they are.
During the ceremony, they kept decorations in the chapel to a minimum, allowing the focus to remain wholly on their purpose and one another. Their wedding party joined them at the altar, supporting the couple on either side. The bridesmaids' dresses were alternating red and teal, each one holding a seasonal bouquet of greenery and roses to match the late autumn weather. The groomsmen sported gray suits and boutonnieres that also featured the Napiers' chosen flowers.
After the conclusion of the ceremony, the Napiers gave their guests a closer look into their personal style at the next venue. The wood-paneled walls of the reception hall gave the large space a warm and intimate feel. The space was dimly lit and decorated with intricate floral arrangements, fairy lights, and plenty of food and sweets. Round tables covered in white tablecloths surrounded the wooden dance floor, and guests spent the evening in high spirits as they talked, danced, and ate.
Erin went for a vintage aesthetic
If there's one thing that Erin does exceptionally well, it's a vintage look. From her "grandmillennial" home designs that feature the charming attributes of a time gone by to her day-to-day wardrobe that works just as well today as it did 50 years ago, Erin Napier has made vintage work for her across all facets of life.
On her wedding day, she took us back to old Hollywood with her style choices. She had grown her hair out, so her characteristic pixie cut had become a voluminous bob full of wavy curls that women in the 1950s would have aspired to. She also decided to pass on a traditional veil and chose a short, netted one instead. It remained over her face during the ceremony, and in their wedding video, you can see Ben lifting it away from her face for their kiss as husband and wife.
Even Erin's two dresses displayed popular vintage features and silhouettes. Her floor-length A-line gown gave her the same shape popularized on red carpets of the last century, and the intricately patterned lace overlaying the ivory satin base was as glamorous as it was nostalgic. Her reception dress and coat also gave the impression of a vintage aesthetic. The fitted waist and conservative knee-length skirt paired with a matching white coat hearkened back to some of the most iconic outfits worn by celebrities of the past.
Their wedding was attended by lots of friends and family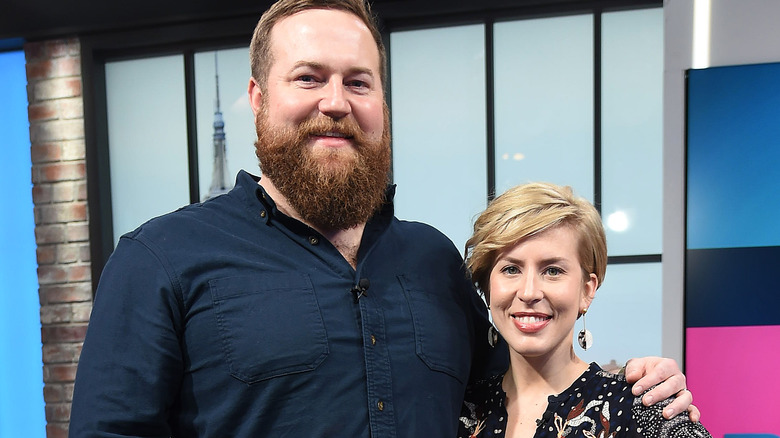 Gary Gershoff/Getty Images
As friends and family are shown to be an integral part of the Napiers' life in their show, it makes sense that their wedding was attended by many of those who are dearest to them. Though the weather was unforgiving, the Napiers' guests appeared to be enjoying themselves as they celebrated the happy couple. 
Their wedding video even begins with clips of Erin and Ben taking photos with different groups of friends and relatives, including their wedding party. In the same video, viewers can see that the pews of the chapel were full of supporters and well-wishers coming together to witness the Napiers' marriage. Later, we see the reception venue filled with smiling, dancing guests, as well as sweet moments captured throughout the event.
On a throwback photo from the wedding posted to Instagram by Erin on their 14th wedding anniversary, her mother Karen Rasberry fondly recalled the day, commenting, "What a memorable wedding y'all had. I didn't know what path you would eventually take, but it turned out pretty good. Thankful for you and Ben and the two girls y'all made. They are the joy of my life." Karen wasn't the only one who thought back on the day with a smile. Other guests chimed in, wishing the Napiers a happy anniversary and recollecting the great time they had sharing those memories with them. 
Ben's dad officiated the ceremony
One very touching detail about the Napiers' wedding, which displays the essential role that family plays in the couple's lives, is that Ben's father, Wayne Napier, officiated their ceremony. In their wedding video, fans can see him standing on the altar with Erin and Ben and smiling emotionally as the couple exchanges their vows.
Fans also loved seeing how Ben's father was able to play such a significant role in one of the most important days of their lives. Under Erin's Instagram post from 2022, a commenter writes, "I love these photos! [Mallorie] smiling so big at you, and I think you said that was Ben's dad who married you two? Just beautiful."
Both Wayne and his wife, Bennie Kay, served as Methodist pastors for years leading up to Erin and Ben's wedding. Wayne only retired from his position as a pastor in 2017. According to Closer Weekly, Ben himself was a Methodist youth minister for Laurel First United Methodist Church until 2014, when he resigned to focus on his woodworking and renovation career with his wife. He credits his time as a pastor as being "the most educational and fulfilling chapter of [his] life." Although Ben is no longer a pastor, the Napiers are still very involved with their faith. 
They had a red Corvette for their getaway car
Fans of "Home Town" might know that Erin and Ben Napier make no secret of their love for classic cars. In fact, the mascot for Ben's company, Scotsman Co., is his trusted 1962 Chevrolet C-10 pickup affectionately named "Clint." Other pieces in their collection include the 1990 Jeep Grand Wagoneer that belonged to the Pearson family from the NBC show, "This Is Us," a 1971 VW Beetle convertible, and a 1964 Pontiac Catalina.
It only makes sense that the getaway car they climbed into after their wedding reception was a vintage red Corvette. The car is featured briefly in the couple's wedding video, and it can be seen in greater detail in a post Ben made on Instagram in honor of Erin's birthday last year. The photo was posted with the caption, "Happy birthday to my wife, the mother of my children, my business partner, the star of the @hgtv show I work on, my co-author, my travel companion, and my favorite magazine cover girl!"
The eye-catching convertible came complete with a cherry red paint job, a white cover, and a maroon interior that fit in perfectly with the autumn color scheme and vintage themes present at their wedding. The couple is pictured smiling out of the rolled-down window as they prepare to take off for their romantic New York City honeymoon.
Erin's best friend got engaged at their reception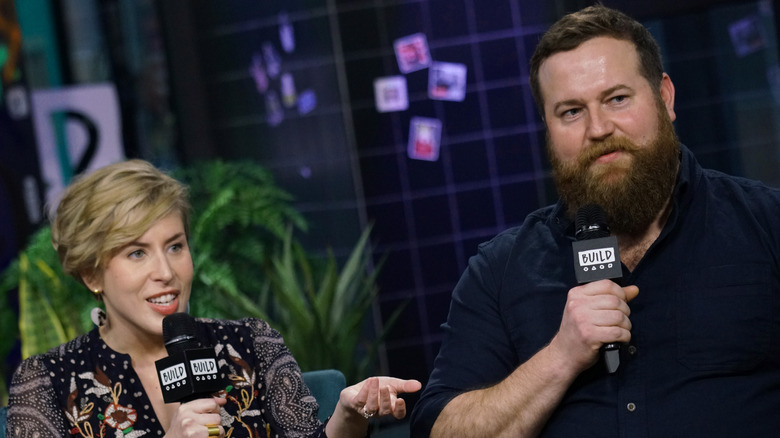 Manny Carabel/Getty Images
Depending on the opinions of the couple getting married, popping the question to your significant other at someone else's wedding can be a risky business. Though the intention is often pure, and the concept might be tempting because of the preexisting romantic atmosphere, taking the attention away from the couple who probably spent a pretty penny on their special day is not always well received.
Luckily for Mallorie and Jim Rasberry, whom fans have most likely seen featured on episodes of "Home Town," the Napiers did not seem to mind them getting engaged at their reception. Erin even mentions the engagement in the Instagram caption she wrote to accompany the wedding video post in 2020, so no hard feelings there!
Mallorie was one of Erin's bridesmaids for the ceremony and is featured clearly during the wedding video to the right of Erin during the clips showing the wedding party being photographed outside of the chapel before and after the ceremony. Of the two colors being worn by the bridesmaids, Mallorie is shown in teal with a half-up-half-down hairstyle. She is also shown catching Erin's bouquet during the bouquet toss, which, in hindsight, probably means that Erin and Ben were in on Jim's plan to propose soon.