How Malia Obama Is Forging Her Own Career In Hollywood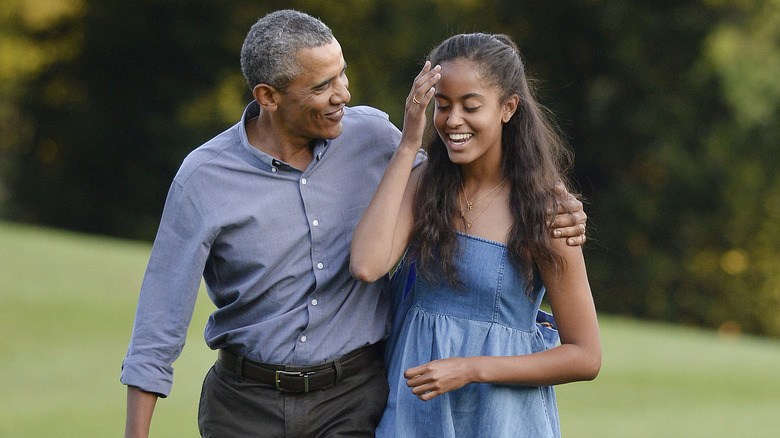 White House Pool (isp Pool Images)/Getty Images
Malia Obama is known as former President Barack Obama's eldest daughter. She spent a considerable amount of time in the White House with her parents and younger sister Sasha Obama — 8 years — and it seems as if the world has had a chance to watch her grow up. Spending the majority of one's life in the spotlight isn't an easy task but Barack and Michelle Obama did their best to make sure Malia's life as the first daughter was as normal as could be. According to Instyle, Michelle spoke about the commitment she made while raising her daughters. During the Obama Foundation summit, she said, "We could've felt bad for them, and there would've been a truth there. But our view was this is their life, and we can't apologize for the life they have because a whole of it is good."
Former President George Bush's daughters, Jenna and Barbara, also wrote a letter to Malia and Sasha, which praised them for the young women they grew up to be. According to Time, a portion of the letter read, "We have watched you grow from girls to impressive young women with grace and ease."
Now, the former first child is forging her own career path and pursuing her passions. 
Her prior internships helped prepare her for her career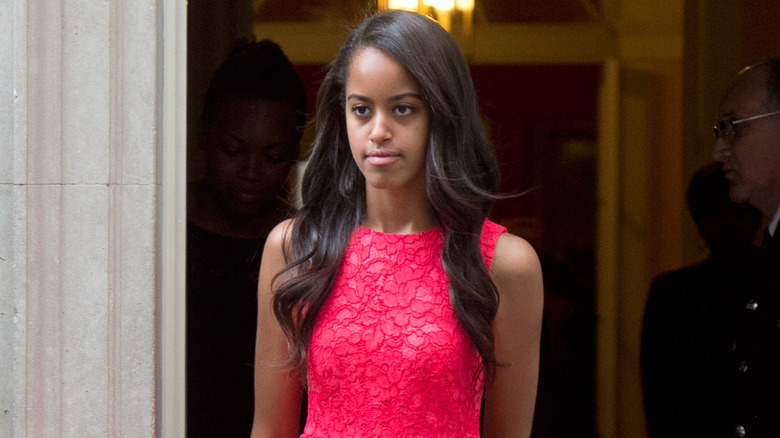 Zak Hussein/Getty Images
Malia Obama took a year off from school before enrolling at Harvard University. Obama studied Visual and Environmental Studies, which led to her desire to learn more about the filmmaking industry. She's held positions as a production assistant for CBS's "Extant," and was an intern for Lena Dunham's "Girls" on HBO. These positions helped her develop a deeper understanding of what it takes to bring TV series and films to the screens of viewers, helping her gain valuable experience that came in handy on the set of "Swarm," Donald Glover's chilling new TV series on Amazon Prime.
This high-profile new job in the writer's room was a great experience for everyone involved. She's credited with contributing to the episode "Girl, Bye" of which Janine Nabers, the co-creator of "Swarm," told Entertainment Tonight, "Some of her pitches were wild as hell, and they were just so good and so funny." Nabers praised Malia's brilliance and desire to hone her skills, recalling, "She's an incredible writer. She brought a lot to the table . . . She's really, really dedicated to her craft." As reported by Vanity Fair, Donald Glover also commended Malia at FX's "Atlanta" premiere for Season 3, noting "She's just like, an amazingly talented person. She's really focused, and she's working really hard."
She's working with Donald Glover's company to develop a short film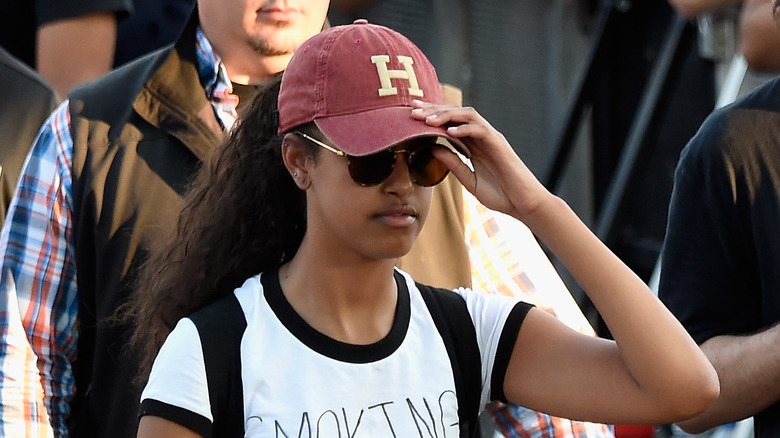 Kevin Mazur/Getty Images
Malia Obama's positive experience with Donald Glover and Janine Nabers on "Swarm" encouraged her to continue working with the former at his new production company Gilga — based in California — where she is developing a short film. Glover has been guiding her during the process and has even shared valuable advice with her.
He told GQ, "The first thing we did was talk about the fact that she will only get to do this once. You're Obama's daughter. So if you make a bad film, it will follow you around." Fam Udeorji, Glover's creative partner at Gilga, added, "Understanding somebody like Malia's cachet means something. But we really wanted to make sure she could make what she wanted — even if it was a slow process." 
Both Glover and Udeorji place an emphasis on respecting Malia's creative process, whatever that looks like for her, while also establishing an understanding of producing quality work. Details surrounding what her short film will be about remain undisclosed but they are sure to become available once production is underway. What we do know is that Malia's ability to work well within writer's rooms and her intrigue with the filmmaking industry aren't to be ignored.