Why Fans Are Calling Out Taylor Swift's Collab With Ice Spice As Problematic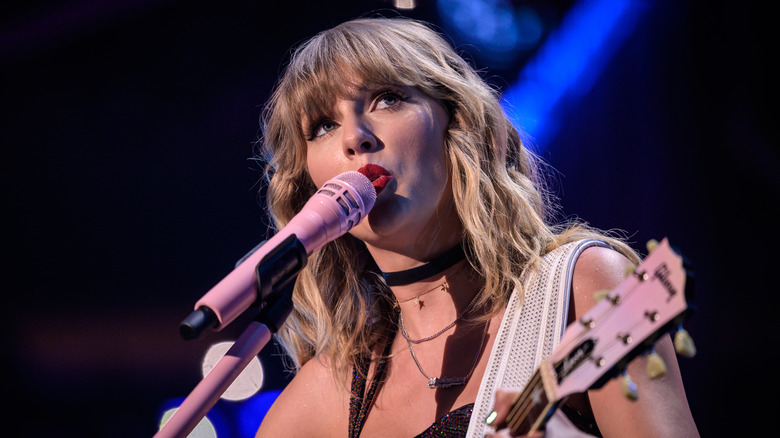 Brian Friedman/Shutterstock
Pop star Taylor Swift and up-and-coming rapper Ice Spice may seem like an unlikely pair, but the ladies have teamed up on Swift's highly anticipated remix of her record "Karma." However, when news broke that the dynamic women would be joining forces, social media had a lot to say, with many demanding that it be scrapped altogether. The criticism stems from some unfavorable comments that were made towards Spice by Swift's rumored boyfriend, Matty Healy.
Rumors of a romance between Swift and Healy, a member of the English pop-rock band The 1975, date back nearly a decade. They never confirmed if they were together romantically and Swift eventually moved on to now ex-boyfriend Joe Alwyn, whom she was with for six years. After the two split in early April, Healy and Swift reignited the romance chatter. The two were reportedly seen kissing during a night out in New York City just days ago. Once again, neither Healy nor Swift have spoke about a relationship, but fans are not pleased about the "Bad Blood" singer being linked to someone who made such nasty remarks about her recent collaborator.
Taylor Swift's rumored boyfriend made racist comments about Ice Spice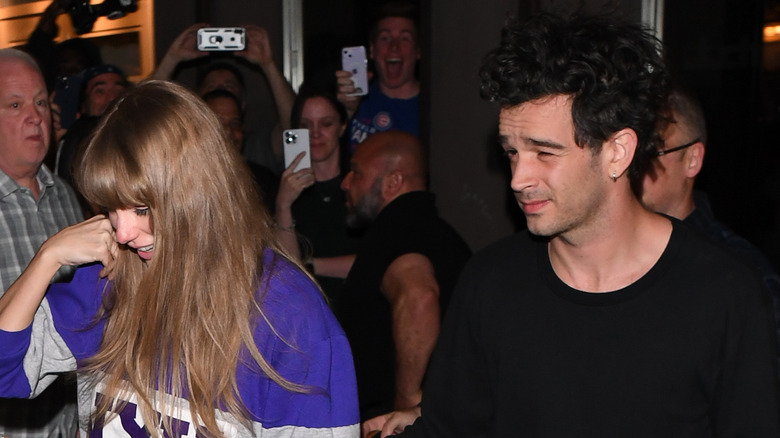 Robert Kamau/Getty Images
Singer Matty Healy took aim at New York musician Ice Spice in an unprovoked roasting session during his appearance on "The Adam Friedland Show." While taping that February episode, Healy, comedy writer Nick Mullen, and host Friedland made fun of the rapper's looks and ethnicity, specifically commenting on her weight and saying that she was either of Chinese or Canadian Indigenous descent. The 23-year-old Spice has confirmed that she is of Nigerian and Dominican heritage. The men also took aim at the accents of Hawaiian and Asian people, setting off such an offensive exchange that the episode was ultimately pulled from streaming platforms.
During an April show in Auckland, New Zealand, Healy expressed irritation that his joke was taken out of context but apologized to Spice. He claimed that he loved her and did not want her to view him as a jerk, though he used a much more vulgar term. "I'm so sorry. I don't want it to be misconstrued as mean," he said while addressing the crowd.
Spice has not publicly commented on the unsavory discourse about her on "The Adam Friedland Show." However, it is unfortunate that the men targeted her, considering that she has expressed being a fan of The 1975.
Taylor Swift has remained quiet about Healy's remarks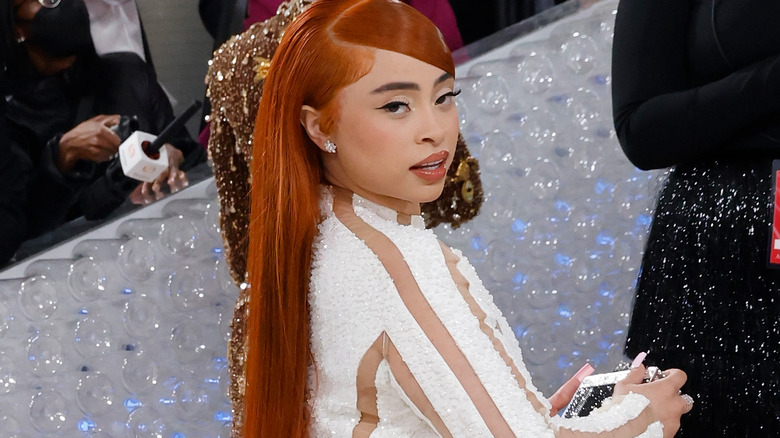 Taylor Hill/Getty Images
After Taylor Swift announced her "Karma" remix would feature Ice Spice, the hashtag #SpeakUpNow began to trend on TikTok. The movement urged the 33-year-old to speak out against Matty Healy's disrespectful slurs about Spice and other ethnic groups on the Friedland show. Up until now, Swift has been silent after her alleged boyfriend's opinions and apology, instead turning much of her focus on the single's release and praising Spice.
"I'm a massive fan of this brilliant artist and after getting to know her I can confirm: she is THE ONE to watch," Swift wrote under an Instagram post of the record's artwork. The comments on that photo have been limited, likely due to the swarm of fans bashing the adored singer. Ice Spice also shared the graphic and complimented Swift, a signal that she has no personal beef with Swift for what Healy said.
Despite some serious backlash from both fanbases, the Ice Spice and Taylor Swift remix is pushing forward. Healy has not said anything about being at the center of the fallout. Hopefully Spice has not been affected by the inappropriate comments as her career continues to soar.