Jennifer Lawrence Opened Up About Her Feelings To Her Celebrity Crush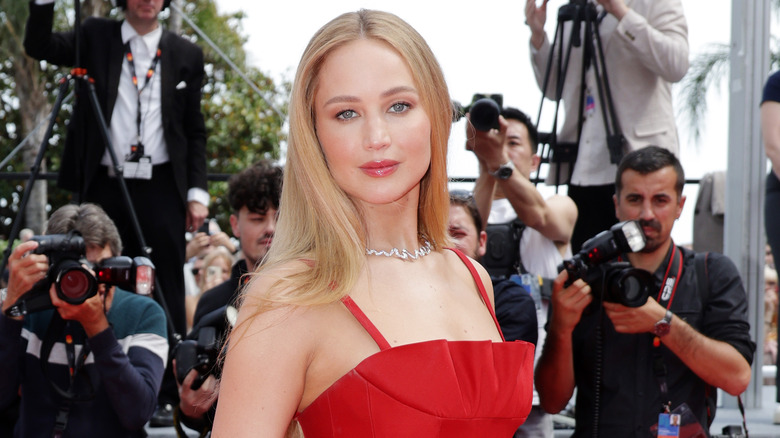 Pascal Le Segretain/Getty Images
Jennifer Lawrence was everywhere in the early 2010s. By age 20, she already had one Oscar nomination under her belt for her role in "Winter's Bone." The following year, Lawrence joined the "X-Men" franchise as Mystique, and by 2012 she was starring as the teenage huntress Katniss Everdeen in "The Hunger Games." In 2013, Forbes listed Lawrence as the second highest-paid female actor in Hollywood after Angelina Jolie.
At the height of her fame, the "Silver Linings Playbook" stand-out hosted "Saturday Night Live." Over its five decades on air — on top of churning out hours of sketch comedy — this NBC show has become somewhat famous for introducing celebrity couples. After all, it is where Pete Davidson met three of his A-list partners including Cazzie David, Ariana Grande, and — most recently — Kim Kardashian. The show's head writer and current Weekend Update co-anchor, Colin Jost, bonded with his now-wife Scarlett Johansson while on set, and Emma Stone met her husband, "SNL" writer Dave McCary, while hosting in 2016. Who needs "The Bachelor" when there's late-night TV?
Lawrence, too, decided to shoot her shot during her week at "SNL" — unfortunately, it didn't quite go as planned.
Jennifer Lawrence was planning to ask out Seth Meyers
When Lawrence hosted "Saturday Night Live" in 2013 on the tail of her success in "The Hunger Games" franchise and "Silver Linings Playbook," she met "Weekend Update" anchor Seth Meyers. "I had a really big crush on you," she confessed to the "Late Night with Seth Meyers" host in an interview years later. As her week at "SNL" came to a close, she decided she would ask him out. "I created the romance in my head because I'm delusional," she joked, recounting, "I talked to the wardrobe lady about it and I was like, 'I think I'm gonna ask Seth Meyers out, I'm gonna give him my number,' and she was like, 'honey, he's engaged.'" Later that year, Meyers exchanged "I dos" with human rights attorney Alexi Ashe. Now, a decade and three children later, the two are still enjoying married life. "Cheers to how everything works out," Meyers said to Lawerence before the two clinked glasses on his late-night show.
According to the "American Hustle" star, Seth Meyers isn't the only celebrity she's crushed on throughout her years in Hollywood. She also gave "Seinfeld" creator Larry David her number, but he never called her. "He also might have been married I don't know. Apparently I don't ask about these things," she joked. These days, Lawrence is luckier in love. In 2022, after public relationships with Nicholas Hoult, Chris Martin, and Darren Aronofsky, the actor finally met her match in art dealer Cooke Maroney.
Jennifer Lawrence tied the knot with Cooke Maroney in 2019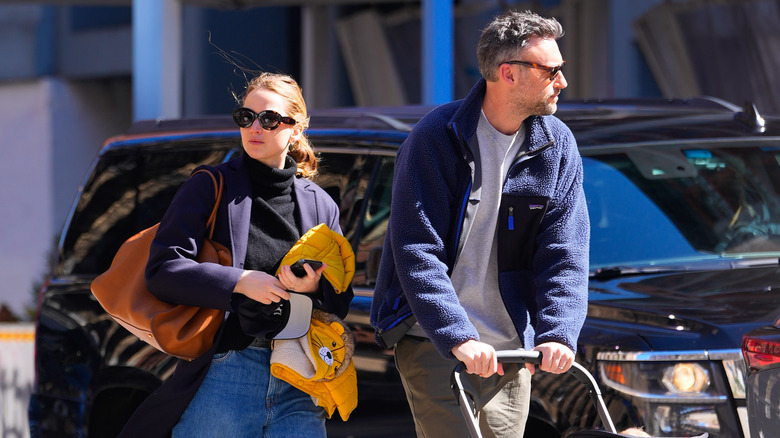 Gotham/Getty Images
In 2018, Jennifer Lawrence met art dealer Cooke Maroney. "He's my best friend. I want to legally bind him to me forever," Lawrence quipped in a 2019 episode of Catt Sadler's podcast, "Naked," adding, "And fortunately the paperwork exists for such a thing. You find your favorite person on the planet and you're like, 'You can't leave!'" Later that year, the two married in Newport, Rhode Island. Their guest list included stars like Emma Stone, Kris Jenner, and long-time friend Amy Schumer, among others.
After taking a brief hiatus from acting from 2019 until 2021, the Oscar winner is making a full-on comeback. "I was not pumping out the quality that I should have," Lawrence said of her work in the late 2010s, telling Vanity Fair, "I just think everybody had gotten sick of me. I'd gotten sick of me. It had just gotten to a point where I couldn't do anything right." In recent years, Lawrence has spoken out in support of the #MeToo movement, launched her own production company, Excellent Cadaver, and gave birth to her first child with Maroney. On top of that, 10 years after her stint on "SNL," she's delved into the world of comedic acting with films like "Don't Look Up" and "No Hard Feelings."