Your Ultimate Guide To Getting The Most Out Of Vintage Shopping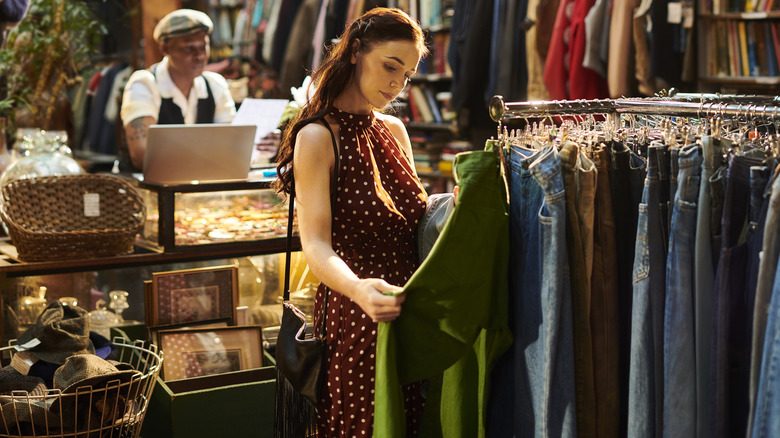 Sturti/Getty Images
You might have noticed as you perused the aisles of Target last week that everything old has become new again. Those stone-washed jeans that were all the rage in the late 80s are now neatly folded on the shelves for the younger generation to enjoy.
However, over the years, vintage trends have become big business, both online and in stores. Therefore, spending your day combing through the racks of your favorite Salvation Army might be more akin to a rugby match than a relaxing day of retail therapy. Additionally, online shopping for vintage clothing has become all the rage, and you can quickly get in over your head when bidding on that YSL dress.
Keep your budget in check by getting a complete shopping guide to everything vintage for hitting the stores or combing the pages of Google. Find out what you need to know when selecting sizes or brands and looking for imperfections. You'll even discover why a measuring tape might become your new bestie.
Keep a measuring tape on hand
Since many brands have been around for what seems like forever, you'd think that sizing hasn't changed much since the '50s and '60s. Well, you'd be sorely mistaken. A size 12 from the 1990s is different from a size 12 today. And that size 12 of today varies a lot depending on the brand you're buying. Don't believe it! Just go to the mall, and you'll find out.
While you might be a size 12 in modern clothes, you aren't going to be that average woman's size in your favorite vintage style. So, you'll want to get your measurements before you hit your favorite vintage spot and try everything on. Gem app cofounder and vintage style expert Liisa Jokinen told InStyle, "The measurements are effectively the only way you can be sure the item fits you...I have my own measurements on my phone, so I have them with me whenever, wherever I go." You might even want to carry a measuring tape in your bag when you go shopping to help you measure out pieces in places without a dressing room so you aren't disappointed when you come home.
Knowing your measurements is a critical factor before you head to your favorite retro area, but it's also essential to do your research beforehand. Not only do you need to know and understand brands, but getting a feel for what those stores have available and pricing is essential.
Do your research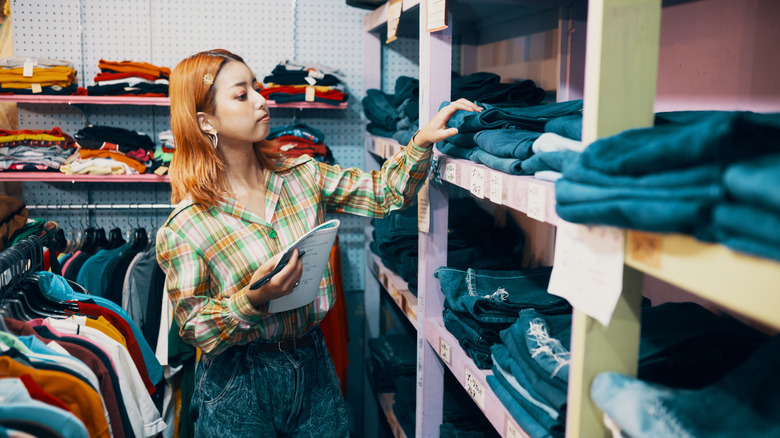 Tdub303/Getty Images
If you're new to the vintage game, research brands, pricing, and materials before you go into the store and get swept away by the love of the culture. It's easy to overindulge and come out of the store with more than you need or items that need a lot more work than you're capable of. Therefore, go in well-prepared; don't let those retro looks get the better of you.
Quality is king in the world of vintage clothing; therefore, get on the ole' Google machine and look into the top brands of the era and where they were created. Older brands tend to have more quality than brands of today. Just look at that refrigerator in your grandma's house that is still working after 50 years. With that in mind, it's essential to look for quality brands like Levi's, YSL, and Chanel, according to Stylecaster experts.
Another form of research is the inspection of the garment at the store. Make sure to give it a good look over for tears, holes, and stains that you aren't able to repair. It's also necessary to look at the material to ensure it's high-quality and natural; steer clear of blends. With your research securely formed in your mind, it's time to answer the question of how to shop online.
Key to finding vintage online
One of the best places to find vintage brands doesn't require you to put on a bra or get out of your jammies. Since the pandemic, vintage shopping online has become all the rage, and you can find some excellent deals without having to sift for hours through Goodwill or Salvation Army.
However, online shopping can easily be overwhelming if you're just browsing through the pages of a dedicated vintage website or app. Therefore, have specific clothing or an era of clothing in mind before you start browsing. You'll also need to do your research on the app or website to make sure it's credible and that it offers the item at the best price. Many times, these websites can overcharge for specific brands and styles if you aren't on top of your vintage buying game. Specific places to find vintage online include Etsy, Facebook Marketplace, eBay, Thrifted, and Tradesy.
While vintage shopping online is super easy, it's not always easy to know if you're going to get the right size or style for you. Something that looks great on the screen can be a hot mess when it comes home. That means it's beneficial to know your way around recycling and reselling your vintage clothing arena. That vintage Chanel jacket that looked horrendous on you might be the stuff dreams are made of for someone you know. Online shopping turns the world of vintage into your oyster, but nothing is better than brick-and-mortar thrift and vintage stores. 
Where to find vintage clothing shops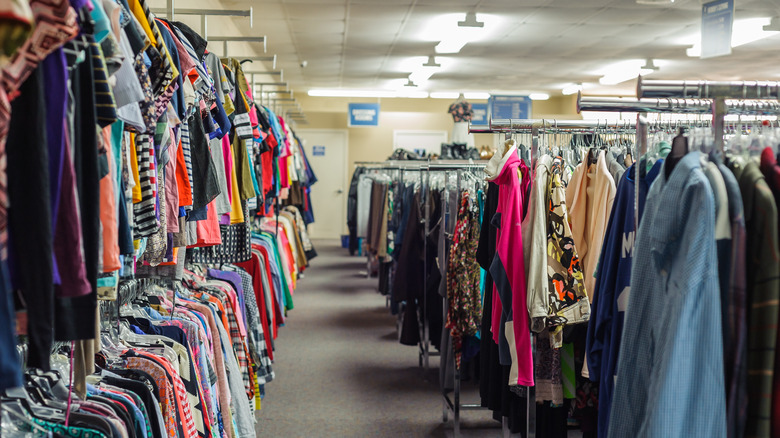 ccpixx photography/Shutterstock
Online shopping is terrific because leaving the comfort of your home isn't necessary to find your favorite old-school brands. However, there's nothing like the feel of walking into your local thrift or vintage store and smelling all that old goodness, just waiting to find its home in your closet. It's also nice to try clothing on to ensure you get the look you want. 
When it comes to shopping for vintage, one of the best places to look beyond dedicated stores is charity shops in your area like Red Cross, Goodwill, and Salvation Army. With the right eye, you'll find fantastic deals and pay much less than at a dedicated vintage shop. It can be helpful to check out the charity stores in an older, wealthy community for rare finds.
Beyond those stores, consider hitting up auctions and garage sales in and around your area. Additionally, many online house auctions allow you to check out the stuff in person to make sure it's something you want to buy. Estate sales are also another great place to find vintage stuff, especially those of that eccentric older woman in your area. Since finding pristine vintage clothing can be challenging, having a repair specialist on your side can give you the most bang for your buck.
Find a good tailor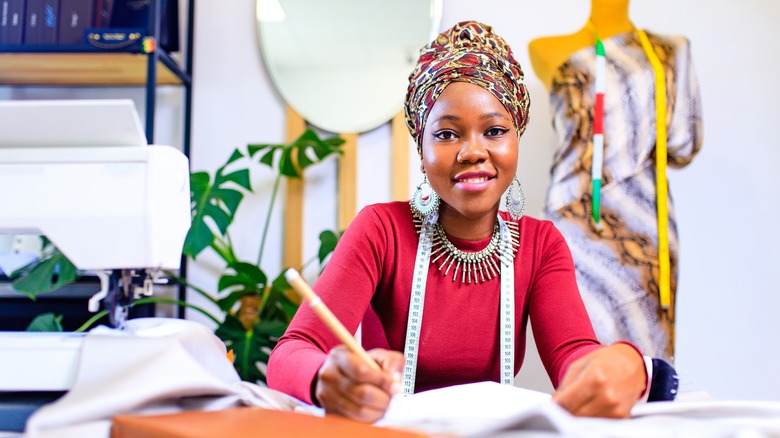 yurakrasil/Shutterstock
The most beautiful diamonds on the market take a little bit of work to get them sparkling and shiny. The same is true when it comes to vintage clothing. Knowing a cleaner and tailor that specializes in cleaning and repairing older clothing can be your saving grace.
Many times, the perfect vintage sweater or scarf has a stain, rip, tear, or hole. This imperfection doesn't make that beautiful cashmere scarf destined for the garbage bin, but it does require a bit of expert care to get it looking new again. Additionally, killer deals are to be had on vintage clothing that has a stain or imperfection, and knowing someone with the expertise to fix it can save your wallet loads. But it's key to know what can and can't be repaired when it comes to buying. And let's face it, sometimes a little imperfection just adds to the personality of the piece.
Buying vintage clothing isn't hard to find, but it can be easy to get in over your head and spend more than your planning. Therefore, knowing about the brands, where to buy, and how to get the best deals can come in handy when you're doing a little vintage retail therapy. Because it's fun to make thrifted vintage clothing look new again.