How To Make A Thrifted Vintage Piece Look Brand New
Alones/Shutterstock
There's no denying the many incredible benefits of shopping second hand. You can discover pieces for your wardrobe that are totally unique at an affordable price. This is especially true if you come across a designer vintage gem — cha-ching! Thrifting is also much gentler on the planet than shopping new; The World Economic Forum found that "Fashion production makes up 10% of humanity's carbon emissions, dries up water sources, and pollutes rivers and streams." When you purchase items that already exist, fewer natural resources are used, and the item's road to the landfill is delayed.
The stigma behind secondhand shopping is also waning, thanks, in part, to Gen Z consumers wearing their preloved pieces loud and proud. ThreadUp reported that 40% of this age group has jumped on the thrifting bandwagon. Gen Z may have missed the mark when they revived Y2K trends, but we applaud them for respecting the planet.
Wearing and shopping for vintage clothing sounds quite enticing, but where do you start? The truth is that styling a vintage outfit can be a struggle until you get the hang of it, and there are tricks to looking current instead of like your grandma. As resale shopping grows and fast fashion becomes a thing of the past, it's time to learn how to make the most out of your thrifted finds.
Mix new and vintage when styling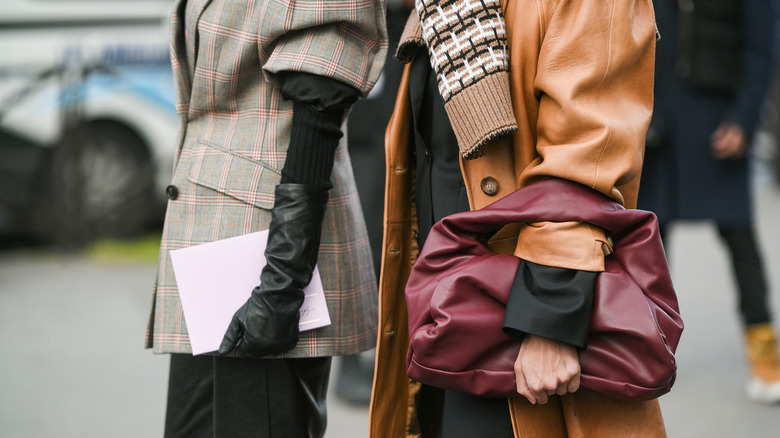 Creative Lab/Shutterstock
It's one thing to find the dedication and patience to thrift, but it's another to put together chic, contemporary outfits from your haul. Channeling your inner creativity and finding a balance between new and old are key to styling your vintage clothing and making them look brand new.
Start by layering. Jackets, blazers, oversized coats, and knitwear are the easiest kinds of vintage pieces to pair with your current (new) wardrobe, avid thrifter Bridget Brown shares with Who What Wear. Begin with a simple foundation of high-waisted denim and a t-shirt, and go from there by layering a blazer or even a cardigan. And although there is always a time and place for a statement, Brown explains, "When I thrift, I try to find timeless pieces that I know I will be able to pair with a lot and create many different outfits."
You'll also want to ensure you're dressing to match your personality, says vintage styling inspiration blog, Wearing History. Adding vintage items to your outfit should never look like a costume. They should blend into and elevate your look. You may come across a designer label on your search, but if the piece doesn't match your existing wardrobe, it will stick out and come across as unnatural. 
Tailoring and cleaning make all the difference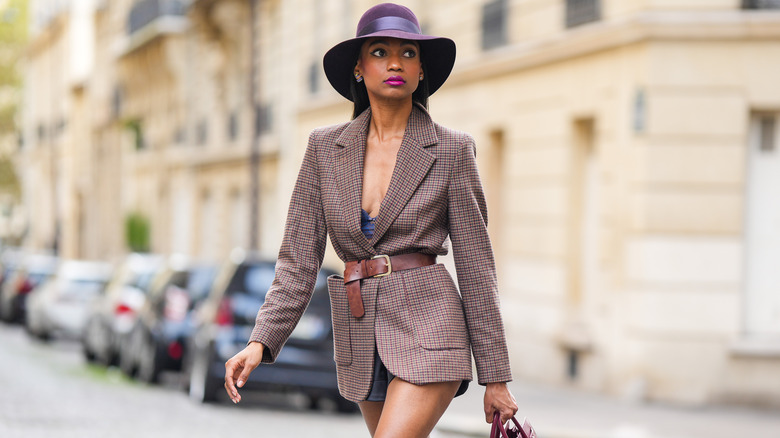 Edward Berthelot/Getty Images
You've got the styling down, so now it's time to perfect your vintage clothing. This is where knowing a good tailor and professional fabric and leather cleaner come into play. Before the surge in mass production in the '90s, clothing was crafted with much higher quality. So, even if you purchase a piece that requires some TLC, you'll still be making a better investment than buying new.
First off, there is nothing chicer than a well-fitting jacket, and by tailoring it to your body and style, it can look brand new. For example, blazers with shoulder pads, which used to be popular in the '80s and '90s, can be altered to have the pads removed, along with a flattering nip taken at the waist. Secondhand denim is another wardrobe staple that can look brand new without much effort. After all, don't we pay a premium for that vintage wash? Make sure to know your measurements, or buy men's denim and tailor them to fit.
It's also important to properly clean and treat your vintage goods, but expert opinions on this vary. The Laundress recommends various cleaning methods for different types of wool and silk goods, whereas style blogger Samio just takes everything to a dry cleaner. To bring leather back to life, you can actually use good old soap and water, followed by a conditioning product designed to keep an optimal moisture level, says LeatherCult. So, consider your fabrics, and treat them accordingly.