Is Miley Cyrus Shading Liam Hemsworth In Her Jaded Music Video? Some Fans Think So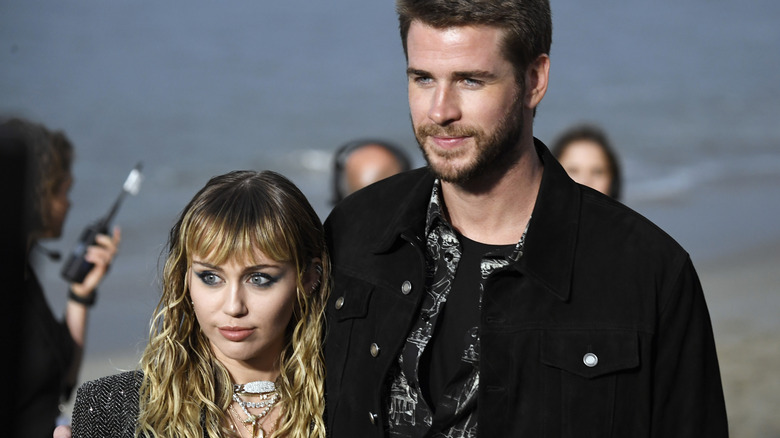 Frazer Harrison/Getty Images
On May 16, 2023, Miley Cyrus released a dreamy music video for her hit single "Jaded," and fans immediately ran wild with Liam Hemsworth-related theories about it. Cyrus and the "Hunger Games" actor famously dated on and off for nine years before getting married and then divorced less than a year after they said "I do." Since their final split in 2019, Cyrus has released several breakup bangers like "Slide Away" and "Flowers" that seem to reference that complicated relationship.
In her newest breakup ballad, "Jaded," Cyrus croons about a former partner, "I'm sorry that you're jaded / I could've taken you places / You're lonely now and I hate it." She has neither confirmed nor denied that the song is about Hemsworth, but fans have spotted some telling Easter eggs in the video. They think the "Jaded" video continues Cyrus' artistic narrative of her relationship with Hemsworth by referencing several of her previous songs and videos about him. 
She seems to be referencing past songs about Liam
🚨 Miley Cyrus parodies old music videos about Liam Hemsworth in new single 'Jaded'!

she references 'Adore You', 'Malibu', and 'Slide Away', ballads about wanting to marry Liam Hemsworth, to live in Malibu forever with him, and about his addictions.

Cyrus talks about Liam's… pic.twitter.com/wf5rkPheR4

— Miley Cyrus Updates (@MileyCyrusBz) May 16, 2023
One popular Miley Cyrus fan account on Twitter, Miley Cyrus Updates, observed that her "Jaded" music video has striking similarities to some of her previous videos for her songs "Adore You," "Malibu," and "Slide Away." The fan pointed out that those tracks are all "ballads about wanting to marry Liam Hemsworth, to live in Malibu forever with him, and about his addictions." The "Jaded" music video visuals seem to reflect those past feelings. 
The fan account posted a grid of side-by-side comparison shots from all of the music videos, and the evidence is fairly convincing. In the "Jaded" video, the singer lays on a white bed throughout which feels reminiscent of "Adore You," and there are similar shots of her looking into the distance in both the "Jaded" and "Slide Away" videos. They also suggested that she filmed the music video in her Malibu home which could be an intentional reference to "Malibu." There is certainly no shortage of palm trees in the "Jaded" video.
Miley and Liam got divorced in 2019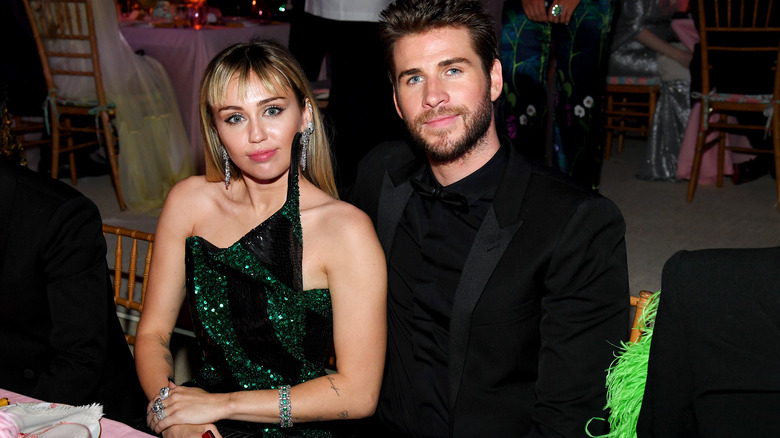 Kevin Mazur/mg19/Getty Images
After less than one year of marriage, Liam Hemsworth filed for divorce from Miley Cyrus on August 21, 2019. Cyrus opened up about their split during a September 2, 2020 interview with podcaster Joe Rogan. "What really sucked about it wasn't the fact that me and someone that I loved realized that we don't love each other the way that we used to anymore," she said. "That's okay. I can accept that." Cyrus explained, "I can't accept the villainizing and just all those stories."
Fans believe Hemsworth to be the inspiration behind many of Cyrus' hits including the previously mentioned songs as well as "Flowers," "Muddy Feet," "WTF Do I Know," and more. Although the exes are still making headlines together because of Cyrus' super successful music, both she and Hemsworth have moved on to new relationships. The singer is currently dating drummer Maxx Morando, and Hemsworth is dating model Gabriella Brooks. It seems where Miley Cyrus and Liam Hemsworth stand now is a place of acceptance.