The Real-Life Inspiration Behind Taylor Swift's Song Ronan
Tas Rights Management/Getty Images
Taylor Swift has been labeled with many things. Critics and fans alike have often whittled her down to singing simply about love and heartbreak. And while many of her songs do have this central theme, true fans know that Swift often goes beneath the surface of a classic love song and if you truly listen, you'll learn that her lyrics are so much more than just silly ballads expressing her teenage desires. 
As Swift began to re-record her old work and release new music in the process, people outside of her fan base began to realize the gravity of her songwriting skills. In fact, as The Hollywood Reporter notes, Swift was the first female musician to receive the NSAI's Songwriter-Artist of the Decade award at the 2022 Nashville Songwriter Awards.
And while certain songs like "All Too Well" have received plenty of attention, particularly thanks to its re-release in a 10-minute version, there is one track that stands above the rest when it comes to sentimentality. While many of Swift's songs come from her own personal experiences, "Ronan" speaks about someone else's, and its real-life inspiration will bring you to tears.
Taylor Swift was inspired to write Ronan from a blog post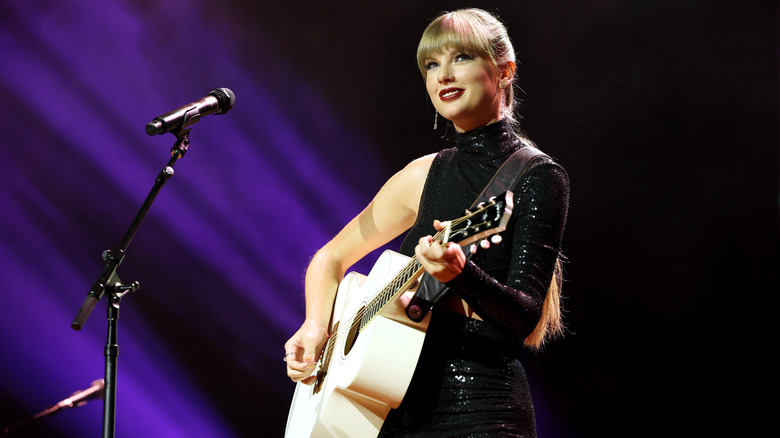 Terry Wyatt/Getty Images
Ronan Thompson was a three-year-old boy with bright blue eyes who unfortunately did not make it to his fourth birthday. His mother, Maya Thompson, wrote a blog about him, detailing his life and his battle with a type of cancer called neuroblastoma. When Taylor Swift caught wind of it, she was inspired to write a song about him. According to Billboard, she contacted Ronan's mother first, and Swift even credited her as a co-writer on it. 
In the end, Swift wrote a beautiful ballad for Ronan, with heart-wrenching lyrics like: "Flowers pile up in the worst way, no one knows what to say/ About a beautiful boy who died." At the time, the pop star did not include the song on any of her albums. Instead, she used it for the charity event Stand Up 2 Cancer. Still, fans who did get to hear "Ronan" instantly fell in love, with some going as far as to name it one of Swift's best songs. 
So, when the singer-songwriter had the opportunity to re-record some of her past work, she clearly felt that "Ronan" deserved a place on the "Red" album era re-release.
Ronan was added to the re-recording of her Red album
As Taylor Swift began to re-record her old albums, she reached out to Ronan Thompson's mother, Maya Thomspon, to get her opinion about including the song "Ronan" on "Red (Taylor's Version)," per Billboard. In her blog post, Maya shared the email exchange with Swift, noting that she said, "I wrote 'Ronan' while I was making 'Red' and discovered your story as you so honestly and devastatingly told it. My genuine hope is that you'll agree with me that this song should be included on this album."
Swift added, "As my co-writer and the rightful owner of this story in its entirety, your opinion and approval of this idea really matters to me, and I'll honor your wishes here." Of course, Maya wholeheartedly agreed. When the new version of "Red" was released, fans everywhere got to learn all about Ronan's devastating story. Swift also took it a step further by releasing a lyric video of the song, complete with photos of the little boy. As for his mother, her gratitude towards Swift is immeasurable. 
Maya noted, "Thank you for keeping Ronan safe. Thank you for never forgetting him. Thank you for breaking [the] rules and breaking free. Thank you for that heart of yours that is made of pure gold. You are a constant source of inspiration to me in so many areas of my life, and there is nobody in the world I would rather have Ronan with than you."