Celine Dion's Heartbreaking Tour Cancellation Sheds Light On Her Ongoing Health Issues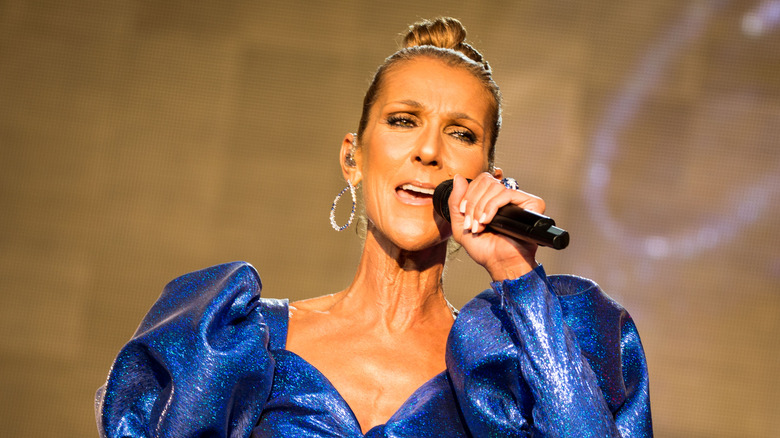 Tom Rose/Shutterstock
On May 26, Céline Dion, one of the best-selling artists of all time, announced that she was canceling the rest of her Courage World Tour. This news came months after the singer revealed that she was suffering from stiff-person syndrome.
On Instagram, Dion wrote, "I'm so sorry to disappoint all of you once again. I'm working really hard to build back my strength, but touring can be very difficult even when you're 100%. It's not fair to you to keep postponing the shows, and even though it breaks my heart, it's best that we cancel everything now until I'm really ready to be back on stage again. I want you all to know, I'm not giving up ... and I can't wait to see you again!"
The global superstar first revealed that she was hitting the road for her Courage World Tour in 2019. As this was her first U.S. tour since her 2008-2009 Taking Chances World Tour, fans relished the news. The tour kicked off in Quebec in September of that year, and Dion went on to do 52 shows from 2019 to 2020. However, she had to postpone the rest of the dates due to the COVID-19 pandemic. Then came Dion's heartbreaking diagnosis.
The singer revealed her stiff-person syndrome diagnosis on Instagram
Céline Dion announced that she was canceling the rest of her North American tour dates of the Courage World Tour due to muscle spasms in on January 15, 2022. In a statement on her website, she said, "I was really hoping that I'd be good to go by now, but I suppose I just have to be more patient and follow the regimen that my doctors are prescribing. There's a lot of organizing and preparation that goes into our shows, and so we have to make decisions today which will affect the plans two months down the road." Dion noted that she would proceed with her European dates for 2022.
However, Dion later postponed these dates to 2023. Not long after this, Dion disclosed that she had been diagnosed with stiff-person syndrome in an emotional Instagram video posted in December 2022. This led her to postpone her tour dates until 2024. She also gave fans insight into her health battle and said, "I've been dealing with problems with my health for a long time, and it's been really difficult for me to face these challenges and to talk about everything that I've been going through." 
Dion went on to explain, "While we're still learning about this rare condition, we now know this is what's been causing all of the spasms that I've been having." She added, "Unfortunately these spasms affect every aspect of my daily life, sometimes causing difficulties when I walk, and not allowing me to use my vocal cords to sing the way I'm used to." 
Stiff-person syndrome is incurable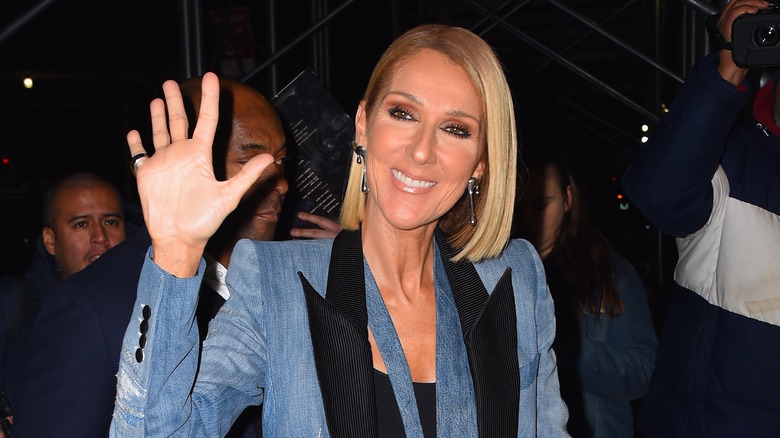 Robert Kamau/Getty Images
According to a study on stiff-person syndrome published in the National Library of Medicine, one in one million people will receive this diagnosis. Likewise, people usually get diagnosed when they are middle-aged, as was the case with Céline Dion. It's also more common in women than men. Dion's muscle spasm symptoms are common in individuals with the disorder. The spasms can occur anywhere in the body, including the face. Other symptoms include having stiff limbs. Unfortunately, this can cause individuals with stiff-person syndrome to lose their balance and fall.
Doctors do not know the cause of stiff-person syndrome. However, the disease is considered to be autoimmune and neurological. In many cases, muscle spasms can be caused by stress, changes in temperature, or even certain noises. Although there is no cure for stiff-person syndrome, there are treatment options, including physical therapy and muscle relaxers, amongst other things.
In her 2022 Instagram video, Dion expressed remorse for postponing her dates due to her stiff-person syndrome, saying, "I miss you so much. I miss seeing all of you, being on the stage, performing for you. I always give 100% when I do my shows, but my condition is not allowing me to give you that right now." While it's unknown what treatment route Dion is taking, it's clear that she has now made the decision to permanently cancel her Courage World Tour to focus on her recovery.