Vanilla Latte Manicures: The Expensive-Looking Nail Trend That's Hotter Than Coffee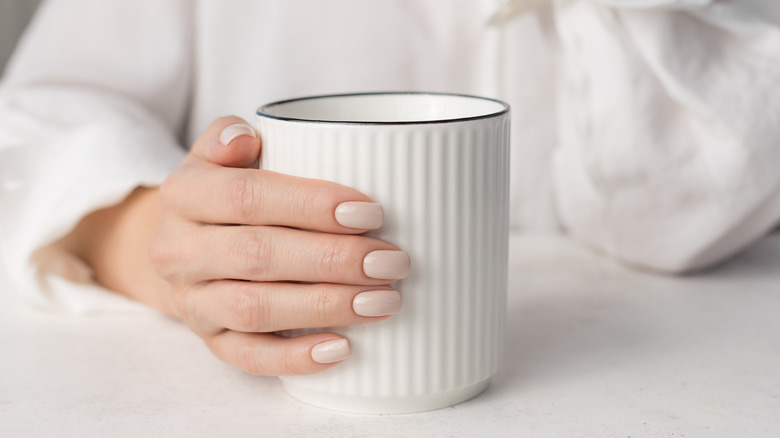 Mila Naumova/Getty Images
Nail trends change on the daily, and just when you think you can't add another pin to your Pinterest board, you find the most fabulous nails that you know you have to try. You'll definitely want to add the sleek vanilla latte manicure to your collection.
Unlike the milk bath nail style that blends smooth vanilla color seamlessly with vibrant floating flowers, the vanilla latte keeps your nails clean and simple by accenting their natural beauty with a soft neutral color. It's one of those muted nail looks perfect for your cocktail party or a night in with your favorite Hulu series. It's also an excellent accent for that new power suit you bought last week. Dive headfirst into the perky, rich vanilla latte manicure that will wake up your cuticles, and learn how easy it is to create this sleek and creamy nail trend at home with only a few essentials.
Why are vanilla latte manicures trending?
Beauty and grace can be found in keeping your nails on the simple side, and while some people like to go wild with their manicures, a simple vanilla latte manicure is gaining steam in the nail world. The great thing about the vanilla latte manicure is that it can work on every nail style, from a simple rounded tip to a stiletto. It's a rich, cream-white color with just a hint of brown that complements any skin tone because it seamlessly blends into the nail bed.
According to Lindsay Lohan's nail artist Elle Gerstein in Who What Wear, vanilla latte creates "[a] clean look that emphasizes modelesque, natural, beautiful hands." It's also one of those looks you can mold into your own personal style as well. For example, try adding a vanilla accent nail to add a bit of variation to your brown nail game. You might also want to use the vanilla latte color as part of the French vanilla latte manicure trending on TikTok, where you swirl the rich vanilla latte color on the tips of your fingers.
In addition to making your nails look clean and costly, vanilla latte offers a great base for hand-painted designs and stickers. Now that you've got the deets on why the vanilla latte manicure should be your next trend, find out how to create this simple look at home.
Create your own vanilla latte nail look
Since vanilla latte nails get their beauty from the simplicity of the color and the sheer elegance of your nail, it's easy to create at home. However, for acrylics or extensions, head to your nail technician. To create your own vanilla latte manicure, grab a nail file, nail polish remover, cuticle pusher, and a creamy vanilla latte color. While there are several on the market, check out the smooth, creamy look of OPI Coconuts Over, LA Colors Vanilla Latte, or Gelous Vanilla Latte.
With everything ready, start prepping your nail by giving it a few swipes of nail polish remover. It's also important to clean up any rough areas on your nail by filing the edges, removing any loose skin, and pushing back your cuticle. You'll want to skip cutting your cuticles since that little flap of skin plays an important job in keeping out germs. Hydrate your nails and hands with lotion or oil, then apply several coats of your vanilla latte polish until you have a rich, mouthwatering finish. Just like Elle Gerstein points out in Who What Wear, "This will be trending because everyone wants to spend their money wisely and have it show they do." When you're looking for a simple, clean look to make your nails shine, make the vanilla latte manicure your next style. It's like a smooth, rich boost of energy your nails with love.