King Charles' Unusual Habit Every Time He Plants A Tree Shows His Softer Side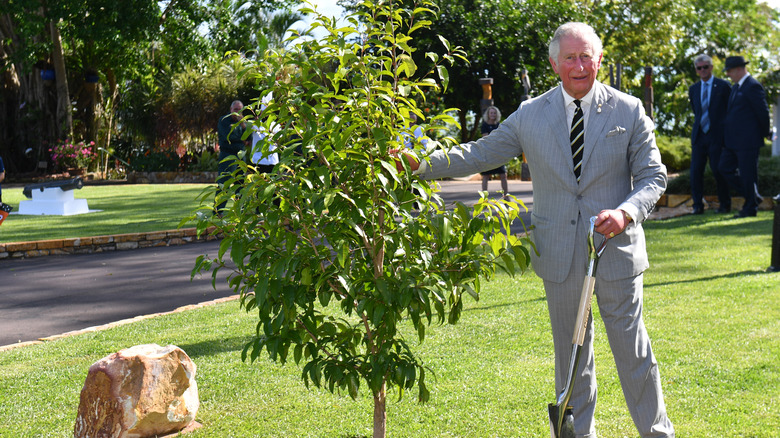 Pool/Getty Images
Fans of "Bridgerton" will tell you English gardens are no joke. These lush spaces filled with flora, fauna, and some seriously impressive fountains aren't just a backdrop for the show. Expansive working gardens have been around for ages in upper-class British society. One of the most enviable belongs to the monarchy and spans 39 acres at Buckingham Palace.
Traditionally, caring for the plants has been left to a team of skilled gardeners. But King Charles III doesn't seem to mind getting his hands dirty. In fact, he has even been referred to as the "Gardener King." At his Highgrove home in the Cotswolds, he has created an outdoor space full of plants and architecture over the past four decades, calling it "... one very small attempt to heal the appalling short-sighted damage done to the soil, the landscape and our own souls," reports Gardens Illustrated. At Balmoral, the king has planted a wood, named "Prince George's Wood," and created an arboretum — both illustrating his passion for protecting the planet and combating climate change.
His Royal Highness loves trees so much that he has developed a somewhat eccentric but charming habit each time he plants one.
A friendly send-off for the flora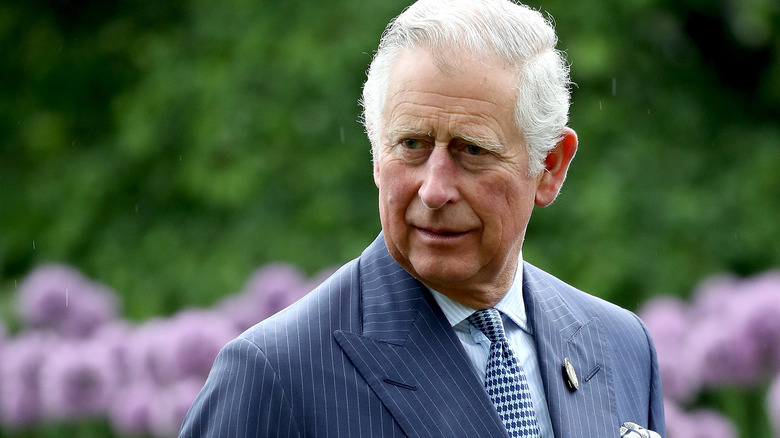 Chris Jackson/Getty Images
Guests to the annual Royal Horticultural Society's Chelsea Flower Show, an event held on the grounds of the Royal Hospital Chelsea, London, will likely witness the king's unusual habit. King Charles and Queen Camilla are routinely invited to preview the world-class garden designs. And, as is common with royal visits to a location, His Majesty will probably be asked to plant a tree.
Planting a tree to signify an important event or commemorate a visit is a long-standing tradition. What's not so traditional is the fact that after each planting, Charles reaches out to grab one of the tree's branches and gives it a tender shake before wishing it well. The habit is documented on the royal website. So is the fact that Camilla is a keen gardener, too, even producing her own honey at her Wiltshire home. Interestingly, Charles's first official Royal duty in June 1965 was to attend a student garden party.
King Charles has long loved the outdoors, and his concern for the environment is a pillar of his royal mission. He has written a published book about gardening called "Harmony: a New Way of Looking at Our World," and encouraged his fellow Brits to take up planting a meadow of their own. While the king may have once been mocked and ridiculed for his "sensitivity to nature," he remains unembarrassed. Now, many realize he was a man ahead of his time regarding environmentalism.
A love of flowers may run in the family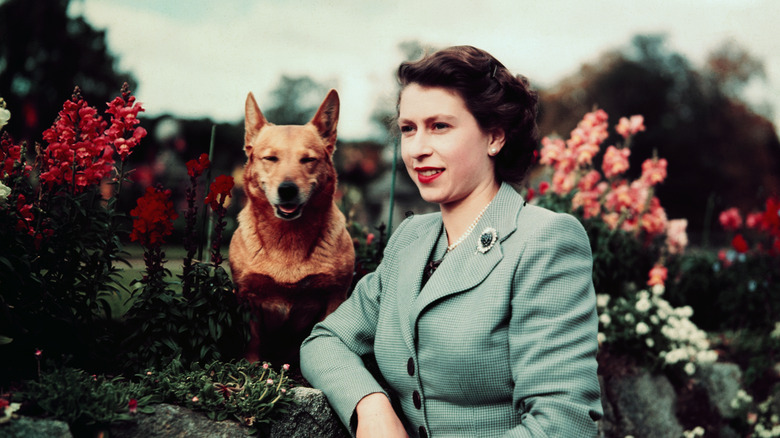 Bettmann/Getty Images
The late queen was also a fan of the Chelsea Flower Show — and blooms in general. Her favorite flowers were reportedly lilies of the valley. The delicate lilies were a part of her coronation bouquet and were regularly featured in Buckingham Palace's floral arrangements during her reign. Lady Elizabeth Anson, a friend of Elizabeth II, has said that she knew many facts about plants and even all of their Latin names. For her 90th birthday, the queen was reportedly gifted plants, after her love of gardening blossomed following the 2018 Chelsea Flower Show.
In 2023, Kate Middleton made a surprise visit to the show, looking like a garden beauty herself. She has previously worked with landscape artists in 2019 to design the Back to Nature Garden in Wisley, marrying her royal work of addressing childhood issues with her love of the outdoors.
But out of all the royals, no one is more interested in getting dirty in the garden than King Charles II. King Charles's U.K. homes each feature brilliant gardens that illustrate his keen eye for garden design, sustainability, and environmental friendliness. Even his second hobby, watercolor painting, routinely features landscapes and gardens. The gardener king is eager to pass on his passion for plants to the younger generation, hopefully inspiring future monarchs to continue championing the environment to save the planet.