The True Meaning Behind Miley Cyrus's 'A Thousand Miles'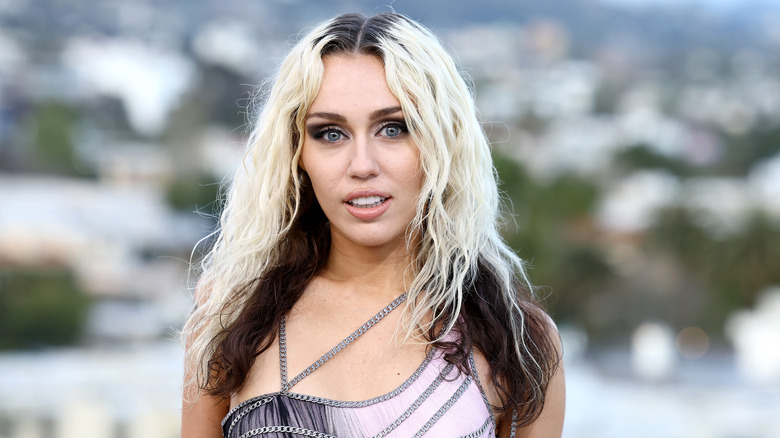 Arturo Holmes/Getty Images
Miley Cyrus recently returned to the charts with her critically acclaimed album "Endless Summer Vacation." Released in March 2023, "Endless Summer Vacation" — Cyrus's eighth studio LP — is a Los Angeles-inspired effort infused with rock, pop, and synth-pop. Lyrically speaking, the singer alludes to the highs and lows of relationships and deals with the heartbreak of her short-lived marriage to actor Liam Hemsworth,which lasted from 2018 to 2020. 
The fourth track on the album is a country-pop duet with Brandi Carlile called "A Thousand Miles." With lyrics like, "Oh, I pick up the phone and I call back home, but all I get is a dial tone/And instead of hangin' up, I hang my head," critics presumed that the song was about her divorce from Hemsworth. However, in her Disney+ ​​ special "Miley Cyrus: Endless Summer Vacation (Backyard Sessions)," Cyrus said that the song is dedicated to her little sister and fellow singer Noah Cyrus.
Miley Cyrus changed the song's lyrics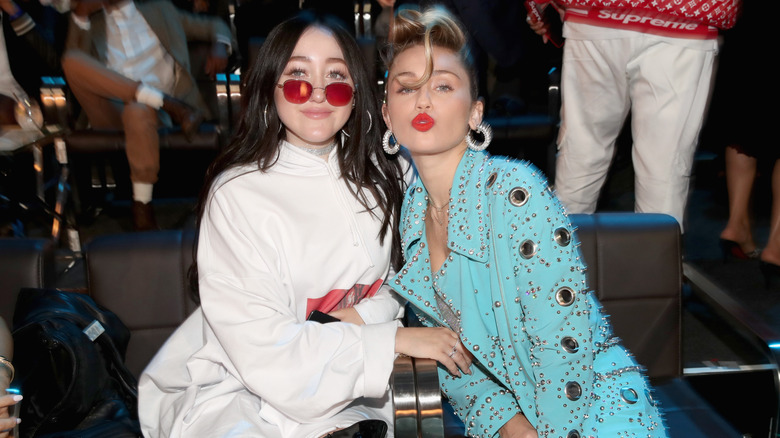 Christopher Polk/mtv1617/Getty Images
In "Miley Cyrus: Endless Summer Vacation (Backyard Sessions)," Miley Cyrus disclosed that she penned "A Thousand Miles" after a friend's sister killed herself. Cyrus said (via PopSugar), "I just couldn't imagine not having my little sister in my life. I wrote this song for her. It was originally called 'Happy Girl,' and it was, 'I just wanna see you happy and all I really want is for you to be happy, girl.'" 
Cyrus also noted that she ended up changing the lyrics for "A Thousand Miles." In the initial version, the song referenced the tragedy that inspired the song. Per PopSugar, Cyrus recalled the lyrics: "I knew she was hurting. But I never thought I'd wake up to that call. Never at all. I remember on that day I promised you the world. But soon realized the world ain't what you need. Now all I want is simply for you to be happy, girl. Even if that is a world without me."
Cyrus later tweaked the song to represent her relationship with Noah Cyrus better. She explained the change, saying, "It was about happiness and sisterhood, and it just makes me emotional, because now the song is filled with so much joy in the music and it's become something so far from the sadness that inspired the song."
If you or anyone you know is having suicidal thoughts, please call the National Suicide Prevention Lifeline​ by dialing 988 or by calling 1-800-273-TALK (8255)​.
Noah Cyrus on being Miley Cyrus' little sister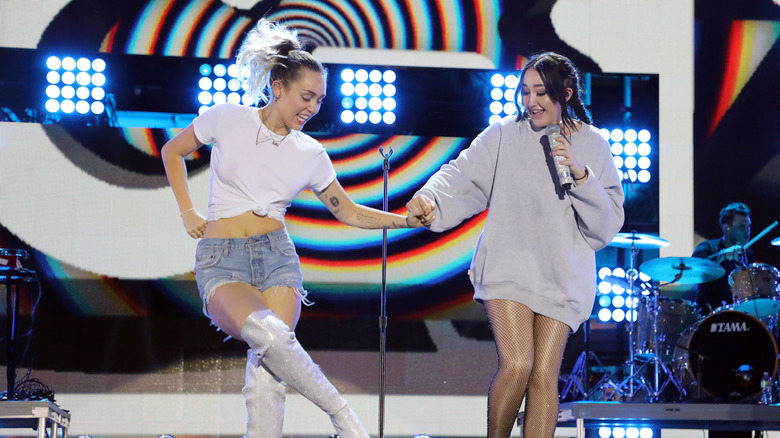 Alexander Tamargo/Getty Images
Despite being seven years apart in age, Miley Cyrus and Noah Cyrus are said to be inseparable. Miley opened up about Noah in a 2017 interview with iHeartRadio's Label Defiers podcast, saying that Noah's budding music career and touring schedule had strengthened their connection. She explained (via People), "Now having someone that really understands how hard it can be when you're away from home for a month, me and my little sister have a new bond over that." Miley also mentioned that she was proud of Noah. 
However, Miley is not the only one who has publicly bared her soul about her sister through music. In 2020, Noah went on Instagram Live and discussed "Young and Sad." The song reveals the downside of having a famous sibling, with the lyrics saying, "My sister's like sunshine, bringing good light wherever she'll go/and I was born to rain clouds, blessed in her shadows." Noah told fans on Instagram Live that, at one point, it was just too overwhelming to be Miley's sister and that she feared that she would never make something out of herself because of it.