Did Raquel Leviss Use Tom Schwartz To Make Tom Sandoval Jealous? Katie Maloney Thinks So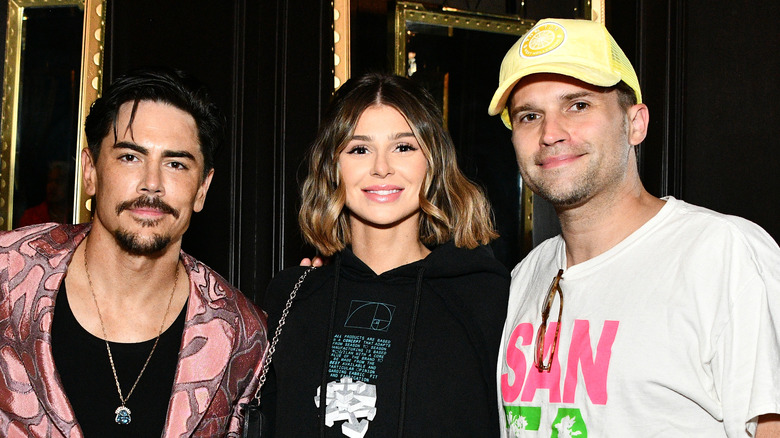 Araya Doheny/Getty Images
It seems as though every day brings new revealing information about the affair between "Vanderpump Rules" stars Raquel Leviss and Tom Sandoval. After an explosive season finale, fans have been reeling over the new exposed revelations. But it's not just fans who are forming theories about the affair and what, exactly, went down. Cast members were left in the dark as well, including some of their closest friends, and they have created theories of their own.
Katie Maloney was the focus of the drama before "Scandoval" broke, with the divorce between her and her ex, Tom Schwartz, seemingly being set up as the main storyline for the new season. Of course, that tale has taken a back seat to all the new "Vanderpump Rules" drama that has unfolded. Still, Schwartz was able to insert himself, becoming somewhat of a scapegoat for the affair. Maloney has her own theory on the whole debacle, accusing Leviss of using Schwartz as a ploy to make Sandoval jealous. Here's what we know.
Katie Maloney accused Raquel Leviss of playing games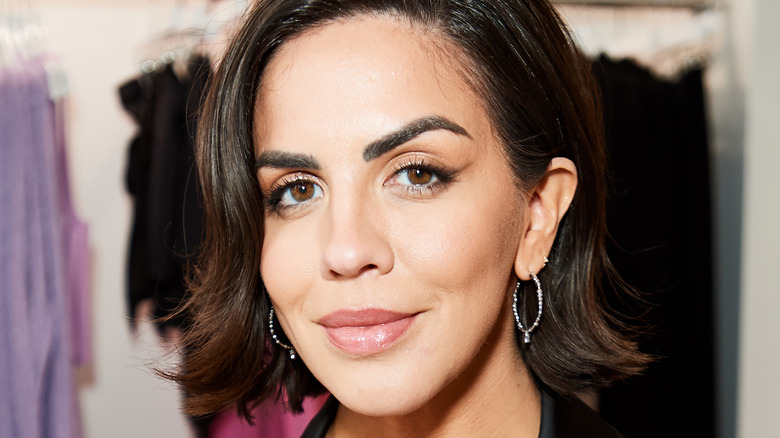 Unique Nicole/Getty Images
Throughout season 10, it's clear that Katie Maloney is not Raquel Leviss' biggest fan. When Leviss made out with Maloney's soon-to-be ex-husband, Tom Schwartz, that dislike turned into something bigger. Now that the affair between Leviss and fellow cast member Tom Sandoval has been revealed, Maloney has her own idea of why her co-star hooked up with Schwartz in the first place.
During her appearance on "Watch What Happens Live with Andy Cohen," Maloney explained that she believed Leviss used Schwartz as a way to mess with his best friend. "I think Raquel was playing funny games with Sandoval," she told Andy Cohen. "[She was] maybe trying to make him jealous because, 'Well I'm single, I can do what I want. You have a girlfriend, so I'm gonna go kiss your friend." She also revealed that she thinks Sandoval came clean to Schwartz right after that kiss to ensure he did not attempt to take things further with Leviss. "So then Sandoval came and put a kibosh on it and told Schwartz that him and Raquel have a thing going on so Schwartz wouldn't pursue Raquel," she continued.
Schwartz has been affected by his part in Scandoval
Eugene Powers/Shutterstock
Raquel Leviss and Tom Sandoval are definitely taking the most heat for their affair on "Vanderpump Rules." But Sandoval's best friend, Tom Schwartz is also taking a lot of the blame. During an appearance on "Watch What Happens Live," he claimed that he knew about the affair in August, but failed to tell anyone — mainly his good friend and Sandoval's girlfriend, Ariana Madix. Schwartz even suggested that Sandoval kept telling him that he was going to tell Madix himself, but fans were not buying it.
Additionally, he insisted to Andy Cohen that, in August, the fling was presented to him as a one-night stand. "And then it became, from my point of view, an emotional affair. Which is still inappropriate," he said. Schwartz added his claim that the relationship escalated from there, resulting in Sandoval telling him that he was in love with Leviss in January. "I was flabbergasted, but not surprised," he said, claiming that the affair was an open secret among many people.
It's not just his reputation that is taking a nosedive. Schwartz's new restaurant, which he owns with Sandoval, is also taking the hit. Fans of the show have taken it upon themselves to bash the restaurant, called Schwartz & Sandy's, leaving a ton of negative reviews on Yelp (via Decider). As it stands, the relationship between long-time best buds Schwartz and Sandoval, as well as their joint business venture, is on the rocks, and his relationship with ex-wife Maloney has only gotten worse.