A Tried And True Silhouette Can Give Your Dated Nap Dress A Break For Summer 2023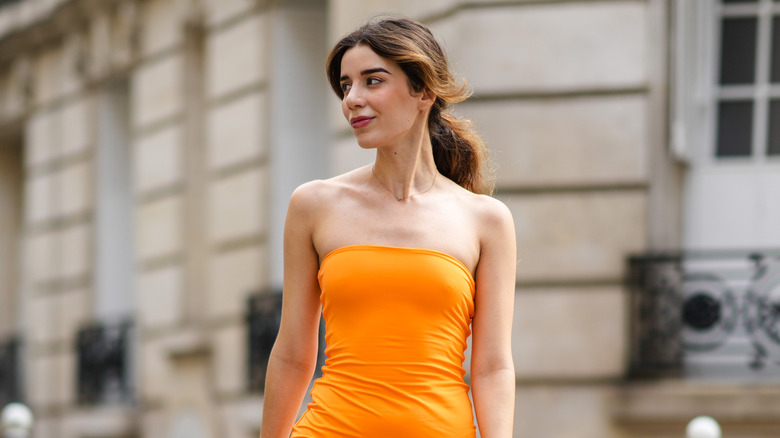 Edward Berthelot/Getty Images
Following the rise of the cottagecore aesthetic, nap dresses have been all the rage in recent years. While "nap dress" is a name that the Hill House brand trademarked, the term is typically used to refer to free-flowing house dresses often featuring scrunched bodies, puffy sleeves, and long skirts.
Though we still love the romantic vibe of this look, the nap dress is quickly being replaced as a summer staple by a particularly nostalgic clothing item. Tube tops were majorly popular in the '90s, worn by celebs like Brittney Spears, Mariah Carey, and Salma Hayek. This strapless silhouette is having a comeback for the summer season, mainly popping up in dress form.
Because of this, a tube dress works as the perfect stand-in for those of us ready to give our dreamy, cottagecore outfits a break this summer in favor of a more fitted, '90-inspired style. Here's everything you need to know about the resurgence of this tried and true silhouette.
Tube dresses on celebs and runways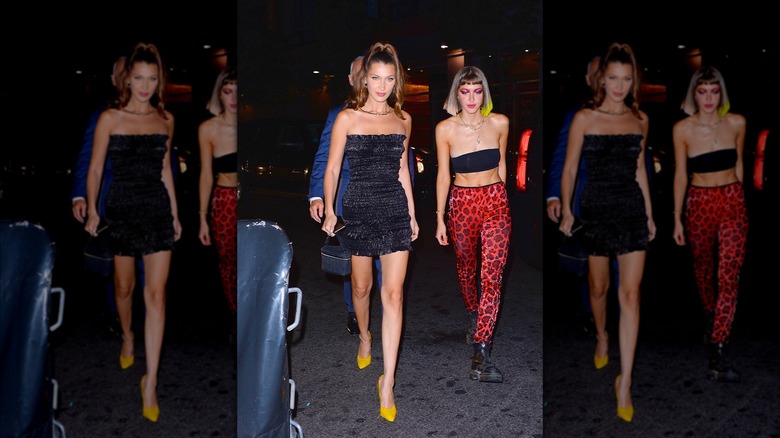 Robert Kamau/Getty Images
The resurgence of the tube dress can be attributed to celebrities and fashion runways, as the '90s fit has been spotted on both. Back in 2018, Bella Hadid was seen wearing an iconic party look featuring a scrunched, mini-tube dress and yellow heels.
Last summer, Emily Ratajkowski was similarly seen rocking the strapless clothing item, wearing a chartreuse-colored tube dress as a casual, model-off-duty outfit. Most recently, Hailey Bieber wore a slinky, silver dress in this style to the launch party of her new skincare brand, turning heads in the ensemble.
These celebrities were likely inspired by runway shows, as the tube dress has been super popular in recent fashion collections. For example, Prada's 2023 Spring/Summer collection featured multiple satin tube dresses, while Mary Kate and Ashley Olsen's brand The Row debuted minimalist tube-top dresses in their 2023 Summer collection.
Whether you're pulling outfit ideas from these iconic celebrities or taking inspiration straight from the runway, tube top dresses are the perfect look for summer.
How to style a tube top dress
While celebrity looks and fashion collections can provide some inspo for how to style a tube dress, you may be looking for some more ready-to-wear tips. Luckily, there are many ways you can make a tube dress work for these upcoming summer months.
First, this silhouette is classically styled as a party or going out look, with body-con and mini dresses being particularly popular renditions for these occasions. If this is the direction you're going in, you can wear your tube dress with strappy sandals or even knee-high boots. A baguette handbag and shimmery lip gloss will complete your look's homage to the '90s. For some examples, check out the looks from @amayadetermann and @yasminparisa.
Tube dresses can also work as a more casual, everyday outfit option, too. For such a look, maxi-length pieces or tube tops with shirred bodices are particularly good for summer. When it comes to footwear, you can style your dress with some breezy sandals or casual sneakers. If you're wanting some specific styling ideas, take a look at the posts from @minimalromi and @anaastasiaa.m.