Blake Lively's On-Set Ensemble Has Fans Seeing Double (& We're Not Here For This Layered Look)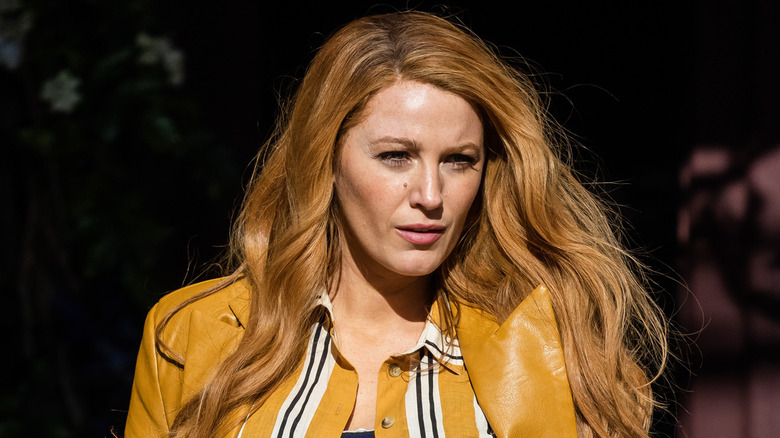 Gotham/Getty Images
There's a fine line between dressing quirky and trying a bit too hard, and we're afraid Blake Lively has just crossed that line.
The "Gossip Girl" alum is set to play Lily Bloom, the compassionate, red-haired lead from Colleen Hoover's popular 2016 novel "It Ends With Us" (via Deadline). With a movie adaptation on the way, fans of the novel are excited to see the characters, especially Lily, jump off the page and come to life.
Just... not dressed like this. Fans are not happy (to say the least) with the latest pics that have surfaced of the actor on the set of her new film. We regretfully have to pass Lively and her stylists an L for the travesty we all witnessed. If you know how to layer your clothing, your outfit can look super fashionable and chic. Unfortunately, this was not the case for Lively's layered bottoms, which left spectators unimpressed.
Blake Lively's 'boxers' and patterned pants combo missed the mark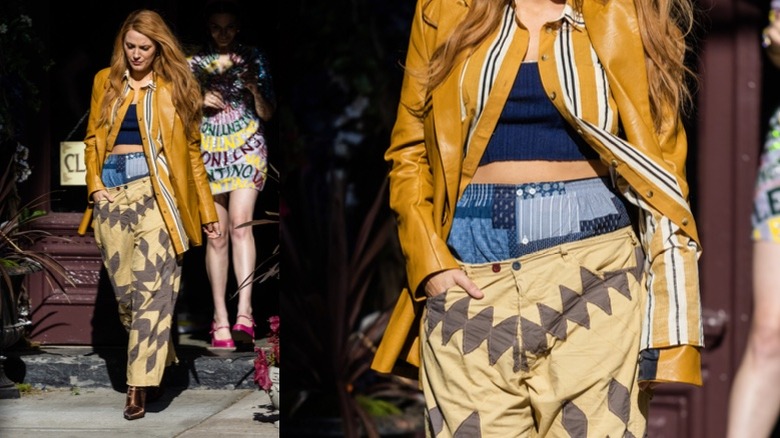 Gotham & Gotham/Getty
There's no doubt that Blake Lively is one of the most fashionable stars around. After catapulting into fame upon starring in the fan-favorite TV series "Gossip Girl," Lively has stunned us again and again with her standout red carpet looks. So it's easy to see why fans were left dazed and confused after laying eyes on Lively's lackluster layered look.
A TikTok user shared a montage of Lively on the set of "It Ends With Us" wearing a mustard yellow jacket, a striped collared shirt and a navy blue crop top. If that sounds like a lot of layers to you, it definitely is. But that's not the most questionable part. On her bottom half, Lively can be seen sporting tan pants with brown diamonds arranged in symmetrical patterns. To top it off (literally), patchwork blue boxers are hoisted up beneath the pants, leaving the undergarments strikingly visible.
Fans were not pleased with the double-pants look. "Where in the books did it say Lily wore multiple pairs of pants?" one user questioned. Another wrote, "This has to be a publicity stunt." Lively, for her part, seems very excited about the role. Per ABC News, the first photos of Lively show she's dyed her hair red to match her character. Maybe the double-pants look was just a fluke? We can only hope.