What We Know About Gwyneth Paltrow's Friendship With Robert Downey Jr.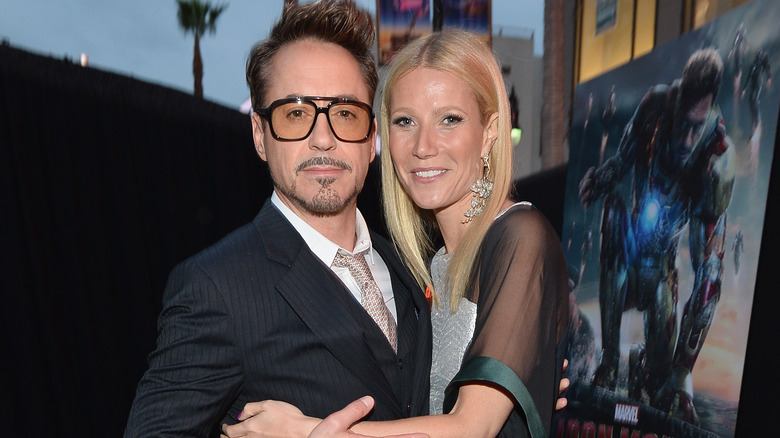 Alberto E. Rodriguez/Getty Images
It's no secret that Gwyneth Paltrow gets along with her famous exes — like Brad Pitt and Chris Martin — and is a self-proclaimed fan of conscious uncoupling, but the actress takes that same approach in other aspects of her life. Paltrow has developed close relationships with her co-stars, including Hollywood actor Robert Downey Jr. Paltrow and Downey struck up an unlikely friendship after starring in multiple "Iron Man" and "Avengers" films where they play the iconic couple Tony Stark and Pepper Potts. The pair have known each other for 30 years and became much closer once they started filming the Marvel movies together.
The two have publicly spoken about their friendship, and during a candid interview with People in 10, Paltrow opened up about her lifelong bond with Robert Downey Jr., saying, "I feel like I was able to find an incredible, lifelong, inspirational partner and friend."
The pair's friendship wasn't always so close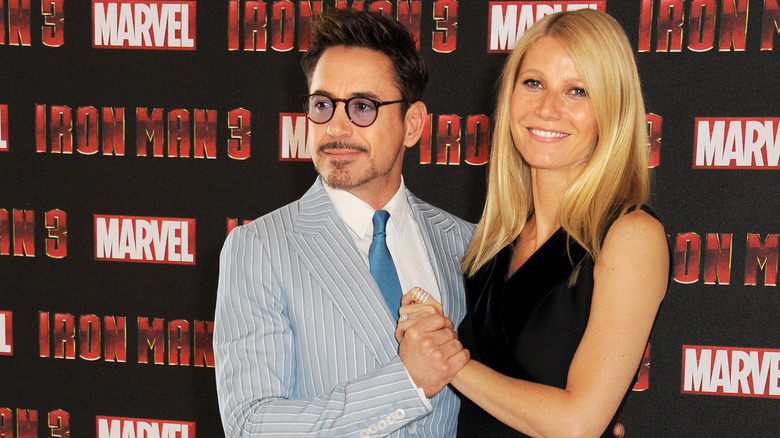 Dave M. Benett/Getty Images
The two Hollywood actors have been friends for three decades, but the friendship didn't start off on the best of terms. In an interview with the Associated Press, Robert Downey Jr. shared that when he and Gwyneth Paltrow first met, she was apprehensive about him and asked a mutual friend for advice. Downey said: "She [Paltrow] was like, 'What is wrong with him? Who is this guy?' She called him up asking, like, if it was going to be essentially bad for her reputation to be hanging out with me." 
While Paltrow jokingly denied saying that, she did agree with Downey that he was "wild" during that time. She also revealed that she liked him the minute she first met him — but his wild lifestyle caused distance between the two for a few years. Downey experienced addiction during his rise to fame but has since embraced a sober lifestyle and has reportedly been in recovery for over 15 years as of 2023.
The media questioned whether the two were more than just friends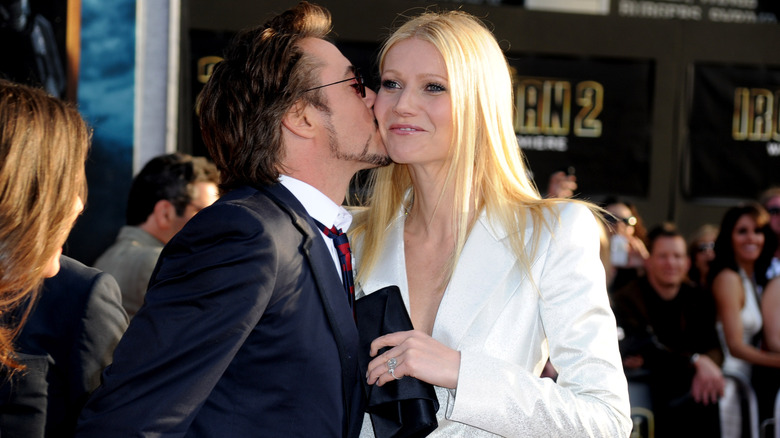 Frazer Harrison/Getty Images
The public has speculated whether or not the two are more than just friends, but Robert Downey Jr. cleared up their status. When being interviewed on "The Howard Stern Show," Downey opened up about how Gwyneth Paltrow is his free pass, saying: "My free pass is — because her and Susan are such good friends — is Paltrow ... I gotta get her back in these movies so I can make out with her onscreen again." Downey shared that his wife, Susan Downey, doesn't get jealous when the two film together as they are happily married.
Meanwhile, Paltrow had a different view of her on-screen kisses with Downey. On an episode of Gwyneth Paltrow's podcast, Goop, the star interviewed Hollywood actress Kate Hudson, and the two opened up about their worst on-screen kisses. Paltrow revealed that hers was none other than Downey and shared: "Like with Robert, like when I kissed him, and I was like, 'You've got to be kidding me ... This is literally like kissing my brother." Paltrow and Downey boast about their lifelong friendship and still remain close to this day.
If you or anyone you know needs help with addiction issues, help is available. Visit the Substance Abuse and Mental Health Services Administration website or contact SAMHSA's National Helpline at 1-800-662-HELP (4357).