What Happened To Love Is Blind Couple Danielle Ruhl And Nick Thompson?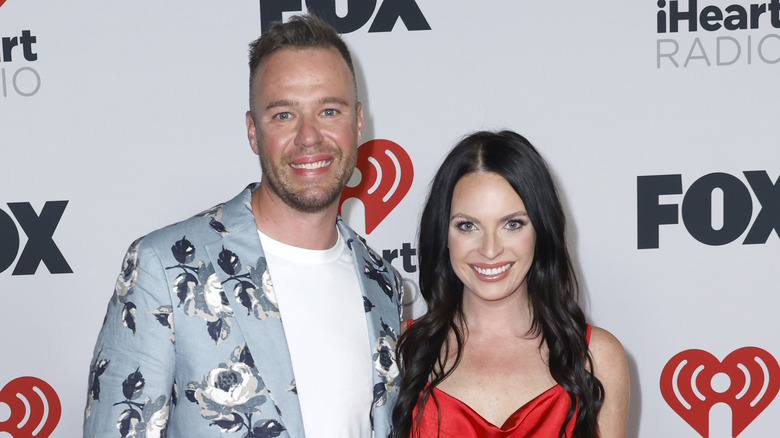 Frazer Harrison/Getty Images
Picture 15 men and 15 women with 10 days (give or take) to go on dates, fall in love, and get engaged. The catch? It's all without seeing one another. This is the concept behind Netflix's smash hit reality show, "Love Is Blind." In an interview with Vanity Fair, creator Chris Coelen explained the reasoning behind "Love Is Blind's" so-called "pods," saying, "Obviously, there's a lot of dating apps out there..." he said, adding, "I just felt like maybe there was a different way to meet people." On the show, couples fall in love on an emotional level before (hopefully) bonding physically. For the month leading up to their televised weddings, they live together, navigate real-life conflicts, and decide whether love is truly blind or, as Abhishek "Shake" Chatterjee from Season 2 infamously put it, simply "blurry."
For cast members Danielle Ruhl and Nick Thompson, it was very nearly love at first sound. The pair got engaged through a wall in Season 2 and although they had their fair share of ups and downs throughout the filming process, they eventually tied the knot at the end of the series. After filming wrapped, the couple was open about starting couples therapy to address their different communication styles. However, after a year of marriage (and shortly after Iyanna and Jarette from Season 2 broke up), Ruhl filed for divorce. Here's what happened and where their relationship stands now. 
Danielle and Nick decided they were better off apart
"Love Is Blind" Season 2 has a pretty bad track record when it comes to successful couples. The Thompsons decided to go their separate ways in August 2022. Danielle Ruhl made sure to note on Instagram that their split wasn't due to cheating — in fact, the pair still had love for one another (via BuzzFeed). As Nick Thompson later explained to Us Weekly, "For my own mental health and healing, I had to create a boundary with her that I'm not engaging anymore." Throughout the course of filming, Ruhl's struggle with self-esteem had been a regular subject of conversation and, later, audience criticism.
Ultimately, she drew issue with the way her ex-husband addressed their breakup. "There has been no accountability from his side," Ruhl told E! News, adding, "I wanted to make sure that it was noted that it takes two, but unfortunately, with every interview, he is putting all of the blame on me and this isn't new." For his part, Thompson shared with People that he was hurt by his ex's words, saying, "It's disappointing that Danielle chooses to make false claims and defamatory comments about me and our relationship."
Despite weeks of back-and-forth jabs, recent social media posts indicate that the pair may have reconciled. In a May 2023 Instagram story, Ruhl posted a pic of her cuddled up on a couch with Thompson, per Cosmopolitan. "Love is Unpredictable" might be a better title for these two.
Danielle says she shouldn't have gone on the show
As Ruhl explained on the podcast, "Diary of an Empath," she faced an onslaught of hateful comments as "Love Is Blind" Season 2 started airing. Fans would diagnose her with various mental health conditions, and she ultimately grew to doubt her own judgment. "Looking back, I never should have agreed to go on a reality show," Danielle shared on TikTok. "I wish I was more educated and self-aware [sic] at the time." "Love Is Blind" psychologists conducted a 30-minute mental health screening prior to filming, and producers used Ruhl's past traumas to get interview soundbites and manipulate scenes with her fiancé. "Reliving these things every single day was tough," she explained.
According to a report by Business Insider, contestants were also subjected to 20-hour days in front of the camera, denied water and encouraged to drink alcohol, and saw very little sunlight. As Thompson himself put it, "You thrust us into a situation without any support, and everything's amplified... It literally ruins lives." Jeremy Hartwell, who also appeared on Season 2 of the show, sued Kinetic Content (the company behind "Love Is Blind") citing labor law violations. Kinetic Content denied all allegations, according to Business Insider.
Although she regrets many aspects of the show, Danielle Ruhl is grateful for the life-long friendships she made. In a March 2023 Instagram post, she shared a photo of with fellow Season 2 contestants Deepti, Natalie, Mallory, and Iyanna. "They make it all worth it," read the caption.
If you or someone you know needs help with mental health, please contact the Crisis Text Line by texting HOME to 741741, call the National Alliance on Mental Illness helpline at 1-800-950-NAMI (6264), or visit the National Institute of Mental Health website.