Leave Your Pleated Miniskirts In The Closet And Bring Out This Nostalgic Alternative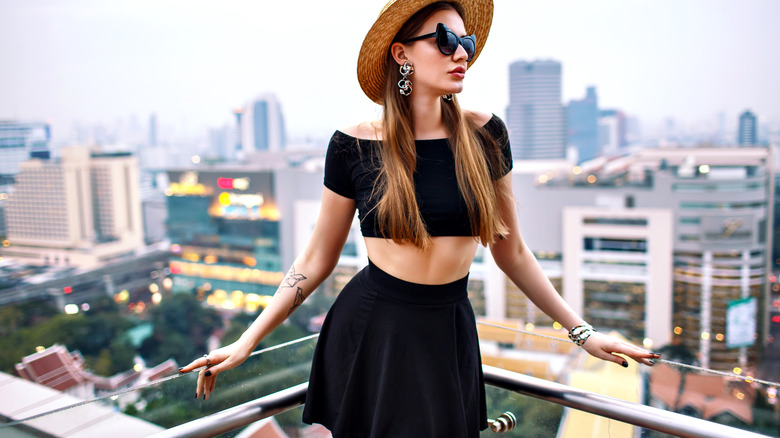 Ann Haritonenko/Shutterstock
Pleated miniskirts have long been a cute and popular fashion choice. They provide that semi-formal but flirty energy since they can look similar to a school uniform while also embracing the fashion trends of the time. A pleated skirt often comes in at the waist and flares out at the bottom. It also includes vertical lines or pleats throughout the skirt, creating a slightly layered, dimensional effect. When in miniskirt form, it makes an even bigger sartorial statement. 
Pleated miniskirts have frequently been paired with knitted sweaters, crop tops, and t-shirts. Plus, the shoe options are extremely versatile, with common options being boots, sneakers, flats, or even high heels. While there are various incredible looks that can be created with pleated miniskirts, the overall aesthetic has become quite popular and common.
Regardless of how many colors or accessories you add to your outfit, the pleated miniskirt will largely be the eye-catching piece in each look. According to Who What Wear, these pleated skirts have become "oversaturated" and in order to stand out or be a bit more unique in your fashion choices, opting for a nostalgic alternative might be the way to go.
Bring back the long maxi skirts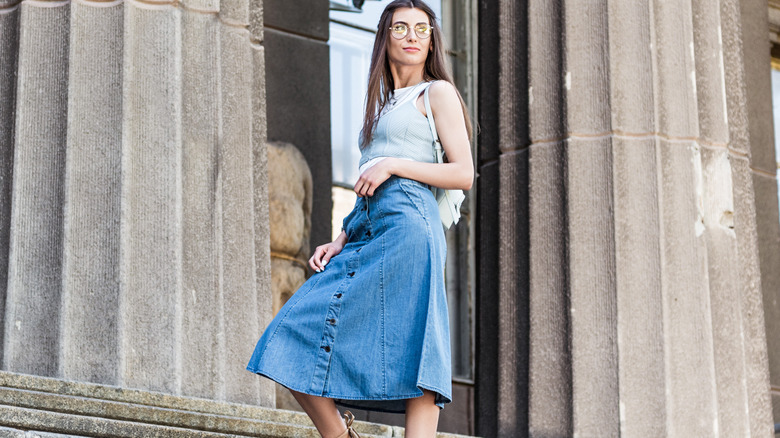 Lightfieldstudios/Getty Images
Long maxi skirts have been a popular fashion choice for decades, with the start of this trend dating all the way back to the 1960s. These skirts usually come to the middle of the calf but there are also many floor-length options. Over the years, influences from the hippie movement to the 90's grunge "anti-fashion" trend have helped to create the charming versatility that's associated with maxi skirts.
Long maxi skirts are typically known for being flowy and comfortable while also offering bright colors and unique patterns. The diversity of material makes this skirt a great option for many different shoppers and for various seasons throughout the year. Learning how to style your favorite maxi skirt all year round is key. These skirts can be dressed up by using more expensive materials like satin and silk. They can also be dressed down by choosing a fabric like denim and wearing boots instead of heels or sandals.
Maxi skirts are also well-loved because of how flattering they are on every body type. Due to the length, they provide extra coverage while also remaining comfortable, moveable, and fashionable. Plus, they are a great alternative to your basic pair of pants and can be worn with many different top styles in order to match the vibe you're going for.
Celebrities are loving the longer skirt length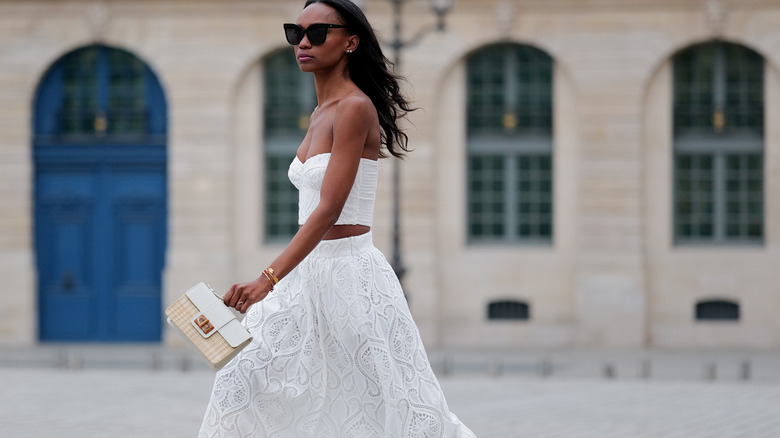 Edward Berthelot/Getty Images
There are many reasons why a long maxi skirt is currently the preferred fashion choice over a miniskirt. Since most pleated miniskirts look very similar and provide little coverage, they aren't ideal for every season or occasion. On the other hand, The Every Girl discusses how designers for Paris and Milan fashion week have fully embraced the long maxi skirt look for every season, which bodes well for its popularity and longevity.
According to Vogue, celebrities from Katie Holmes to Rihanna are embracing the longer flowy style and loving the versatility of this trendy look. Holmes opted for warmth and comfort by pairing her white maxi skirt with a knitted sweater and sandals. If you've ever wondered how to perfect the sweater-over-dress look, a maxi skirt might be a great option for you. Alternatively, Rihanna went for an edgy monochromatic vibe by wearing her maxi skirt with a large leg slit and a short button-up blouse.
Since maxi skirts come in various materials and can be paired with so many different shirt and shoe combinations, there's usually more room for your individuality to shine through. When you are confident in your outfit decisions and feel like they truly represent you, it's easier to feel good in your own skin. Of course, skirt length ultimately comes down to your personal taste.