The Hit Song Nick Jonas Wrote About His Ex Olivia Culpo While They Were Still Together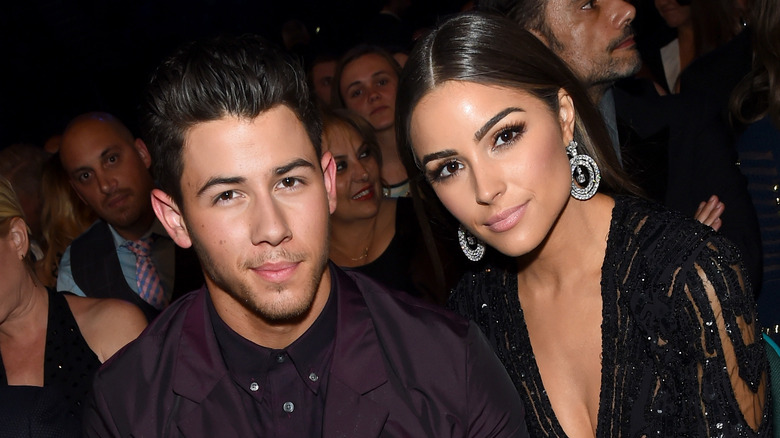 Larry Busacca/bma2015/Getty Images
Super fans might already know about Nick Jonas's dating history, but those in the dark will be surprised once they hear the story behind the hit song "Jealous, which catapulted him to solo fame. While he'd already built quite the reputation as the youngest member of the Jonas Brothers, this song cemented his position as a talented musician in his own right.
"Jealous," predictably, is about how Jonas grappled with jealousy in a relationship with an eye-catchingly beautiful girl. When it was released, everyone wondered who the song could be about. It didn't take long to deduce that it was about Olivia Culpo, Jonas's then-girlfriend. In an interview with Fuse, Jonas revealed that the song was based on a real-life experience: "We were out somewhere and someone was staring at [Culpo] for a little bit too long." After grappling with a bout of insecurity, Jonas realized that "it was all in [his] head." All's well that ends well . . . right?
Though Culpo and Jonas had a steady relationship for about two years, it didn't last. Looks like Jonas couldn't conquer his jealousy, after all — the couple called it quits back in 2015, one year after "Jealous" premiered and immediately topped the charts. So, who is Olivia Culpo?
Culpo's resume is full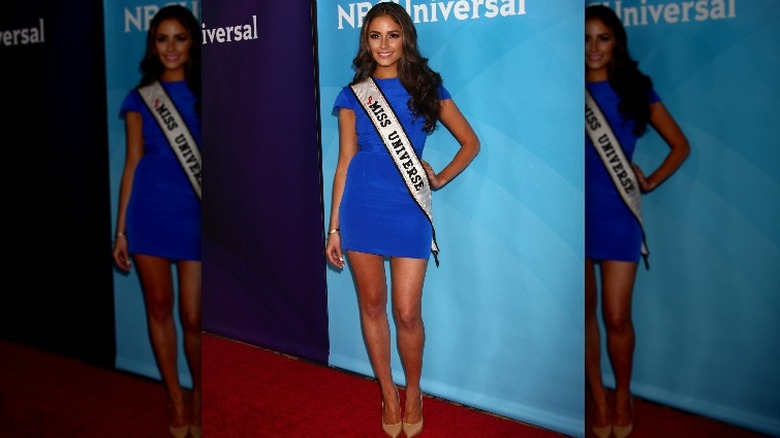 Kathy Hutchins/Shutterstock
There's a lot more to Culpo than being Nick Jonas's ex. She's also a beauty queen, influencer, model, and reality TV star on TLC. She is (unsurprisingly) known for her beauty and grace — in 2012, she swept the beauty pageant circuit, winning Miss Rhode Island USA, Miss USA, and Miss Universe in one fell swoop. She's also graced the covers of multiple magazines, most notably Arcadia and Cosmopolitan Mexico.
In 2022, she moved on to star in her own reality show on TLC, called "The Culpo Sisters," which followed the lives and drama of her and her two sisters, Sophia and Aurora. In the first episode, she opened up about her relationship with Nick Jonas, calling it a "formative experience." She went on to say that "when he broke up with [her], [she] was . . . left with no sense of identity," and struggled to afford rent and groceries.
Despite all the drama and jealousy, Culpo seems to have made her peace with it. She told People that she was happy for Jonas upon hearing about his engagement to Priyanka Chopra: "In this industry . . . it's difficult [to find love]. So I'm happy for him."
Where they are now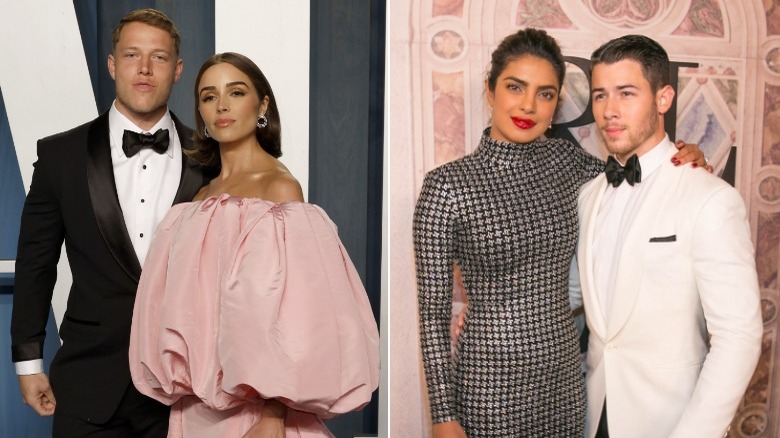 Frazer Harrison/Getty & Hugo A.K.A. Sppider/Shutterstock & undefined
Culpo got engaged to Christian McCaffrey, a running back for the San Francisco 49ers, in April 2023. He isn't the first athlete that she's dated, either; she dated Tim Tebow and Danny Amendola, both NFL players. Guess it's safe to say she has a type.
Jonas, on his part, is married to actress Priyanka Chopra. He's not the only one who has a type — his wife is also a beauty queen, having won the Miss India and Miss World competitions in 2000. It wouldn't be fair to reduce her to just a pretty face — here's more of what you don't know about Priyanka Chopra.
Since releasing "Jealous," Jonas has continued to find success in the music industry. After reuniting with Joe and Kevin to bring back the Jonas Brothers, he and the band are continuing to schedule live performances and release new music. They've even got a Hollywood Walk of Fame star. If that's not success, we don't know what is.