The Inspiration Behind Rihanna's Son's Name
Since welcoming her baby boy with rapper and rumored fiancé, A$AP Rocky, on May 13, 2022, fans have been head over heels over Rihanna's family. Up until a few days ago, the world only knew him as "Baby" or "Baby Fenty" as the fans donned him. However, when his birth certificate was obtained by People, folks were shocked to learn that the fashionable parents had named him RZA, after the famed Brooklyn rapper, who is a member of the adored Wu-Tang Clan.
Though the name may have left some scratching their heads, anyone who has followed A$AP Rocky and Rihanna over the years know that it isn't too far-fetched. The artistically endowed couple have long gone against the grain with parenthood. Ri made headlines during her pregnancy with RZA, as she revamped the idea of what maternity clothes were. A$AP Rocky has also referred to himself as his son's "creative director," dedicated to curating every outfit to perfectly match his parent's immaculate swag. In just one year, baby RZA and his iconic name have made their own waves.
Both Rihanna and A$AP Rocky are huge Wu-Tang Clan fans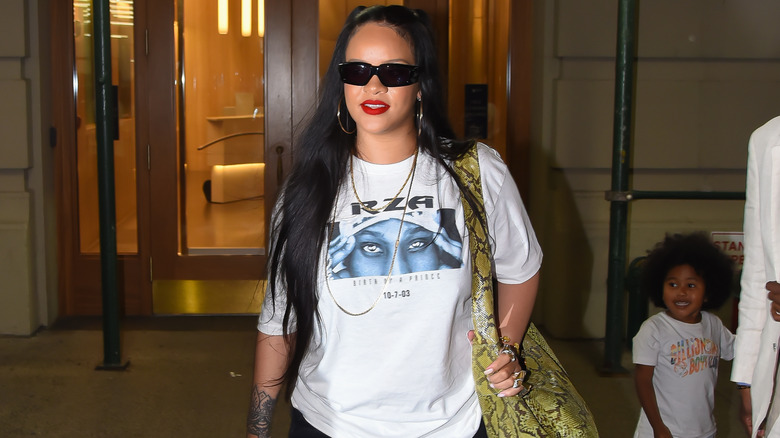 Robert Kamau/Getty Images
Both Rihanna and her longtime boo, A$AP Rocky have been fans of '90s rap group, Wu-Tang Clan, having expressed their adoration for the collective on multiple occasions. In April, Ri was spotted out in Los Angeles in a custom Wu-Tang football jersey. Last August, she was seen rocking a T-shirt sporting an image of rapper RZA's 2003 "Birth of a Prince" album cover. During baby RZA's first birthday celebration, Ri and Rocky made sure he was sporting a Wu-Tang shirt while enjoying his money cake, another ode to the group and their hit record, "C.R.E.A.M."
The New York hip-hop group's influence is also apparent in Rocky's career. He has worked with Wu-Tang member Raekwon on several occasions. The two collaborated on records "I Got Money" and "Underground Killas." Raekwon even gave a special shoutout to Rocky's own musical team known as A$AP Mob, calling them "Wu-Tang Clan: the new generation." Needless to say, the bond between all parties has been a positive one for years.
Baby RZA continues A$AP Rocky's family tradition of naming children after hip-hop figures
In addition to a great relationship with the Wu-Tang Clan family being an inspiration behind baby RZA's name, Gucci model A$AP Rocky also has a unique family tradition that is rooted in hip-hop. Rocky's real name is Rakim Mayers, and his sister is Erika B. Mayers. It's evident their parents were avid fans of the genre given that the siblings are named after '80s era New York lyricists Eric B. and Rakim. It's speculated that Rocky wanted to continue paying homage to rap pioneers by giving his firstborn son such a moniker.
Ri and Rocky are gearing up to welcome their second child sometime this summer. During Rihanna's 2023 Super Bowl show, she debuted her baby bump on stage, receiving praise for delivering a stellar performance even while pregnant. Though the "Kiss It Better" singer has remained mum about the gender and name of her second baby, it wouldn't be a surprise if the couple chose to continue on with their musical naming journey. Though, it may be hard to top RZA.