Why You Shouldn't Overdo The Brow Lamination Process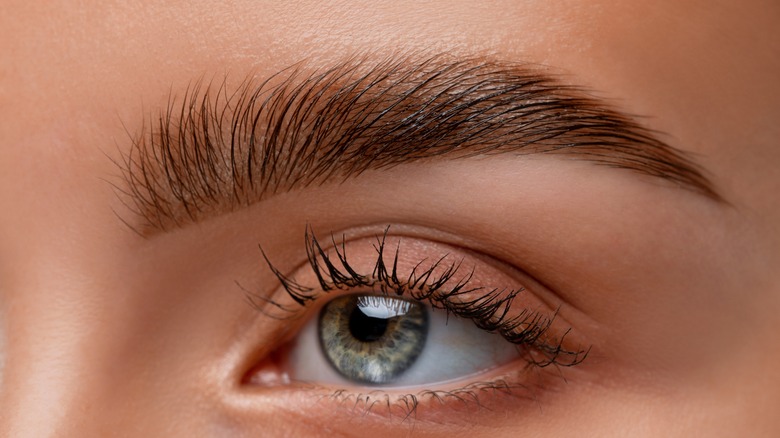 dimid_86/Shutterstock
We may receive a commission on purchases made from links.
Eyebrows do have a purpose. They keep sweat from attacking your eyes and let everyone know when you're upset or shocked. Stylistically, these hairs frame your face so you can show off the masterpiece. However, natural zigzagging brows or thin hairs may not be the border you'd wish to have. This is where procedures like brow lamination come in.
"Brow lamination is a chemical brow treatment that breaks down the inner protein chains of the hair to make the brows more lifted and fluffy," celebrity brow artist Rene de la Garza explained to Oprah Daily. For unruly eyebrows, the lamination process can straighten and lay the hairs flat, while sparse brows can have strands set to appear fuller. This process is also called an eyebrow perm. It can leave you with perfectly arched and laid brows. However, overdoing this procedure can leave you with eyebrows far worse than sparse and unruly.
The risk of over-processed brows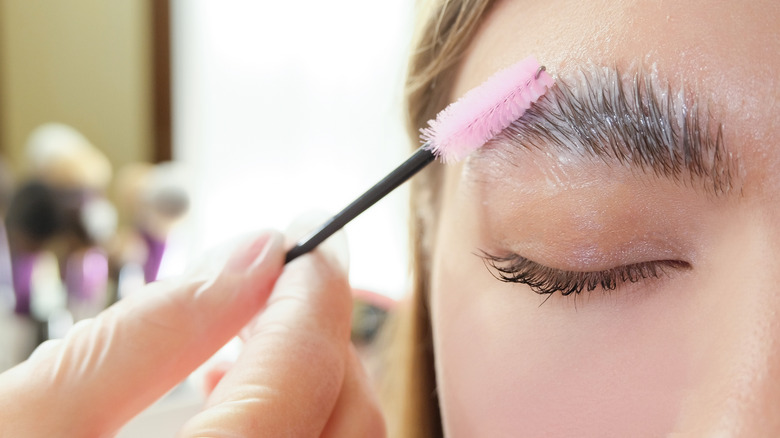 lev.studio/Shutterstock
The sleek results of brow lamination can last up to eight weeks. However, it is not a good idea to schedule this procedure every two months. You'll need to stick to brushing your brows and using gel if you want to keep these face-framing hairs. The chemicals used for lamination are simply too harsh for eyebrows to repeatedly withstand.
Eyebrow artist and educator Kallinika Aynsley shared with Allure, "My biggest piece of advice to anyone interested in the treatment is to be aware of over-processed brows, this is where the hair could potentially become 'frazzled' and the hair can become crispy and shed." Just like the hair on your head can break off and suffer irreversible damage from too much dye, perms, and treatments, so can your brows.
You don't have to deal with dry and scattery eyebrows if you've learned about overdoing the brow lamination process the hard way. You can encourage new growth and give some love to the damaged hairs to conceal the harsh reality of too many eyebrow perms.
How to fix over-processed brows
What your over-processed eyebrows need are hydration and strength. Applying an eyebrow serum can deliver the nutrients these hairs desire. The Ordinary's Multi-Peptide Lash and Brow Serum has ingredients to support hair density and thickness. You can incorporate this lightweight vegan serum morning and night after cleansing your eyebrows to promote thicker and healthier hair.
Castor oil is a natural way to grow fuller eyebrows. Makeup artist Cara Lovello told IPSY, "Castor oil is said to help with eyebrow hair regrowth. The vitamins in the castor oil nourishes the hair follicles." It also increases blood circulation, which prevents breakage. Apply the oil daily with a spoolie and brush it thoroughly through clean brows to maximize moisturization.
Don't forget your eyebrows when you get to the hydration step in your skincare routine. These hairs will benefit from the moisturization just like your skin. Lather on your cream, lotion, and oil over your brows and massage in circular motions. This will help the products penetrate and get the blood circulating. Most importantly, keep the brow lamination to a minimum.