How Should You Do Your Eye Makeup When Rocking A Bold Lip?
If you want to get more experimental with your makeup, a bold lip is a great place to start. A black or deep plum shade can be equally striking and daring, while the bold red lip is beloved by celebs like Amal Clooney for classic glam looks. But once you've got your lipstick on, how do you tackle your eye makeup?
When wearing bold lipstick, always opt for subtler eye makeup so as not to distract from your lips. Each beauty look has a focal point — if you're doing dramatic smokey eyes, your eyes are the focal point, drawing most of the attention. Having two focal points, however, can make for an overwhelming, busy look. 
While it's not totally impossible to pull off, minimal eye makeup is a good rule of thumb when it comes to rocking bolder lipsticks. This doesn't mean that you need to forego eye makeup altogether (unless that's your thing). There are ways to give your eyes some shape, and your lashes some volume, without distracting from your bold lip.
Tackle your lashes and brows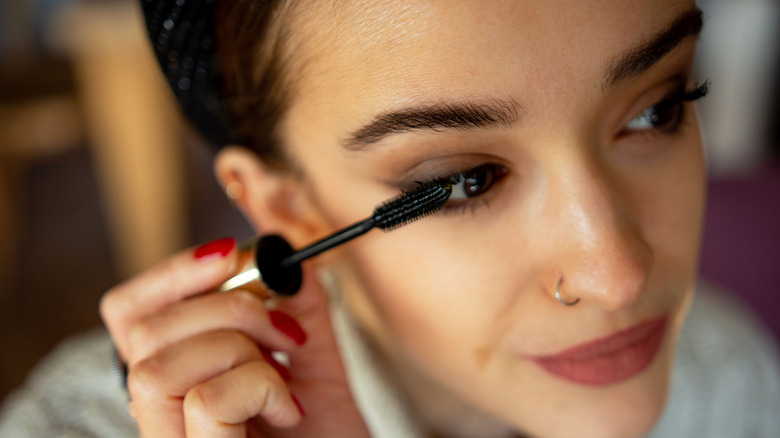 Gorica Poturak/Getty Images
If there's anywhere in your eye makeup routine that you want to go a bit bolder or darker, this is where you'll do it. Keep in mind that it's only by a bit — don't let yourself get too distracted and put on those full-glam falsies. Speaking of which, you'll want to avoid false lashes completely. While a few well-placed, wispy lashes can work to your advantage, mascara will give you a more uniform, volumized look. 
If you're not a big fan of using it, you can always substitute your mascara for something else, like Vaseline. Either way, always use an eyelash curler for maximum effect. Don't forget to apply mascara to your bottom lashes as well, to make your eyes really pop without taking away from your facial focal point. As for brows, they should be well-defined. Now, this doesn't mean an all-out Instagram brows throwback. 
Instead, you want to go for a more filled-in soap brows look, which will leave them looking full and fluffy without being too distracting. To do this, apply some brow gel to a clean spool. Be careful not to go overboard; as celebrity makeup artist Anastasia Soare warned Byrdie: "Start with a very small amount of product." Afterward, gently brush your eyebrows upward and wait for the gel to dry. Once it sets, carefully fill in any sparse areas with a brow pencil. 
Eyelids, liner, and under eyes are crucial too
These areas should have minimal, simple makeup. Since eyeshadow can easily draw attention away from your bold lip, you want it to be as subtle as possible. You can even go without, but if you're a huge eyeshadow fan, aim for a neutral shade that complements your skin tone. Further, glitter is a big no-no — the most you want in terms of sparkle is a light shimmer.
Neutrals are your best friend when it comes to these makeup looks and not just when it comes to eyeshadow either. Since eyeliner that's too bright, dark, or smudgy can be distracting, brown, beige, or white eyeliner is best. It's definitely not necessary to have solid eye makeup with your bold lip, but it can give your eyes some shape. As YouTuber and makeup artist Alexandra Anele explained in the above video, "[You] don't want any ... harsh or defined lines."
Elsewhere, concealer is all you'll need for your under eyes. Anything more daring or experimental should be saved for another day. In fact, the only extra steps you'll really need to take are related to skincare. Make sure the skin around your eyes is moisturized beforehand, to prevent any cakiness. With this simple yet effective makeup look under your belt, you can take on the world, one lipstick at a time.