Priyanka Chopra Jonas Explained Why Husband Nick Is In Her Movie Love Again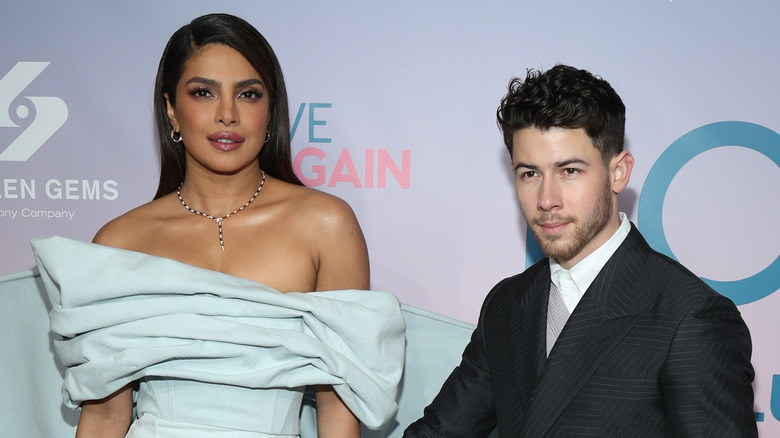 Manny Carabel/Getty Images
Priyanka Chopra Jonas and her husband, Nick Jonas, appear to have a fairytale romance. After meeting through mutual friends in 2016, the pair let their romance slowly build. First, they texted, then they left one another flirtatious Instagram comments before finally making it official at the 2017 Met Gala. Fast forward six years, and the happily married Chopra and Jonas have welcomed a baby girl with an adorable name. 
Over the course of their timeline, Jonas, as a member of the boy-turned-man band sensation, the Jonas Brothers, has written a handful of love songs about his wife. Including "I Believe" and "What a Man Gotta Do." Between their flirty antics and swoon-worthy relationship milestones, Chopra and Jonas could be characters in their very own rom-com.
And as it turns out, they are. Both members of the too-cute-couple appear in the film "Love Again." But in very different roles than the ones they occupy off-screen.
Face licking was involved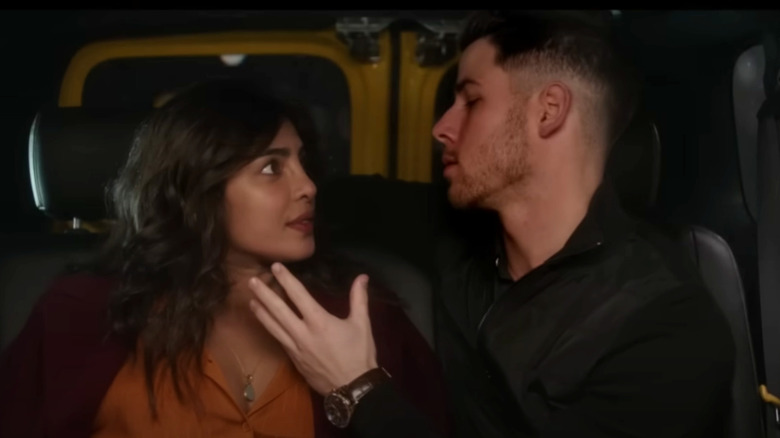 YouTube/Sony Pictures Entertainment
In the movie, Priyanka Chopra stars as Mira, who is returning to the dating scene a few years after her fiance's devastating death. As is true with all romantic tropes, the princess usually has to kiss a few frogs before she finds her prince. Enter Nick Jonas as Chopra's onscreen personal trainer and potential love match. Except, things quickly go awry. Jonas's character not only treats her poorly on the disastrous date, but his kissing skills leave much to be desired. In the scene, Jonas's character initiates a makeout session that can best be described as face-licking. It leaves Chopra (Mira) so disgusted that she kicks him out of her cab.
That scene, in particular, is why Chopra was so relieved when husband Jonas agreed to the role. Actors aren't strangers to intimate scenes with people other than their significant others. But filming for "Love Again" occurred during COVID-19, meaning whoever was cast for the part would've had to quarantine for 14 days before the lick. "I was very excited about the fact that Nick agreed to do this, because the scene was written as you saw it," she told Entertainment Weekly.
Costar Sam Heughan told added, "I think you could fill a hotel — many hotels! — with people who were willing to do that." Despite an alleged long line of ready and willing individuals, Chopra admitted she was thrilled when Jonas was cast as he brought something special to the set. "He turned out to be so funny," she gushed to EW.
Lovers on-screen and off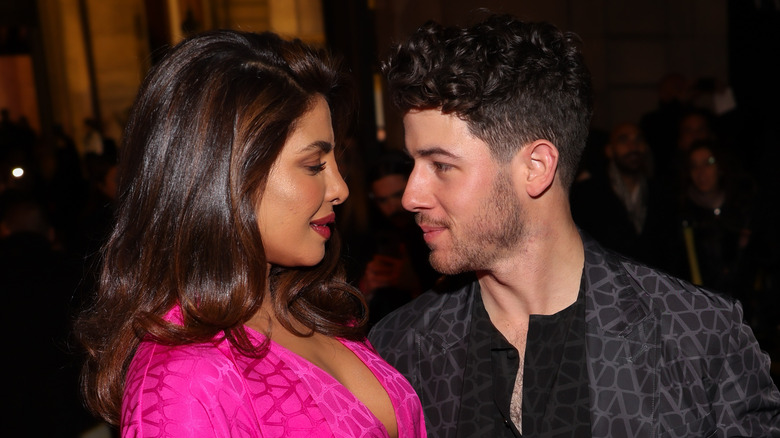 Arnold Jerocki/Getty Images
In her Entertainment Weekly interview, Priyanka Chopra continued, "We're working on multiple things together. But I don't know, we've not taken on anything as actors yet . . ." After starting as a model, Chopra made her way into acting with her debut in the Tamil film, "Thamizhan" in 2002. Her Hollywood career took off when she was cast in ABC's "Quantico" in 2015.
On the other hand, Nick Jonas has juggled acting with his music career. However, the movies he has appeared in are far from B films, such as "Night at the Museum: Battle of the Smithsonian" and "Jumanji: Welcome to the Jungle." Long before he was in blockbusters or a band with his brothers, Jonas was on Broadway, starring in "Les Miserables" at 10. He told Vanity Fair, "I've always loved acting," continuing to say that now that he gets to indulge both his passions, singing and acting, he considers himself "the luckiest guy."
So, who knows, maybe Chopra and Jonas will appear on screen together more in the future. With their undeniable chemistry, the pair co-starring in a rom-com doesn't seem too far-fetched. They would join the ranks of other great Hollywood couples who starred in films together, like John Krasinski and Emily Blunt in "A Quiet Place." It's a special treat for audiences to see a real couple play an onscreen one, knowing that the "spark" isn't scripted, and we'd love to see more of Chopra and Jonas's bond.