Rihanna's Preshow Rituals Bring Her Closer To Fans Than You'd Think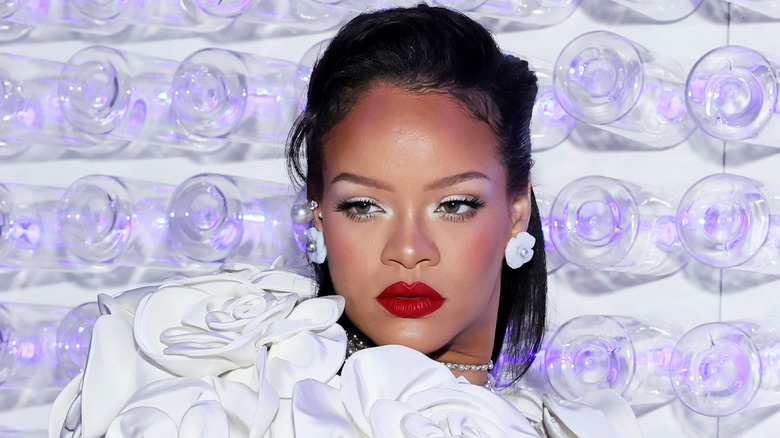 Cindy Ord/mg23/Getty Images
A whole 18 years ago, Robyn Rihanna Fenty was a 17-year-old girl living in Barbados. After Evan Rogers discovered her and introduced her to Jay-Z, the woman we know best by the stage name "Rihanna" debuted her first song, "Pon de Replay." The track from her 2005 debut album "Music of the Sun" took off, peaking at number two on the Billboard Hot 100 chart. Today, we know her as rockstar royalty — one of the world's most widely loved music icons. Not only has Rihanna won nine Grammy awards and been nominated for more than 30, but she's also a businesswoman and leader in the fashion and beauty industries.
Rihanna's captivating stage presence and unapologetic authenticity have made her one of the most iconic figures of our time. Whether through her music or fashion endeavors, she has become an emblem of empowerment, individuality, and fierceness. That said, you'd be shocked to discover that this is not exactly how she feels 100% of the time. Apparently, the star will not get on stage without some preshow rituals to cool her nerves.
Rihanna's tour bus essentials
landmarkmedia/Shutterstock
Though Rihanna is the spitting image of confidence, even she gets a healthy dose of stage fright before performing. The superstar has shared that she has a number of things that she needs on tour so she can calmly step into the spotlight. While appearing on The Ellen Show, Ellen DeGeneres revealed what items Rihanna requires staff to stock when she's making appearances or on the road. DeGeneres listed the following must-have snacks and drinks: "Cheetos, Hot Cheetos, Golden Graham cereal, Oreos, Cup of Noodles, red and white wine, vodka, soda, Frappuccinos, and garlic olives." 
Rihanna smiled as DeGeneres read the list, saying, "I just like to be prepared. You never know what you're going to be into that day." Therefore, she ensures there is no shortage of snacks aboard, which we find rather practical. We can only speak for ourselves, but no one would attend a show to see what happens to our bodies when they get angry. Rihanna told DeGeneres the Hot Cheetos are one of her favorites and the regular Cheetos are a backup for when she's tired of the spicier ones.
In addition to Rihanna's special snack requirements, she has an entirely different set of requirements for her time backstage.
What Rihanna does right before going on stage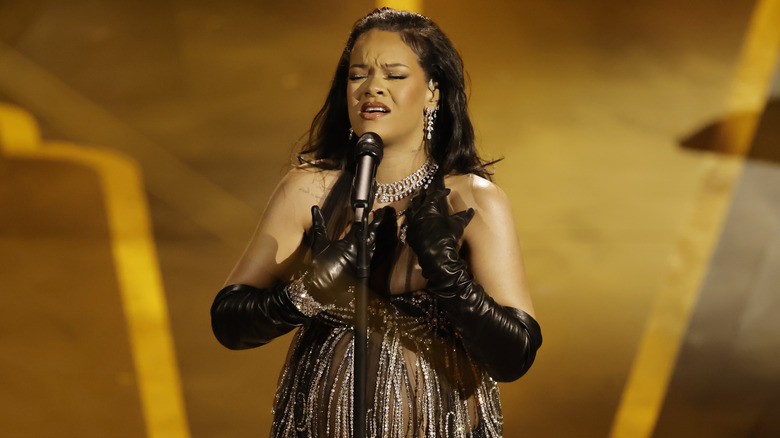 Kevin Winter/Getty Images
We can't imagine how performers would mentally prepare themselves to step out in front of thousands of fans who expect to leave mind-blown. But our best guess is that it would be a smidge anxiety-inducing. In an interview with Esquire, Rihanna revealed how she gets through the nerve-wracking hours that lead up to her concerts. She explained to the source that early on in the evening, she'll warm up with her vocal coach for around half an hour, do her makeup, and ready her throat with steaming and cough drops.
Once her voice is ready to go, she'll warm up her confidence by taking a shot of alcohol mixed in with some juice. She told Esquire, "I have to have it. I take it very seriously, so there is a level of anxiety, always." Although, this likely was not the case for her halftime show at the 2023 Super Bowl, considering it was performed amidst her second pregnancy.
But, Rihanna has one last shocking preshow ritual that is pregnancy safe and very well could have happened at the 2023 Super Bowl. Rihanna told Esquire, "Sometimes I go out into the audience. I put on a really big hoodie and sneak out there." So if you ever have the blessing to attend a Rihanna concert, look around during the opener and you might get a free meet in greet.