Midnight Black Hair Is The Edgy Color Trend That'll Elevate Your Look In 2023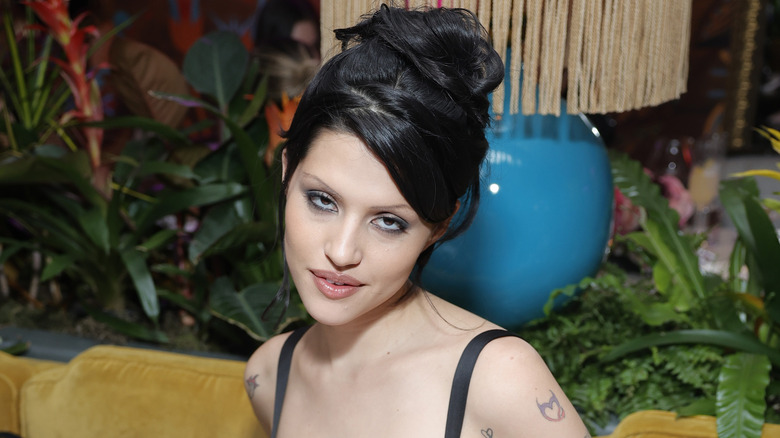 Stefanie Keenan/Getty Images
Once the hit series "Wednesday," starring Jenna Ortega, premiered on Netflix, everyone was obsessed. Not only did we become obsessed with the plot and characters of the inventive and drama-filled crime show, but it also left us asking how we could replicate the show's soft goth aesthetic. This snowballed into the girly goth trend that reinvented the iconic '90s grunge style. Influencers and celebrities alike have taken to this trend. We saw singer-songwriter Olivia Rodrigo posting photos in lace and black chokers and model and Instagram influencer Gabbriette Bechtal giving moody glares in a black dress and Gothic cross.
From this edgy aesthetic, a new popular hairstyle trend has emerged — midnight black hair. Celebrities like influencer Emma Chamberlain and author Amelia Grey are shining examples of fashion icons who are flaunting this bold look. If you want to do something different with your hair, dyeing your locks midnight black could take your look to the next level. However, it isn't a walk in the park to copy this look. There are some tips you should take into account before going dark.
How to know if midnight black hair will suit you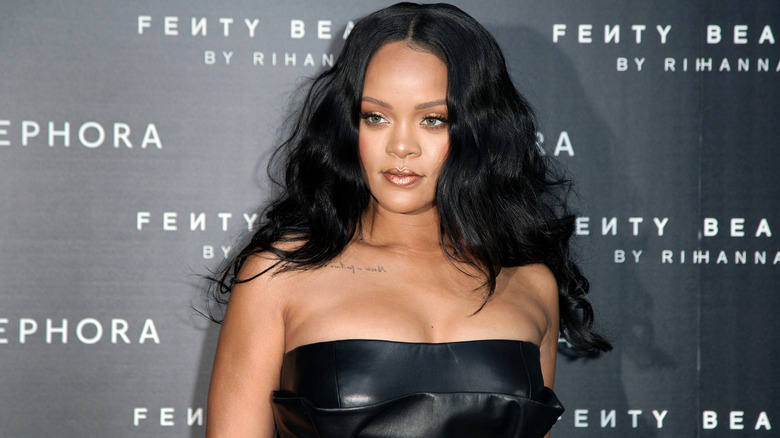 Andrea Raffin/Shutterstock
Wherever you are, it's likely that most of the people you're surrounded by have black hair. Per Medline Plus, about 90% of the world is born with naturally black or brown hair. However, the current hairstyle trend is a color darker than just your deep chestnut — it goes all the way. Olivia Casanova, an influencer colorist in New York City, specified that "Being this strikingly dark is having a major moment right now," in a conversation with Bustle. Many of her clients are asking for it, she added. The current trend calls for the purest, extreme form of jet black or midnight black.
If you weren't born with black or brown hair, you might want to take a look at your skin tone before you decide to hop on this trend. Olive complexions like Dua Lipa's or Selena Gomez's are well suited for these dark tresses.  Darker, warm complexions like Rihanna's are also a good fit for midnight black. These are the skin tones that will have the most natural cohesion with black hair. However, if your skin color does not fall into either category, you can absolutely still rock the trend. Even if it's obvious that you've dyed your hair this bold, gothic blend, take heart — that'll make it actually look all the more angsty.
What to know before you dye your hair midnight black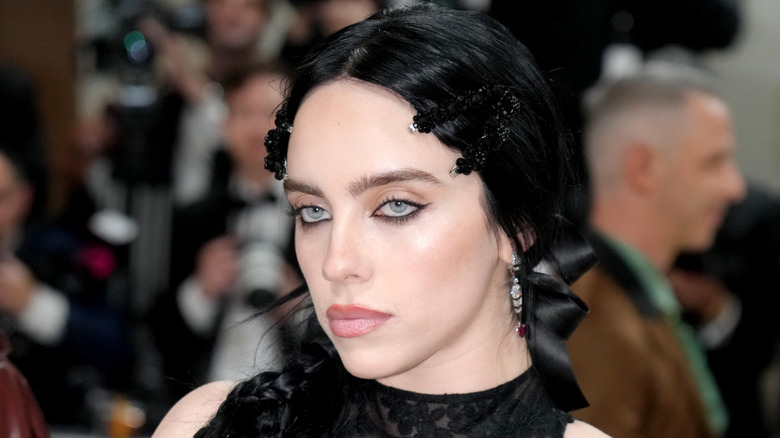 Jeff Kravitz/Getty Images
Dyeing your hair can be a fun, easy way to elevate your look. However, if you feel an impulsive urge to undergo this edgy transformation, you might want to take a pause and think a little more intentionally. Trained stylist Ashley Ruiz revealed to Mane Addicts that because midnight black is "the deepest and darkest color," achieving this hue requires a heavy load of pigmentation. This causes it to be extremely difficult to remove. 
Ruiz warned that if you do end up regretting your black hair and decide you want to change the color, it'll require an intense lightening process. Ruiz explained, "You're opening up the cuticle of the hair to try and remove or lighten black pigment, which can cause the hair to feel dry and/or damaged." Therefore, if you have naturally light hair, you'll have to decide if you want to make the commitment to dark tresses as it will take some effort to remove if you change your mind.
Of course, this doesn't mean you shouldn't go for it. But, if you think you might want to switch up your hair color sooner than later, just know that you may risk dampening your hair health for a little.