Jack Black's Sons Are Growing Up To Look Just Like Him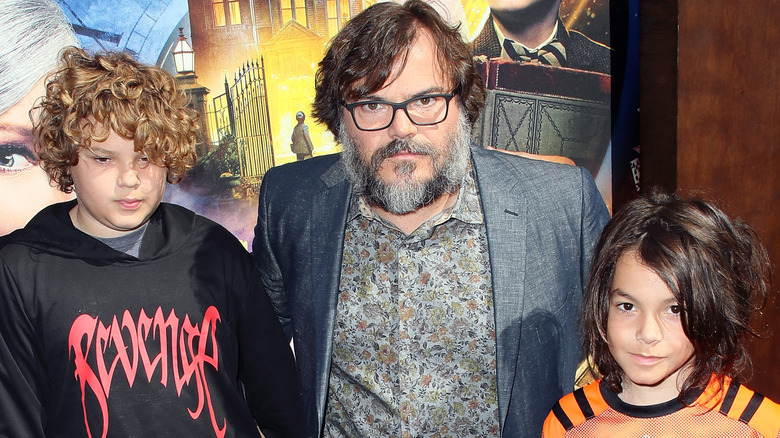 David Livingston/Getty Images
Fans of Jack Black love how unique he is. He is truly believable in his comedic performances and delivers great results every time, but when he is not working, the "Jumanji: Welcome to the Jungle" actor has another incredibly important job — raising two sons.
Black shares sons, Samuel and Thomas, with his wife, Tanya Haden. Becoming a father has been life-changing, but it's not easy. "My children are magical creatures, and I love them to death. But it is challenging. It takes a lot of energy," Black tells The Guardian. But he does make time to be an involved dad, including being there for bedtime, setting schedules, and having routines. Now that his sons have reached their teen years, they look more like their famous father, but is their appearance the only similarity they share?
"As of now, they're not really looking to act. But they are interested in creativity in terms of music and directing and filmmaking," Black tells Parents. While Samuel and Thomas don't share all of their dad's interests (and you're unlikely to find them binge-watching his movies), some things about their personalities stand out.
Jack Black's sons have experienced cringe-worthy moments with their dad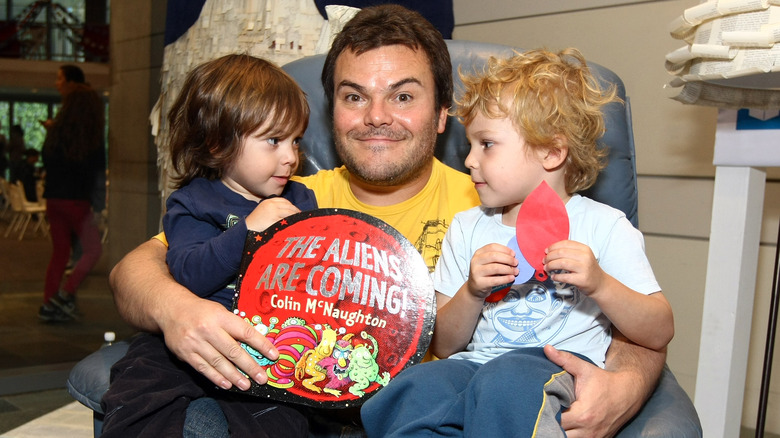 Neilson Barnard/Getty Images
Some may think that having Jack Black as a dad would be cool. He has a wicked sense of humor, and he appears to be someone who would be a lot of fun to hang out with. However, Black and his sons have typical father-and-son relationships, meaning that, like most children, there are times when they don't want to hang out with their famous dad. Not only that, but they find him a little cringe-worthy.
In an interview with People in 2023, Black shared that his sons "like some of the stuff I do, for the most part, they're teenagers like any teenager. They want to get as far away from me as possible." Samuel and Thomas want to spend less time with their dad as they age, but they're also sometimes embarrassed by his antics.
"I'm the dorky dad that my boys are humiliated by. They're always like, 'Shut up, Dad," Black tells Us Weekly at the Los Angeles premiere of his film "The House With a Clock in Its Walls" in 2018.
Their dad has made their happiness his top priority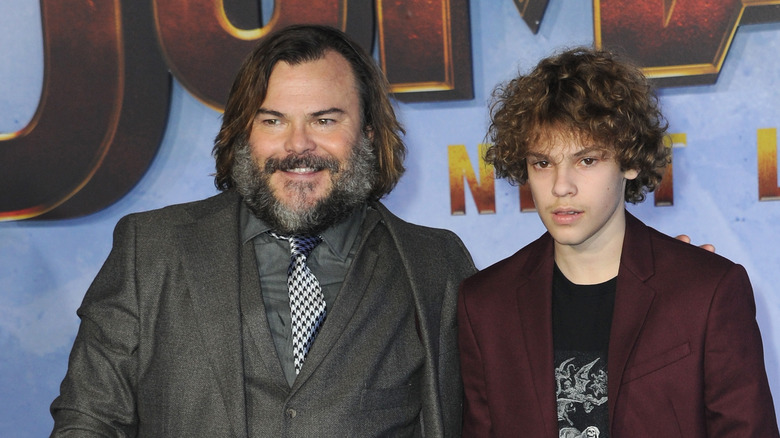 Albert L. Ortega/Getty Images
While it is impossible to know the ins and outs of Jack Black's life and how he spends every minute of the day, it is safe to assume that he has a busy schedule and many work commitments. After all, you don't work in the entertainment industry for decades without being in demand. Still, it appears he has found a balance between his work and family life and is a dedicated father to his boys.
He also puts their happiness and well-being above all else. "I just want them to be happy," he tells People. "I mean, the hard thing is that being the child of a celebrity is not easy. It has some special stresses that are not [typical of] normal childhood stuff." The "Bad Bromance" actor also acknowledges how parenting is a constant stress, and you are always left questioning if you're doing a good job.
"You spend so much time and energy just thinking about that," he says. "Also, it's harder than you think when you first start. Because you're always wondering, 'Am I doing this right? I don't know If I'm doing the right parenting thing.' But you do the best you can, and you hope for the best."
Sammy may be interested in pursuing a career in the entertainment industry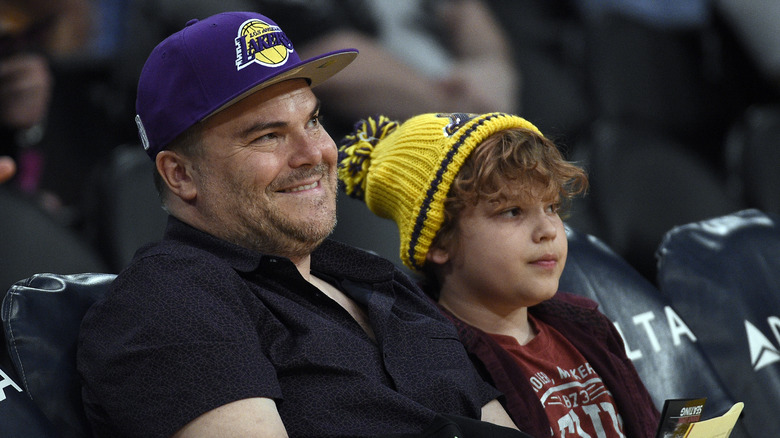 Kevork Djansezian/Getty Images
Would Jack Black encourage his sons to pursue a career in the entertainment industry? Becoming an actor is not without its challenges, and many do not enjoy the same success as Black. However, because of who he is and the connections that he has made over the years, his sons would be in a unique and advantageous position were they to follow in his footsteps. And it sounds like Samuel may have some interest in doing just that.
"Sammy, my 15-year-old, gets a kick out of some of my stories that I tell him about Hollywood adventures. He was like, 'Hey, can I make a movie about some of your Hollywood adventures? But I won't say that it's you,'" Black tells Jeremy Parsons for People. "I'm like, 'You bet. You go. Run with it, my son. My stories are your stories. That is what I can bestow upon you.'"
This is not the first time that Black has shared his sons' interest in film-making. "They've been super creative lately," he told People (via Yahoo!) in 2019. "They both have made cool little short films on their iPhones. I [am] so proud and grateful for my family."
Thomas Black has been practicing martial arts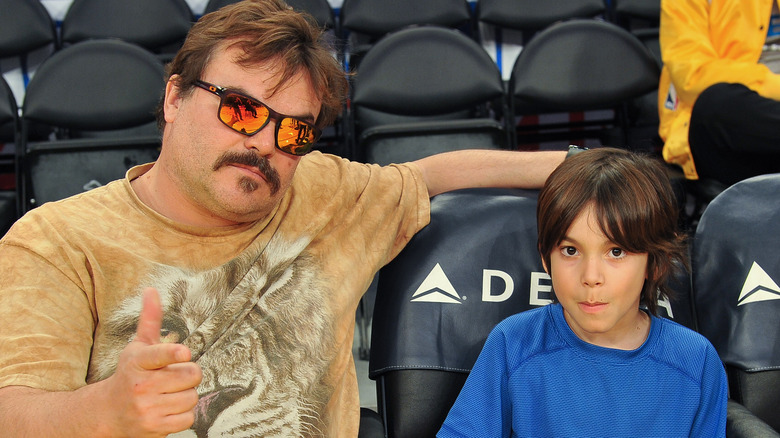 Allen Berezovsky/Getty Images
Jack Black voices the character Po in the "Kung Fu Panda" franchise and has his own background in martial arts. "I did do a little karate and a little judo, so I'm a pretty tough customer," he said in an interview with Minnesota Parent. He also shared that one of his favorite films happens to be ​​"Kung Fu Hustle." The 2004 film stars Stephen Chow and Black loves it because "he totally got the humor and the kung fu excitement mixture right. He's so creative with the characters and the way that people you don't expect to have kung fu mastership come out."
While we cannot be sure if this is one of the films that he and his sons have watched together (and they do enjoy a movie night), we do know Jack Black is not the only one in the family interested in martial arts. Although Black is worried about his son, Thomas, injuring him. 
"It got serious, and I had to have a sit-down and have a talk with him and say, 'You can't use your powers of martial arts; Only when your life is in danger. You can't do this against normal people," Black said during an appearance on "The Tonight Show Starring Jimmy Fallon" in 2015.
As his sons enter their teens, they are breaking away from their parents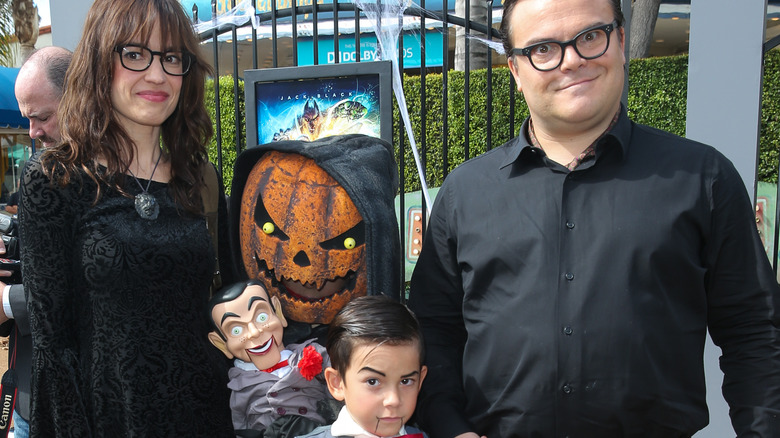 Imeh Akpanudosen/Getty Images
When children grow up, they start wanting more independence and pushing boundaries. This means that the things they used to love may no longer be relevant, and spending time with their parents may become less important. Jack Black has experienced this for himself because his sons are both in their teens.
"Yeah, that's that age where they're starting the separation, trying to figure themselves out," Jack Black told Parents in a 2023 interview. "But we do still get to hang out when it's movie night. A good night will be a rad meal, and then we'll go to the living room and watch like an episode of something cool or a movie. And we take turns, like, 'Whose turn is it to pick?' It's always a fun way to spend some time together." It's great the "Gulliver's Travels" actor has still found a way to bond with his sons and give them the freedom to learn and grow independently.
If he could give others advice, it would also be to listen to their children. "There's a lot of importance put on giving the right advice. But dude, even more important is actually just listening because that's so important for their communication skills, to know that someone's listening, and for them to get the practice to form ideas," he tells People.
Sammy is already proving to be skilled at the guitar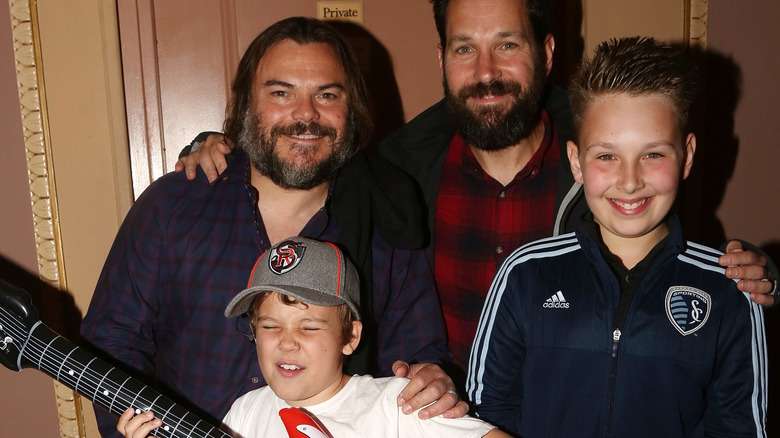 Bruce Glikas/Getty Images
Jack Black is a man of many talents, and in addition to acting, he is also incredibly musical. And he shares this with his sons. "I don't know if my kids will follow in my footsteps. But they love to sing and dance; They love to show off," he tells The Guardian. "Sammy is very musical. I already got him a guitar. He's very talented. There's not going to be any pressure on Sam at all. He's going to be free to be his own man."
While Jack Black is always there to support his boys, he has no intention of controlling their interests. "I always encourage my boys to pursue their musical passions," he tells People. He also wants them to figure out how to do things on their own, so when Sammy got a small part in "Kung Fu Panda 3," Black let him do it the way Sammy thought was best.
"You don't want to be one of those 'Dance Mums' waiting in the wings. 'Don't forget to smile, and do your thing and the other thing too, and 1, 2, 3, we're gonna be famous.' I don't want to put that kinda crap in his head," Black tells Yahoo 7! Entertainment.
They are allowed to watch movies with mature content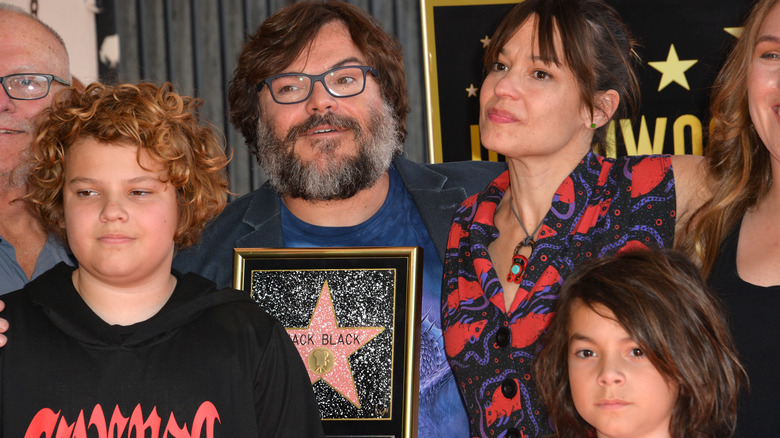 Featureflash Photo Agency/Shutterstock
Jack Black is a skilled actor who has focused on comedic roles for much of his career. Some of his parts have been child-friendly; Other roles may include more adult themes and expletives. But does he police what his children can watch?
Black wants his sons to be able to watch a wide range of films — as long as he supervises. He gave an interview in 2019 to Australian radio personalities Fitzy and Wippa (via Daily Mail) and spoke about his approach to screen time. "I win the bad parent of the year award, occasionally," he said, adding that he gives in "if they're really begging to see it." Nevertheless, he is always right there in case he needs to intervene. "As long as you have the remote in hand so if something gets out of control, you can pause and have a little talk. As long as you're there and aware of what's going on and you're ready to talk to them or ready to leave if it's too intense," Black shared.
Jack Black's children are passionate about video games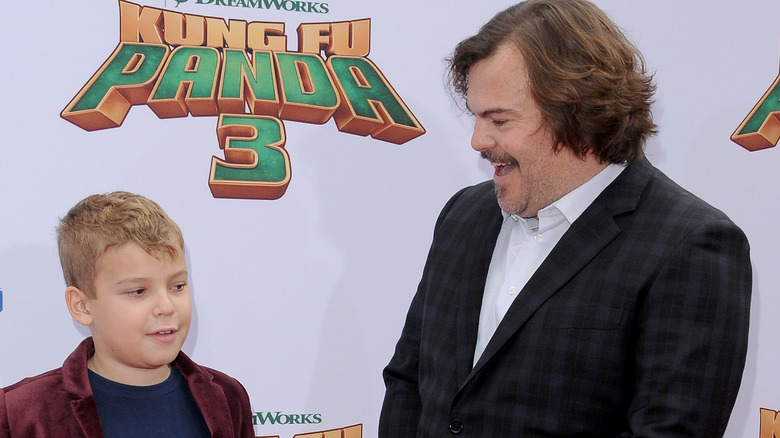 Axelle/bauer-griffin/Getty Images
Now that Jack Black's sons are in their teens, they may want to spend less time with their famous dad to focus on their interests, but there are still some things they can enjoy together, and this includes video games. The actor has learned a lot from his eldest and discovered new, exciting games.
"My son Sammy turns me on to all the best games," he tells Parents. "He was actually telling me about 'The Last of Us' before the TV series ever came out. He was like, 'You gotta play.' And he always gives me the tips on the latest games. He actually came up with the idea for Jablinski Games, this gaming channel I started a few years ago. I just sort of did whatever he told me. And it kind of blew up, and I was like, 'Dang!'"
If you're wondering who wins when they have a video game battle, the answer is Sammy!
You can find Jack Black and his kids doing lip-sync games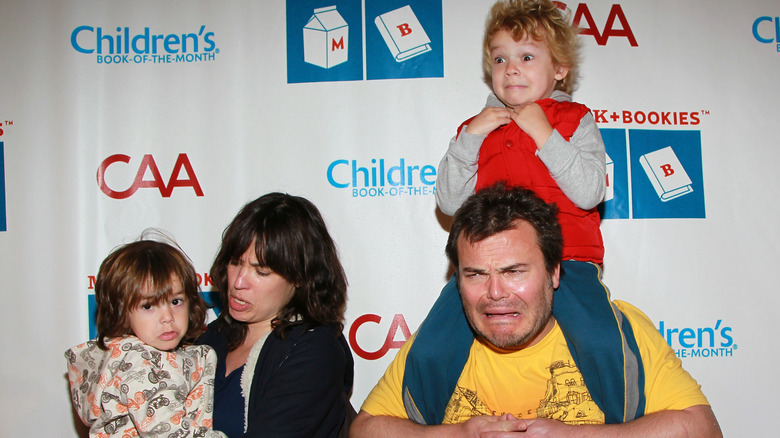 David Livingston/Getty Images
Have you ever wondered what a typical evening in Jack Black's household looks like? Do they bring out their guitars and start jamming in the living room? Or do they have video game marathons? Although Black wants his two sons to have structure in their lives, that doesn't mean there are not times when they let loose and have fun. And this includes lip-syncing games.
Black is musical and part of a rock band called Tenacious D, so when he performs, he really gets into it. "I notice it when Sam and I are listening to music, for example. Sometimes we will do lip-sync games where I will pretend to sing a song, and my boy will go, "No, no, no. My turn!" and I realize I'm hogging the mic," he told The Guardian in 2011.
Spending time with his children is a priority for the "Nacho Libre" actor, and he would rather be home with them than attend events. He spoke about this with Observer in 2016, revealing that instead of attending a screening of a Michael Moore documentary, he went home to be there for his kids' bedtime. "I would just like to go home and put my boys to bed. Why am I going out to a movie?'" he told the publication. "And I just turned the car, did a U-turn, and got back and talked to the boys about their day at school..."
Jack Black's sons are not that interested in his films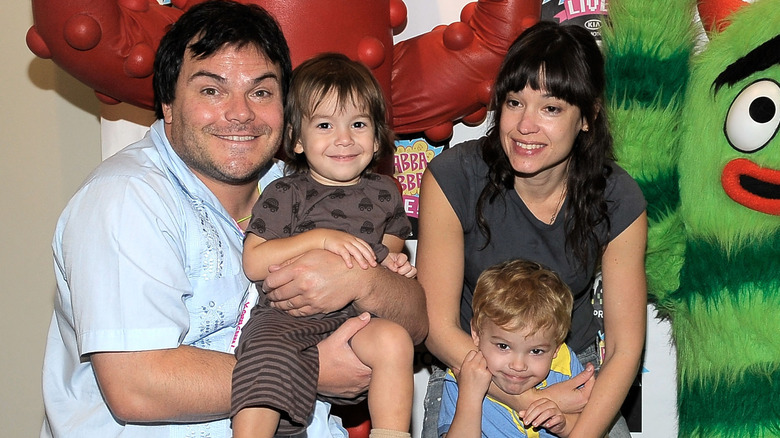 Charley Gallay/Getty Images
Jack Black has had an impressive career and worked steadily in Hollywood. He has also had some memorable comedic roles, including Oberon in "Jumanji: The Next Level," Nacho in "Nacho Libre," and he has voiced Po in the "Kung Fu Panda" film franchise. Many of the films he has been involved in are child-friendly. So do his sons, Samuel and Thomas, enjoy watching their father on screen? Well, not really.
In a 2023 interview with People, Black acknowledged that his sons are not always interested in his films. "I'm not one of those parents that forces them to watch my movies," he said. "I'm like, 'They'll discover it later if they want to.' I'm not going to make that an issue, like, 'You need to watch all my films.'" Luckily for the actor, there are some movies that he has made that his boys have shown an interest in, particularly the "Super Mario Bros. Movie," in which he voices the character Bowser.
Speaking of his sons, Black told People they were "stoked about 'The Super Mario Bros. Movie,' and they're looking forward to coming to that premiere."
Sammy had a small part in 'Kung Fu Panda'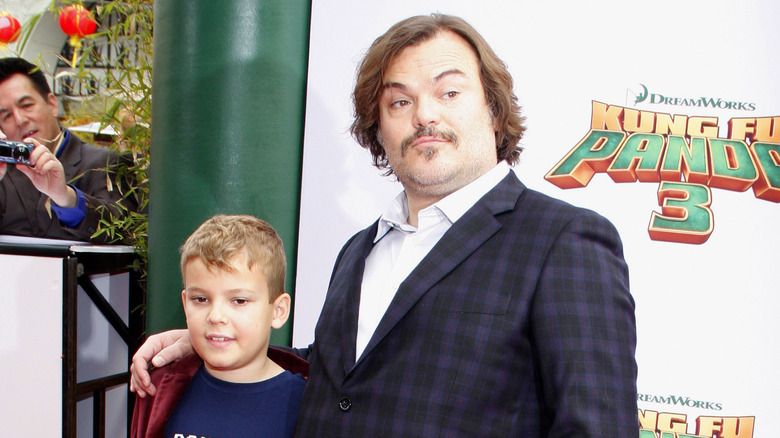 Tinseltown/Shutterstock
Jack Black's sons are teenagers. Samuel, his eldest, was born in 2006, and Thomas was born two years later in 2008. While they have been exposed to the entertainment industry because of their father's success, they have not decided whether they want to follow in his footsteps. Although, that is not to say they have not shown some interest in acting, and Samuel has already had a small part in "Kung Fu Panda 3.".
"My oldest boy Sammy got to play one of the bunny rabbits in this movie, so he's really stoked about it," Black told Observer about his son's role. "We had a little preview just for the boys, and they got to invite all the other kids at their pre-school, about 20 kids. It's a fun thing to share with them."
It is an animated film, so Samuel did not appear onscreen, but he did have a speaking part. "He asked, and I said, 'I'll see what I can do,'" the actor tells Yahoo 7! Entertainment. "It's not a big role. His line is 'Save the Valley.' He says it kind of hoarse. That was his idea to do it in that voice. I wanted him to do his thing."
Jack Black's boys have a pretty normal childhood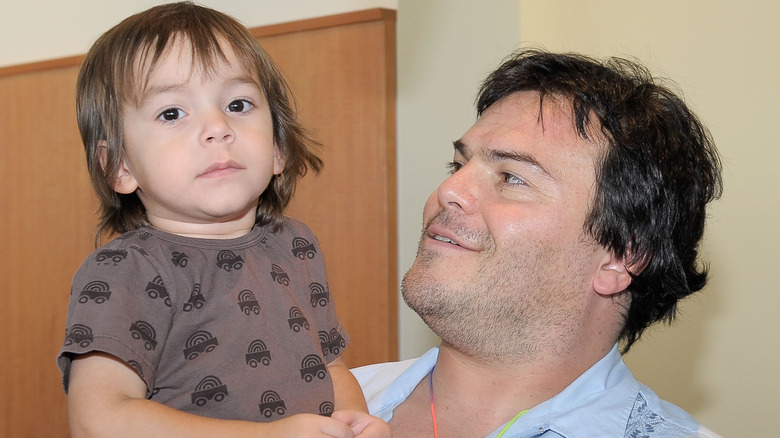 Charley Gallay/Getty Images
Many of the roles that Jack Black has played have been comedic gold. He has also portrayed undeniably cool characters. Just take his role as substitute teacher Dewey Finn in the popular 2003 comedy "School of Rock" as an example. Yet, when it comes to parenting, he is not quite as laidback as you may expect, and to give his sons a normal upbringing, he understands the importance of routines and structure. Black's childhood may have been slightly different because he is the son of Judith Love Cohen, a NASA engineer.
"I don't know if I'm as much fun a dad as everybody would imagine. In terms of schedules, I like them to get to bed on time because I like them to get up on time and get to school on time," he told Essential Kids in 2016 (via Us Weekly). Getting to school on time is one thing, but Black also ensures his children "keep up with their homework." His comments make it sound like education is incredibly important to him.