Prince Andrew's Coronation Photos May Never See The Light Of Day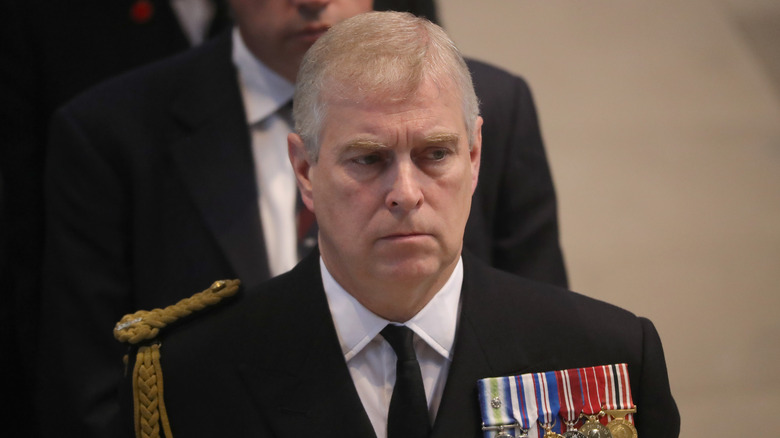 Christopher Furlong/Getty Images
The following article includes allegations of sexual assault.
While people believed that the king's coronation was a time to bring the royal family together again, many were not pleased to see the embattled Prince Andrew in attendance. The 63-year-old attempted to keep a relatively low profile, though he was still photographed coming into the ceremony and exiting. Unlike his distanced nephew Prince Harry who wore a simple suit like the rest of the guests, Andrew chose to dress in traditional royal garb. This only garnered more attention, with many people wondering why he would choose to dress as the rest of the family despite his role in the palace being drastically different these days.
Andrew was at the center of a shocking scandal that also involved his now-deceased friend, Jeffrey Epstein. In early 2022, Andrew paid millions to settle a sexual assault lawsuit filed by Virginia Giuffre, a known trafficking victim of Epstein. According to Giuffre, the high-powered financier trafficked her for sex to his prominent friends when she was a teenager. One of those friends happened to be Andrew, though he vehemently denied the accusations. After issuing the massive payout, his mother, the late Queen Elizabeth, stripped him of his honorary military roles. He also lost the right to be referred to as "His Royal Highness." With such controversy surrounding him, it's not surprising that whatever professional photos of him exist from the coronation will remain under tight lock and key.
Prince Andrew wanted to be photographed at the coronation to prove his attendance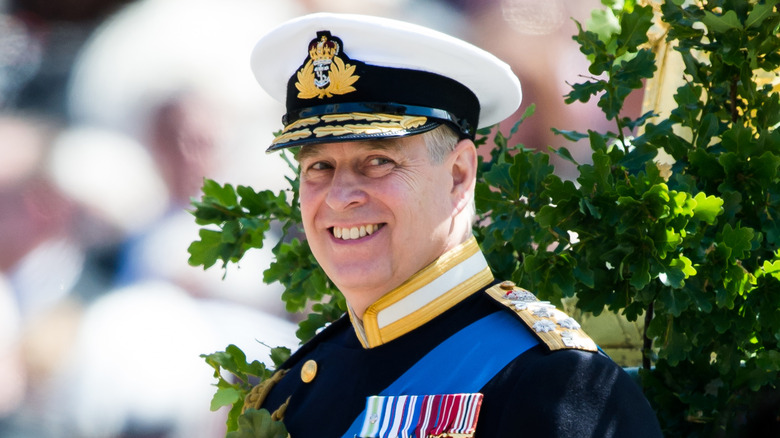 Samir Hussein/Getty Images
Once inside King Charles' coronation, an insider told The Telegraph that the Duke of York wanted to be professionally pictured. Andrew requested this for documentation purposes, to show that he had, in fact, been present for his brother's big day. Additionally, Andrew reportedly summoned photographer Hugo Burnand to snap several shots of him in his regalia, even though he is not a working member of the royal family. However, per that source, those images are "unlikely" to ever be released by the royals.
A once well-respected member of the kingdom, Prince Andrew's fall from grace extends beyond his royal duties being stripped. A YouGov survey found that 70% of Brits believes that his rape accusations have damaged the royals, and these views were heavily felt as Andrew was driven past crowds to his brother's coronation. Onlookers booed loudly as his vehicle passed by crowds, and several photos were snapped of him inside the passing car.
Prince Andrew still wants to attend family events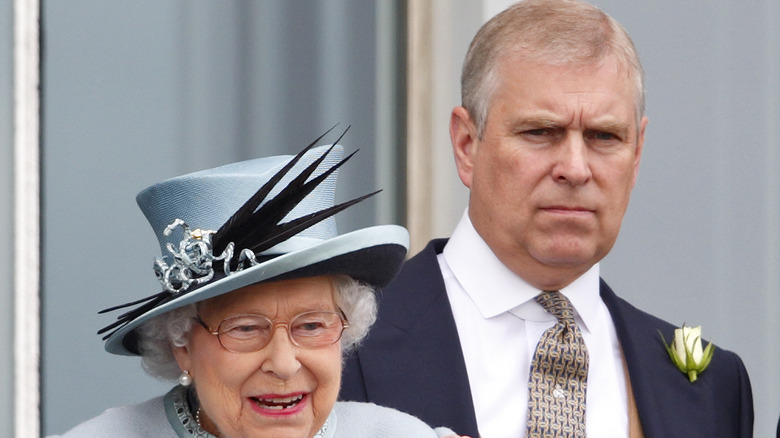 Despite his poor public image, Prince Andrew still attends family outings. Therefore, it was no surprise to see him at the coronation. In March 2022, he was present for Prince Philip's memorial service. That same year in September, he attended his mother's funeral, where he elected to wear a suit instead of the ceremonial garb. In April 2023, the 63-year-old was present during the annual Easter Sunday church service at St. George's Chapel in Windsor Castle, the first since his mother's passing. However, not every gathering has welcomed Andrew with open arms.
In June 2022, the Duke of York was scheduled to appear publicly with the royal family at the Order of the Garter service. However, at the last minute, his brother King Charles and nephew Prince William pulled the plug, as they feared a backlash if Andrew participated in the annual procession. This is the very reason Andrew had no formal role in the coronation.
Now that the festivities are complete, Andrew is likely to retire to seclusion inside the Royal Lodge. An insider explained (via Yahoo!News), "He is so fragile. He's refusing to see anybody," as a new battle brews with King Charles over Andrew's residing inside the 30-bedroom mansion. Though it was once speculated that Andrew could get his titles back thanks to his brother, things have appeared to go south once again. As the two quarrel over Andrew's living arrangements, it seems that the coronation photos featuring his face are the least of their worries at the moment.