Blue Vs Green Shampoo: Which Is Better For Brunette Hair?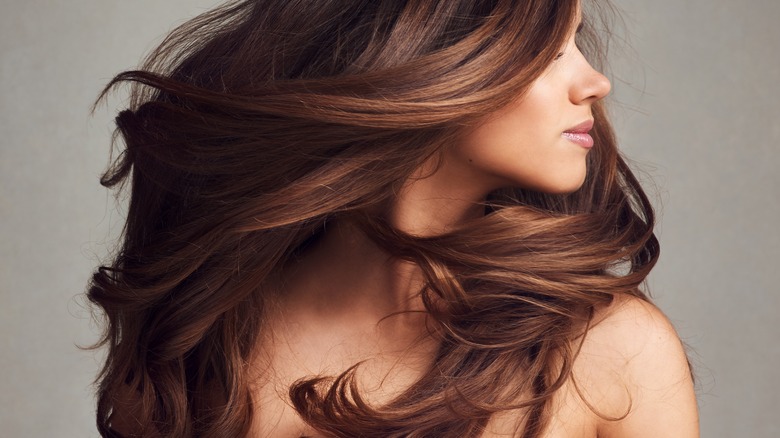 PeopleImages.com - Yuri A/Shutterstock
We may receive a commission on purchases made from links.
Brown hair is a universally flattering color because there are countless stylish brown-toned hair hues to go for, from toasted brunette to a gorgeous lived-in brunette hair color. When you dye your tresses a gorgeous brunette shade, they often look their best when fresh out of the salon. After a couple of weeks and a few washes, you may notice your hair color start to lose its shine, or red/orange tones begin to peek through. If this sounds familiar, you don't have to book an appointment to see your hairstylist just yet. Using the right shampoo for your brunette tresses can make all the difference in keeping your hair looking vibrant and full of color.
For most blondes, purple shampoo is the holy grail product that neutralizes any yellowness while keeping their hair looking toned, cool, and bright. For brunettes, there are two main shampoos to choose from — green or blue shampoo. Depending on the colors that are showing up in your hair, you'll want to grab either a blue or green shampoo to neutralize and tone your tresses. Here's how you can know when to use one or both of these color-treating shampoos. 
When to use blue shampoo for brunettes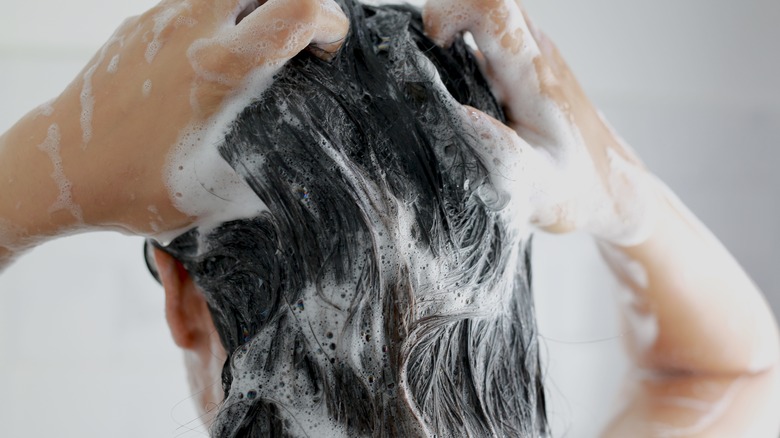 fongbeerredhot/Shutterstock
Brunette hair that has unwanted orange tones is the perfect candidate for blue shampoo. Since blue and orange are opposite colors on the color wheel, blue will neutralize any orange tones that show up in your locks. Celebrity stylist and HairBoss CEO, Jamie Wiley, tells Marie Claire: "Blue shampoo helps prevent brassiness by depositing blue pigments onto the hair to neutralize the yellow and orange tones that can occur due to sun exposure and other environmental factors. The blue shampoo also helps to seal in color, while adding moisture and shine." Blue shampoo will give your color a vibrant, long-lasting shine that will keep your locks looking their best.
We recommend using the Fanola No Orange Shampoo to remove any brassiness and orange tones in your hair while also keeping it strong. The shampoo's formula contains coconut oil to boost your hair's shine and prevent breakage or split ends.
When to opt for a green shampoo instead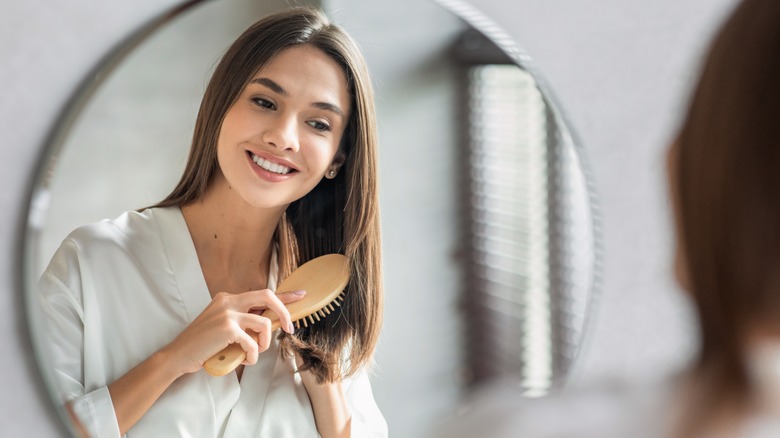 Prostock-studio/Shutterstock
If your brunette hair is showing more signs of red tones peeking through, opt for a green shampoo to neutralize the color. While it may sound nice to have a bit of red in your hair, it won't look like the salon-fresh hairdo you're thinking of. When your brown tresses start turning red, the color will appear a lot less vibrant and glossy, and take on a dull, washed-out look. Investing in green shampoo can not only keep your color-treated locks bright, but it'll save you money on going to the salon for a color refresh you may not need.
For a high-quality green shampoo that will help you achieve your perfect brunette shade, we recommend using the Matrix Total Results Dark Envy Green Shampoo. This shampoo will enrich your color, cleanse your tresses, and leave them smooth and glossy after use.