Why Chunky Loafers And Jeans Are A Match Made In Fashion Heaven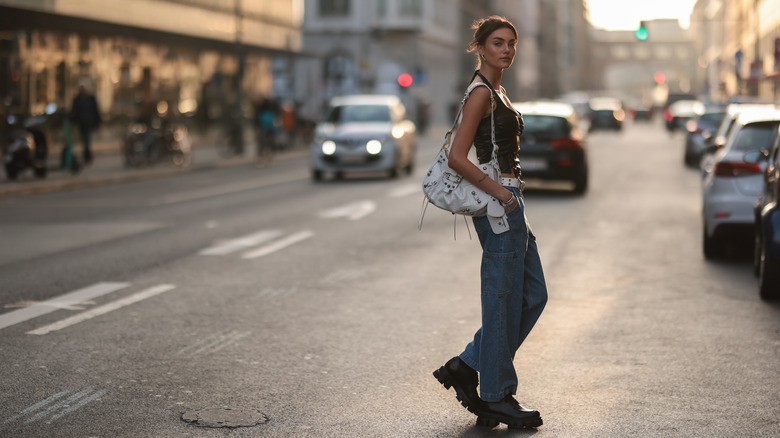 Jeremy Moeller/Getty Images
You know that one friend you can take along with you wherever you go? They're easy-going, adaptable, and a breeze to be with. 
In the fashion world, your worn-out yet favorite pair of jeans is pretty much like that friend. Comfortable, always there for you, and willing to go with you wherever you go. That is until chunky loafers came into the picture. Originally, loafers grew in popularity between the 1940s and 1960s, mainly as a relaxed alternative to official-looking footwear. But in recent years, they've remerged, new and improved, in a more thick and pronounced way. Now, the modern loafer trend is a comfy shoe lover's dream. If you're new to chunky loafers, you might feel a sense of apprehension about styling them. But they've proved, time and time again, to surprise wearers and onlookers alike, which is probably why model and socialite Hailey Bieber swears by them.
That being said, jeans and chunky loafers are a match made in fashion heaven for a number of reasons. Why? Well, for one, they're two wardrobe staples that are relevant during all seasons of the year. So, for sustainable or environment-conscious fashion enthusiasts, this is definitely good news. It means you don't have to keep either of them hidden for long periods of time without getting any use out of them. However, that's not the only reason the two work well together.
The two can elevate any outfit
Jeans are anyone's go-to for a casual occasion. But do you recall those times when you wanted to be comfortably casual but also wished you could add a touch of sophistication to your ensemble? Traditionally, this might mean putting on a dressy top or adding jewelry to your outfit. 
However, if you own a pair of chunky loafers, you can simply bring those out for an instantly elevated look. While remaining simple and snug, they have a way of dressing up your attire. Just make sure you pay attention to proportions when you style the two articles of clothing. Since the loafers are heavy in and of themselves, straight-legged jeans or pants that aren't so tight would be ideal, as explained by style enthusiast Natalie Helen. 
While flared jeans might be making a comeback, you may want to avoid them with this combo seeing as they can make you appear more bottom-heavy than you need to be. Skinny jeans are best left out too. This is mainly because you don't want to further accentuate the bulkiness of the shoes. On top of that, making sure your jeans are ankle-length is another style tip that'll ensure this heavenly match stays that way. In turn, bulky loafers and jeans are probably one of the few fashion pairings that offer comfort and sophistication within minutes. 
You can add a pop of color
Since jeans and loafers are such versatile articles of clothing, they are a good starting point for anyone. Even if you only have skinny jeans in your closet, you can still pair them with the shoes, as long as you throw on a blazer or coat to balance out the proportions. After all, blazers also have a knack for kicking things up a notch. 
If color is your goal, adding a hued coat to a basic white t-shirt and blue jeans combo can do this for you. The shoes themselves offer variety too when it comes to color. Black might be the popular choice for chunky loafers, but other neutral hues, like brown or white, give you more freedom when it comes to mixing and matching your footwear with the rest of your wardrobe. If you want to color outside the lines a bit more, there are other shades to choose from, such as lime green, pink, yellow, blue, and wine red being just a few alternatives. 
Plus, chunky loafers are a great excuse to bring socks back with your denim jeans. In fact, stylist Sandy Koszarek told Who What Wear, she recommends incorporating them with white socks and a sweater. They're also "a fun way to channel the '90s," she added.