Flared Jeans Are Making A Comeback - Here's How To Style Them In A Modern Way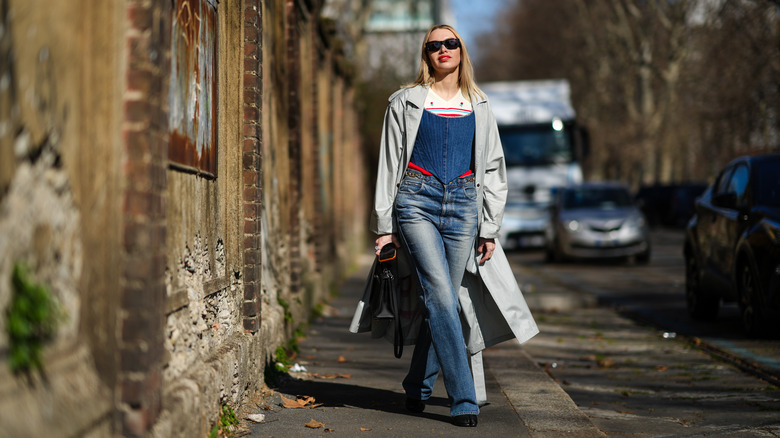 Edward Berthelot/Getty Images
The truth is out — flared jeans are back in style in a big way, to the extent it could be time to make them your new everyday jeans. Initially popular in the '60s and '70s, the style gradually came back into the mainstream in the '90s and early 2000s. Now equally part of the Y2K and vintage revivals, the wide-legged style is perfect for taking any outfit to the next level, whether casual or formal. 
The best part about flared jeans is that they are universally flattering. Not just for those on the taller side, petite girls can rock a pair of flared jeans too due to the different lengths and styles available. Unlike straight-leg or skinny jeans, flared jeans can appear more difficult to style due to the way that they go outward rather than tapering in at the bottom. However, this is what makes them such a good fit. 
There are also tons of different types of flared jeans, from cropped to full-length and dark wash to light denim. No longer just associated with bell-sleeve tops, we've collected plenty of inspiration on how to style them in a way that's chic and effortlessly 21st-century.
Cropped flared jeans will elongate your legs
By opting for flared jeans with a slightly cropped silhouette, you can show off your shoes more. Cropped jeans will also visually lengthen your legs, especially if you wear heels or platforms with them. A black shirt, simple black vest, and matching black belt will always work well with flared jeans — fitted rather than oversized silhouettes on top will allow the flared aspect of your jeans to take center stage, too. For a more contemporary look, choose shoes with a thin rather than block heel.
A blazer and sneakers look is the epitome of casual cool
Oversized blazers are everywhere at the moment, and for good reason, though you should be careful not to choose one that won't overwhelm your bottom half. Flared jeans are a subtle nod to the trend, as they aren't overly wide at the bottom. Dress down a boxy blazer look with a close-fitting T-shirt and chunky sneakers. If you're worried about mixing an oversized blazer with wider jeans, stick to a tight T-shirt or dress shirt on your top half. 
Don't be afraid to wear sky-high heels with flares
You may not associate flared jeans with sophistication, but they actually look great with heels — the higher the better. The regular length makes heels a great shoe choice if you're on the petite side or have a longer torso and shorter legs. As mentioned above, cropped flared jeans will visually lengthen your legs, but longer flared jeans can also make them appear endless when paired with a taller shoe. This billowy white blouse, meanwhile, is the perfect finish and cultivates a more elegant vibe. 
Flared jeans pair well with boho and cottagecore styles
Flared jeans are made for boho-style outfits, but this doesn't have to mean vintage. You can keep things modern by opting for flares with rips and a tighter fit at the top. A pretty top with floral or lace detail is an easy way to incorporate a free-flowing boho vibe into your look. As for shoes, white sandals are a classic, or go for cowboy boots to capture a gorgeous cottagecore look. Don't forget accessories — a wide-brim hat and cowboy boots are pure perfection when paired together. 
Look for flared jeans with detail for a fresh take on the trend
Much like cropped styles, flared jeans with a split hem are a fantastic way to show off your shoes. They will also help to balance out your silhouette if you layer a long coat over the top, particularly if you're petite. This look utilizes basics to create an elevated casual weekend look that's perfect for catching up with friends over brunch or for an office with a more casual dress code.
Mix casual and formal pieces together for office wear
Another potential option for laidback office wear, these flared jeans are a bit tighter for a slightly fancier look. While the white T-shirt in the above photo features a relaxed fit, it's elevated by the chunky knit sweater tied around the neck and shoulders. If you're worried about this look appearing overly casual in a work setting, add some heeled pumps and a blazer over the top, or wear a sweater instead of a T-shirt to cover up a little more.
Get creative with a co-ord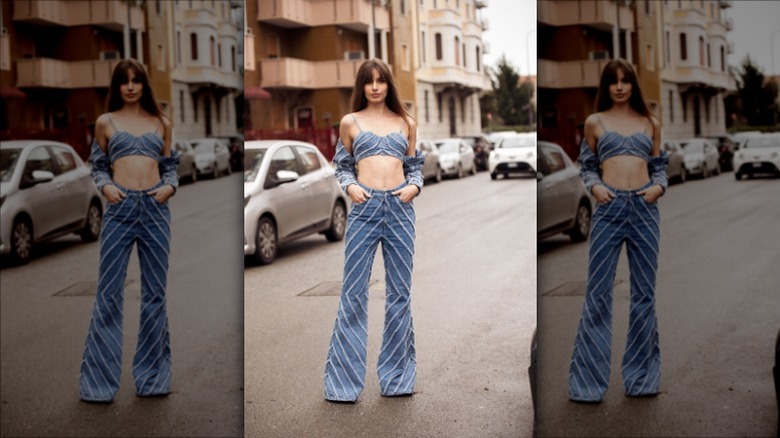 Raimonda Kulikauskiene/Getty Images
Co-ords are so hot right now, but a co-ord with flared jeans is even hotter. You don't have to go all out with patterns and prints — a matching denim top and flared jeans look is simple to style but will make you look as though you've put tons of effort in. To break up a co-ord or add some more color, layer a cropped cardigan or unbuttoned shirt on top to make the outfit more visually interesting. In terms of shoes, boots will provide extra warmth, but sneakers will make your look more street-style ready, so it's entirely up to personal preference. 
Jeans in a neutral color will brighten up any look
Flared jeans don't just have to be black or blue denim. In fact, cream or beige jeans instantly update even the plainest ensemble. Jeans in lighter colors are ideal for layering in spring as the weather gradually warms up. If you want to pull off the monochrome fashion trend, pair cream flares with a beige or off-white sweater and finish the look with some boots in a similar hue. In warmer weather, swap the boots for platform sandals and the sweater for a tank top.
Flared jeans can be styled casually to fit your vibe
If you're looking for a way to style flared jeans from day to day, you can never go wrong with plaid. A check overshirt or shacket will instantly transform your look into something modern that's also stylish enough for casual events. As mentioned earlier, sneakers dress any look down, so don't be afraid to pair flared jeans with your favorites. If you only have a long flannel shirt, consider tying it up at the waist to emphasize the cut of your flares.
Flared jeans can be worn all year round
Flared jeans aren't just for warmer weather. In fact, they look just as good paired with a sweater, coat, and boots. This look has a teeny bit of vintage influence thanks to the shearling coat, but the chunky boots and cable knit sweater lend it a distinctly modern edge. Once again, these flared jeans are in-between a crop and regular length, which is ideal if you're planning on layering up for cold weather, as the higher cut will save you from looking top-heavy.