Rihanna Is Now A Beauty Mogul, But Has An Interesting History With Makeup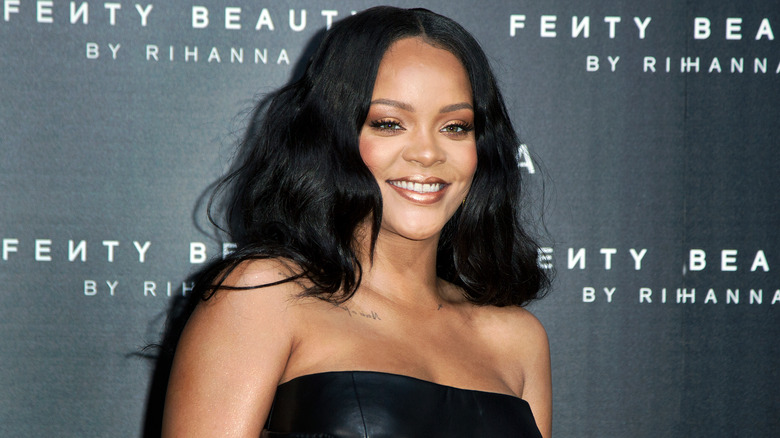 Andrea Raffin/ Shutterstock
In 2017, music icon Rihanna turned beauty mogul, launching her makeup line Fenty Beauty in September of that year. Just as with everything Rihanna does, the company was a colossal success. After its first year on the market, the company's revenue reached over $550 million. According to Forbes' estimation, Fenty Beauty was worth $2.8 billion by the summer of 2021. Rihanna's fierce stage presence, distinct music, and unparalleled talent generated her popularity as a performer. But her die-hard music fans aren't the only reason the makeup line was so successful.
Rihanna has made the brand a champion of diversity. In an interview with Time, she explained, "It was also important that every woman felt included in this brand. We are all so different, with our own unique skin tones, so we started with the 40 foundation shades out the gate." Today, the brand's Pro Filt'r foundation can be purchased in over 59 shades. Everyone and their mother, even celebrities too, wear and love Rihanna's Fenty Beauty makeup. For some, Rihanna's venture into makeup might have caught them off guard. However, Rihanna has been a makeup fanatic for her entire life.
Rihanna's most influential makeup guru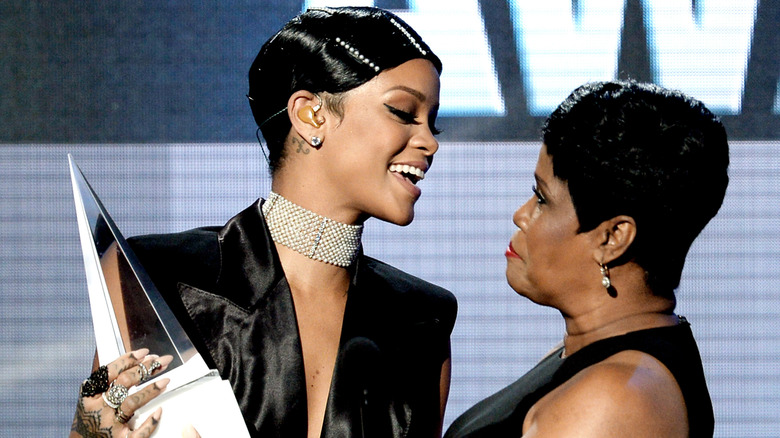 Kevin Winter/Getty Images
It turns out Rihanna wasn't the first member of her family to have a passion for makeup. Her mother, Monica Braithwaite, worked as a perfume and makeup salesperson. Rihanna told Hola! that Braithwaite was her number one role model for all things beauty. The superstar gushed, "My entire concept of beauty came from her. I was always so intrigued there. I wanted to dress like her. I wanted to look like her, do my hair like her, do my makeup like her."
Apparently, though, her mother didn't want any of those things when Rihanna was young. Rihanna explained to InStyle that her mom didn't let her touch makeup when she was younger. She laughed, "Lipstick in Barbados? Not unless I was a bridesmaid in a friend's wedding." While most middle schoolers in the US are glopping on mascara and caking on foundation, Rihanna had no choice but to accept what she looked like going makeup-free. Although, once Rihanna was in the spotlight, she plunged into the makeup world.
Makeup has been a huge part of her life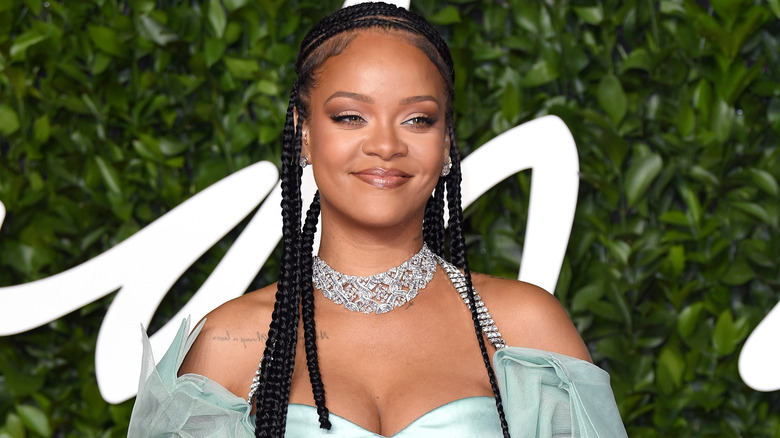 Karwai Tang/ Getty Images
Rihanna's mother did her makeup for her for the very first time just before she turned 16 (per Time Magazine). From that point forward, the superstar says she became obsessed with makeup. Very soon after her introduction to makeup, Rihanna's career as a singer began. At that point, she had some of the most talented professional makeup artists doing her makeup for her concerts and appearances. But makeup also became a huge source of joy and expression for her.
Rihanna might be known as one of the most glamorous women in the world now, but she has been rocking, bright, bold makeup looks since she came on the scene (via Vogue France). It should come as no surprise that Ri eventually decided to sojourn into the beauty industry herself, and celebrating every color of the rainbow in her product line is perfectly on-brand.