What Rhiannon Fish Did Before Becoming A Hallmark Star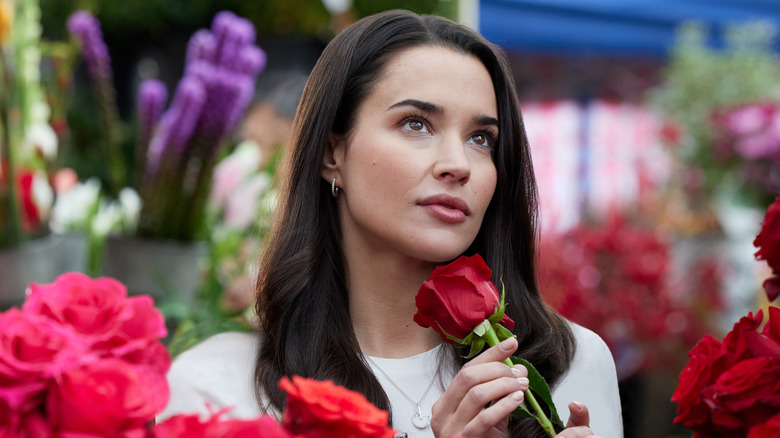 Hallmark Media/Allister Foster
From romance to mystery, actress Rhiannon Fish has been sharing her talents all over the Hallmark Channel. Her latest movie is "When Love Springs," but you probably recognize those brunette tresses and brown eyes from "A Picture of Her," "A Splash of Love," and "Journey of My Heart," among others. She's also the Nora half of "Nikki & Nora: Sister Sleuths" on Hallmark Movies & Mysteries, co-starring with Hunter King.
Born in Canada, Fish moved with her family to Australia when she was just a toddler. Even though she was only four years old when she landed in Melbourne, she never picked up an Aussie accent, which is why you won't hear that twang in any of her Hallmark movies.
What she did pick up while living in Australia, however, is a successful acting career. Starting just a few years after she arrived, Fish landed parts on several popular Australian TV series, and even took a shot at a Mirror Ball trophy on "Dancing with the Stars." From child actor to Hallmark sweetheart, Rhiannon Fish has been appearing on TV screens on multiple coasts.
Rhiannon Fish was an Australian TV star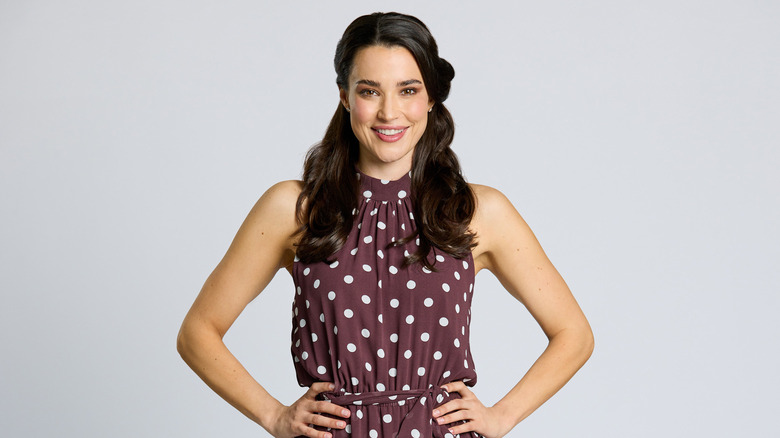 Hallmark Media/Courtesy of the Steve Jaggi Company
When she was just 12 years old, Rhiannon Fish landed her big break in the world of acting, playing the part of Lisa Jeffries on the long-running Australian soap opera "Neighbours." After three years, she moved to the role of Rocky in the Aussie Disney show "As the Bell Rings," finishing up at the ripe old age of 18. 
Already a popular actress, she cemented her place in Australian TV history when she was cast in the popular series "Home and Away," playing the character April Scott for three years and 325 episodes. Shortly after she announced she was leaving the show in 2013, she signed on to compete in Australia's "Dancing With the Stars," where she finished in the top three. 
While American audiences may not be familiar with her Down Under resume, they became fans of Fish when she hit U.S. TV as Ontari in the CW show "The 100" in 2016. In 2020, she made her Hallmark debut in the movie "You're Bacon Me Crazy," playing the supporting role of Laura, and she hasn't looked back, starring in TV movies for Hallmark and for Australian and Canadian TV. One movie, "A Love to Remember," even earned her a Leo, British Columbia's television and movie award.
Rhiannon Fish is happy doing TV movies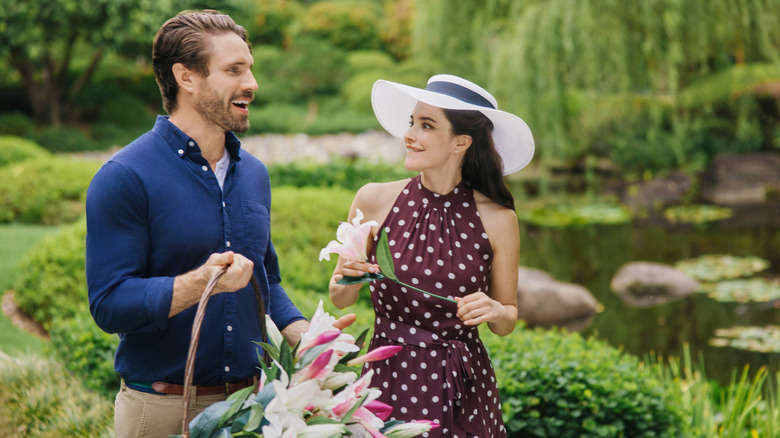 Hallmark Media/Courtesy of the Steve Jaggi Company
With the release of "When Love Springs" in May, Rhiannon Fish is once again leading the charge for love in her latest Hallmark movie, a quest she finds essential in today's world. "I think [these movies] really mean something to a lot of people [...] they're very pure and sweet and are just about things that are good," she shared with The Permanent Rain Press. "Things are very dark around the world [...] and to be able to offer any kind of escape, where you know if you put on a Hallmark movie, everything is always going to work out okay." 
Fish has been acting for a long time, and has no plans to give it up anytime soon. In an interview with The Beast she revealed, "The things that make me happiest are my family and my job. So in a perfect world I would be able to continue working and acting." She continued, "[T]hat doesn't mean necessarily being in a huge blockbuster Hollywood film. I would honestly be happy doing a local play just around the corner as long as I was working and surrounded by my family and my friends. I think that that would be the perfect world for me."