Inside Kate Middleton's Friendship With Princess Mary Of Denmark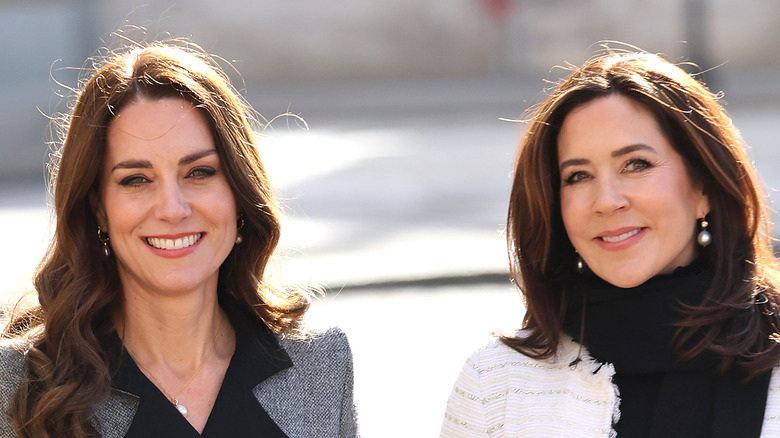 Chris Jackson/Getty Images
Princess Catherine has been globally known for her poise, kindness, and iconic sense of fashion. When she married Prince William in 2011, Catherine not only gained the elevated status of a future queen, but had become a member of the British royal family, suddenly inheriting a long and glamorous list of royal in-laws from all over Europe. Unsurprisingly, the Princess of Wales seems to gracefully maintain friendly relationships with the European monarchies regardless of whether or not they're related. However, her friendship with Princess Mary of Denmark seems to stand out from the rest. 
The friendship between Princess Catherine and Princess Mary represents the newest chapter in the historical relationship between the royal families of Denmark and Great Britain. Good relations between these two royal families are, after all, a long-held tradition. These two families are both descended from the "Godmother of Europe," Queen Victoria.
This royal friendship between Princess Catherine and Princess Mary of Denmark is particularly unique. Their lives, values, and taste in fashion share an uncanny resemblance that has received global attention. Often called sisters and even twins by the media, these two royal beauties appear to lead parallel lives, which has resulted in an enduring friendship. 
Crown princesses with similar life paths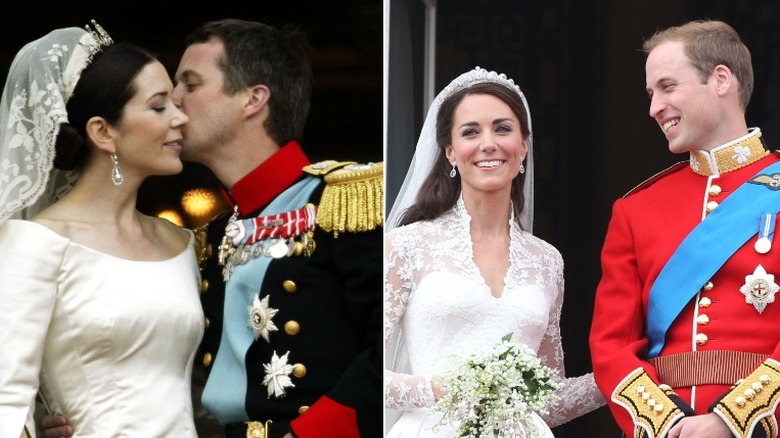 Ian Waldie & Anwar Hussein/Getty
These two royal friends may have as close of a friendship as they do because their origins and life trajectories run remarkably parallel to each other. Both of these popular princesses were not born into royalty, growing up in environments that are very different from the royal palaces where they live today. They are both commoners-turned-princesses, with Catherine growing up in Berkshire, and Princess Mary in Tasmania, Australia. Because they were raised outside of royalty, both Catherine and Mary understand what it feels like to plant their roots where they would end up marrying (and raising) heirs to the throne.
Princess Mary met her husband, Crown Prince Frederik, at an Australian pub during the Olympics in 2000. According to People, Mary had no clue that the man she was talking to would one day be the King of Denmark. Nevertheless, their love story began and, in 2004, they married in Copenhagen. In 2001, Princess Catherine famously met Prince William at St. Andrews in Scotland where they were both students. When they married in 2011, they became the Duke and Duchess of Cambridge.
As two commoners-turned-royals, Princess Catherine and Princess Mary must have a unique understanding of the other, resulting in a friendship that is enriched with the deep empathy that comes from sharing such life-changing experiences.
Catherine and Mary share a dedication to social issues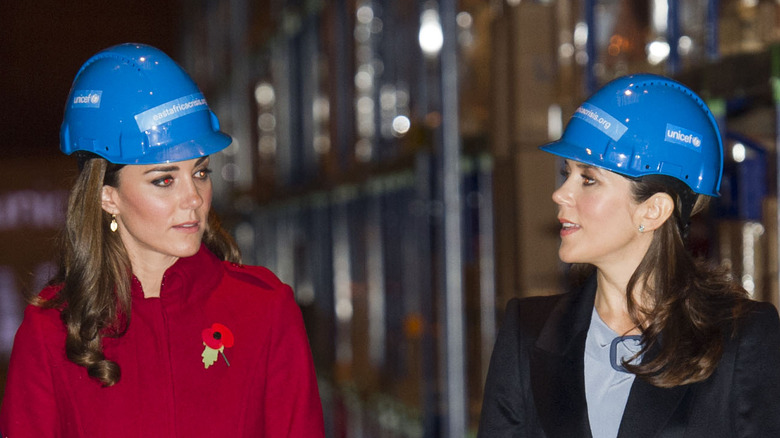 Wpa Pool/Getty Images
Not only do their fairy-tale love stories resemble each other, but Princess Catherine and Princess Mary both share a similar passion for charity work. Though they are individually involved in a variety of issues, they both seem to value the significance of early childhood development and choose to support efforts that provide resources to support the physical and mental health of children and those who take care of them.
Not only did Catherine found the Royal Foundation Centre for Early Childhood, but she also continues her own charity work by spending her time and resources to support child development organizations, the study of mental health, and helping people overcome addiction. Like Catherine, Princess Mary is heavily involved in a multitude of charities. According to The Daily Mail, Denmark's crown princess is a patron of some 25 international organizations and even started her own foundation dedicated to supporting women and children, The Mary Foundation, in 2007. 
It is likely that we'll see future collaborations between Princess Catherine, Princess Mary, and their respective charities (per Express). With this common passion, the two royals are likely to cross paths many times in the future.
They are fashion twins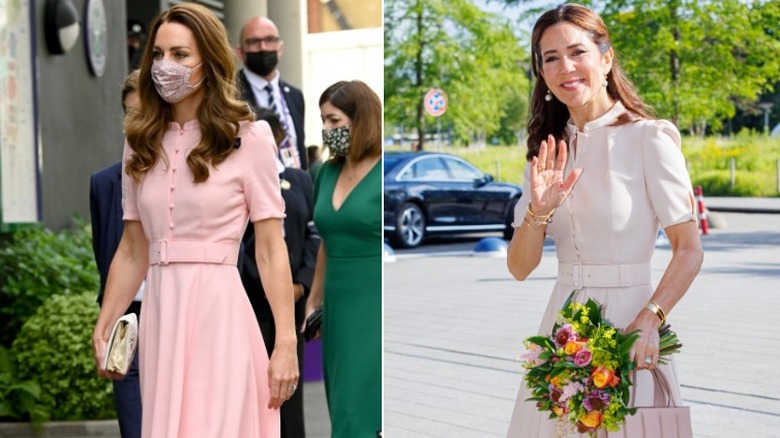 Karwai Tang & Patrick Van Katwijk/Getty
Not only does the path these two crown princesses took to royalty share a striking resemblance, but Princess Catherine and Princess Mary have captured global attention for the way they resemble each other in appearance. All throughout their years in the public eye, people have pointed out the similarities in the style of their hair, their taste in fashion, and even their faces! With this resemblance in mind, it is no surprise that both Catherine and Mary are adored by the public as fashion icons.
According to Vogue Australia, both Princess Catherine and Princess Mary "share a wry understanding of the relationship between fashion, image, and diplomacy." Their seemingly effortless ability to exude poise and elegance, while also staying relatable to those who admire them, has made these two royal women internationally beloved.
Both princesses share a love of designer Beulah, each owning several dresses designed by this London-based brand. However, it must be said that even when they wore the same dress, they brought their personal flavor to the look. Aside from owning matching dresses, Catherine and Mary have stepped out in looks that are quite reminiscent of each other. The simple yet beautiful style they seem to share has become the centerpiece of their public friendship.
They met when Catherine traveled to Denmark in 2011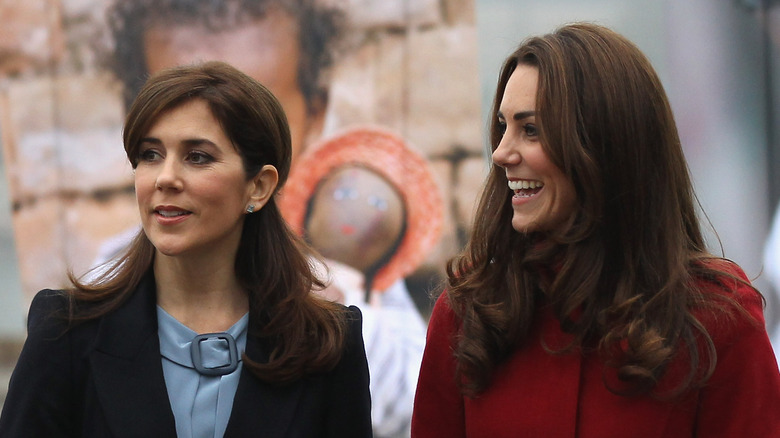 Jeff J Mitchell/Getty Images
The "royal twins" were first introduced to each other when Princess Catherine and Prince William traveled to Copenhagen, Denmark, in 2011 for a joint humanitarian effort with the Danish royals to support UNICEF (per Hello). Soon after Catherine and William landed, Princess Mary and her husband Crown Prince Frederik welcomed the British royals, and a friendship between Catherine and Mary began to blossom.
Both couples spent the day together as they learned about UNICEF's work in aiding communities suffering from a famine in East Africa. The region is near and dear to the hearts of Catherine and William, as they were engaged in Kenya just a year earlier. The royals began their exploration into famine relief by visiting a UNICEF center before heading back to the airport to tour an airplane that was scheduled to bring aid to East Africa.
Princess Mary and Prince Frederik accompanied the British royal couple throughout this important trip, bringing attention to the important efforts of UNICEF to relieve famine and malnutrition. Not only were Catherine and Mary noted for the way they visually complimented each other, but it was a significant step in their friendship as they were given the chance to bond over social issues. Not only was this trip important for their introduction to each other, but it allowed Catherine and Mary to discover their shared passion for humanitarian causes.
Princess Mary reunited with Princess Catherine in 2016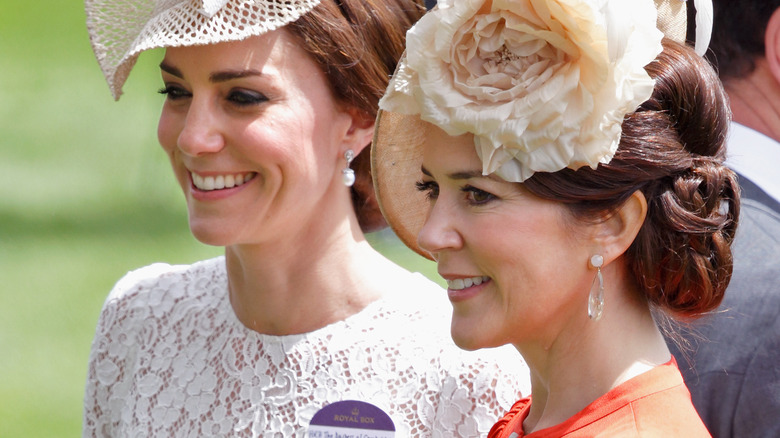 Max Mumby/indigo/Getty Images
Five years after their initial meeting, the two royal friends reunited in London when Princess Mary and Prince Frederik attended the Royal Ascot with Catherine and William in 2016. Attending the races held at the Royal Ascot has been a significant event in the British social calendar for the 300 years since it was founded by Queen Anne. In 2016, this iconic event represented the perfect setting for a royal reunion of friends.
During this public appearance, Princess Catherine and Princess Mary were noted for their resemblance to each other. Many said they could be sisters! With their dark hair pulled back beneath beautiful fascinators, the two royals were equally striking. It seemed as if their dresses were the only difference between the two, as Catherine stunned in a white Dolce & Gabbana dress and Mary shone in an orange dress by Marc Jacobs.
The "royal twins" were not only noticed for their striking similarities in appearance but were also noted for how they engaged in lively conversation and seemed to light up around each other.
Princess Catherine visited Princess Mary on a solo trip in 2022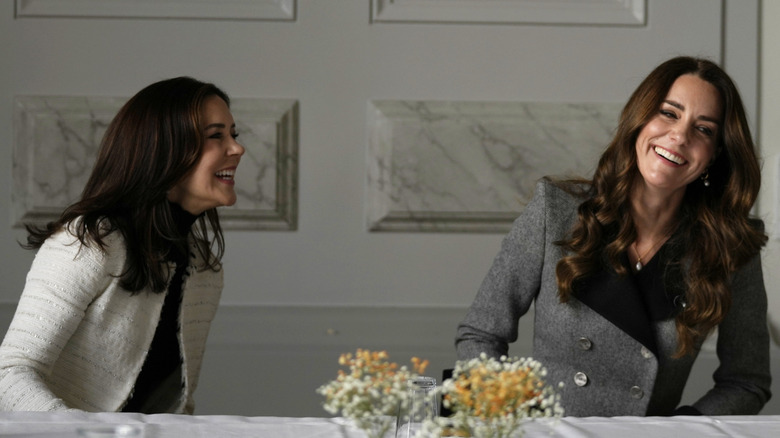 Pool/Getty Images
The next time Catherine and Mary would see each other was when Catherine traveled to Copenhagen in February 2022. In Catherine's first overseas solo trip since her 2017 visit to Luxembourg, the Princess of Wales traveled to Denmark to expand her work with the Centre for Early Childhood by visiting and learning from organizations dedicated to women and children.
The list of organizations Catherine met with included Mary's charity, The Mary Foundation, which supports vulnerable women and children. During her two-day trip, Catherine met with Mary to discuss each other's work — and also probably catch up. 
In addition, Princess Catherine's trip to Denmark honored the jubilees of two reigning queens. Not only was 2022 the year that Queen Elizabeth celebrated her Platinum Jubilee, but Queen Margrethe, who is third cousin to Queen Elizabeth, was celebrating her Golden Jubilee. While she was visiting with Queen Margrethe, Catherine went viral for her "Princess Shuffle," in which she shuffled her feet to subtly get closer to the queen during a photo-op. This viral moment highlights Catherine's popularity with the public, a popularity that Princess Mary also unsurprisingly shares.
Both of their sons are heirs to the throne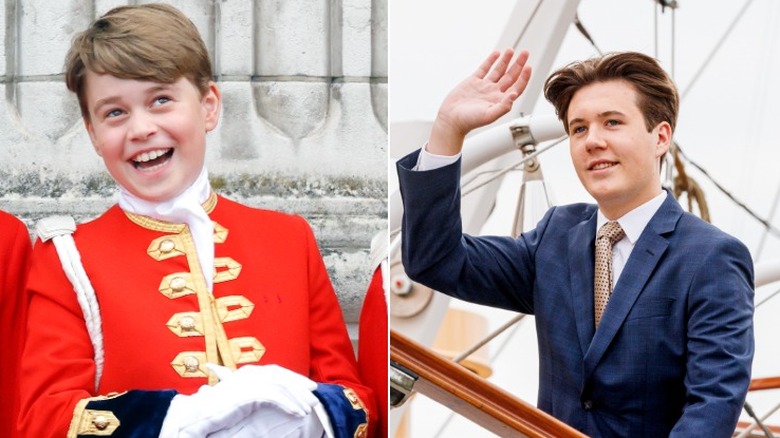 Patrick Van Katwijk & Max Mumby/indigo/Getty
Another similarity that bonds the two princesses is the responsibility of raising a future king. Not only have they both married a crown prince, making them future queens, but they have to raise the next generations of royals as well. Catherine's oldest child, Prince George, will inherit the throne after his father and future king, Prince William. Likewise, Mary's oldest, Prince Christian, will become king after his father, Prince Frederik.
According to People, there is an unmistakable pressure on Princess Catherine to behave perfectly not only in front of the public eye but behind closed doors as well. This pressure is undoubtedly felt by Princess Mary as well, though her situation is even more unique as she will be the queen of a country she was not born into.
Although Prince Christian of Denmark is almost eight years older than Prince George, both princes are being raised by mothers who take their role seriously. A source told Us Weekly, "Kate and William go out of their way to keep the kids grounded. While the kids know there's something special about them, they're not spoiled." As mothers to the future kings of their countries, Catherine and Mary share a uniquely challenging responsibility.
They share similar parenting styles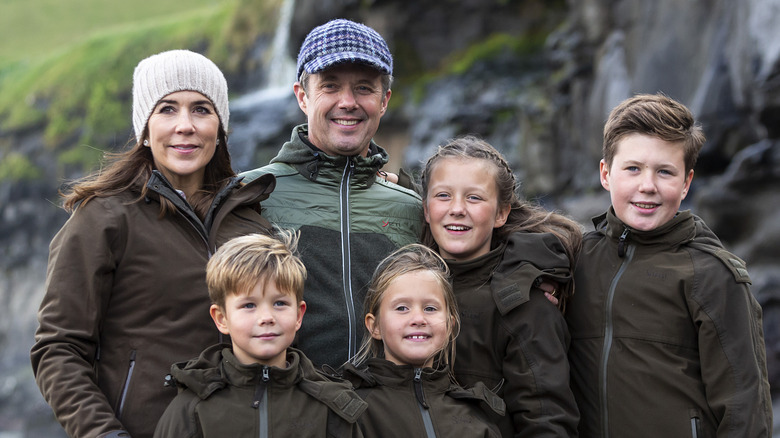 Ole Jensen/Getty Images
The similarities between these two royals only continue when you look at the way they parent their other children. According to a parenting expert who spoke to Express, Catherine and Mary both seem to parent their children with a dedication that resembles each other. As mentioned earlier, they are both raising heirs to the throne. But what about Catherine's two and Mary's three other children? Parenting expert Jo Mitchelhill said, "The other children who are the 'spares' may be allowed more freedom of expression and the opportunities to follow their own interests and develop as a person and not an heir."
Family values, athleticism, and dedication are ideas that Catherine and Mary appear to value and pass on to their children — whether they will inherit the crown or not. According to expert Mitchelhill, Mary's Australian roots will help her emphasize athleticism, freedom, and hard work when parenting her children. Likewise, there is no doubt that Catherine is quite athletic, so it is safe to assume that she will pass on similar values as she raises her family.
Sometimes, it's hard to believe these royal twins are two entirely different people!
They have both experienced public rifts in their royal families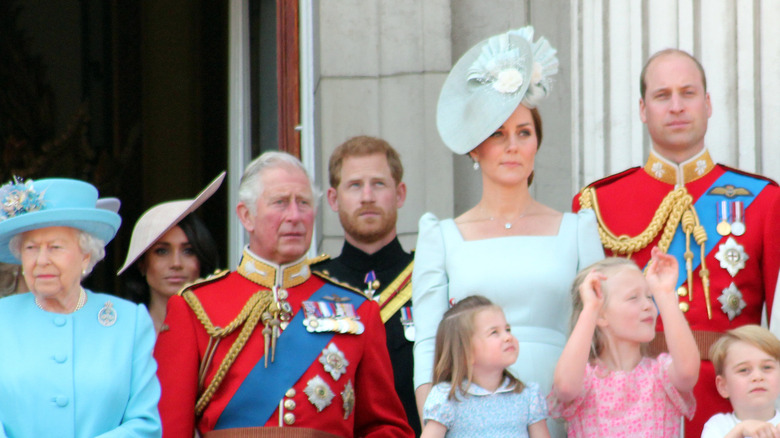 Lorna Roberts/Shutterstock
The list of experiences shared by Catherine and Mary extends to the high visibility of their own family drama. Talk of a tense feud between Catherine's husband Prince William and his younger brother Prince Harry has been a common story in the media and on people's minds for the last few years. Much of this tension seems to concern Harry's wife, Meghan Markle, and their children. Archie and Lilibet, though grandchildren of King Charles III, only recently received the titles of prince and princess and are now listed in the line of succession by The Royal Household. This and additional tension likely contributed to Harry and Meghan's decision to step back from royal life and move to California.
Just as Catherine and William have received public attention for their family drama, Princess Mary and her husband Frederik found themselves in the spotlight when the Danish royal family had drama of their own. Denmark made global news when Queen Margrethe decided to strip some of her grandchildren of their titles. This decision only affected the titles of her younger son Prince Joachim's children, leaving Princess Mary's brother-in-law publicly unhappy. Like Harry, Prince Joachim announced he was moving his family to America (via Instagram). 
With yet another unique, although challenging, experience that they can relate to, the friendship between Princess Catherine and Princess Mary undoubtedly has developed another layer of empathy and understanding.
Mary supported the British royal family at King Charles III's coronation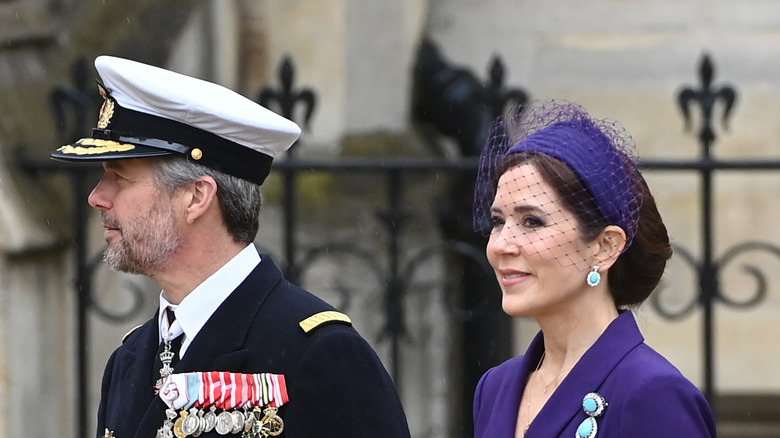 Stuart C. Wilson/Getty Images
Because of their demanding and busy schedules, it is no surprise that Princess Catherine and Princess Mary have a limited amount of time to meet. However, the times in which they can support each other are meaningful. Despite the extremely limited number of guests invited to the coronation of King Charles III and Camilla, queen consort, Princess Mary and Prince Frederik of Denmark attended the historic event in May 2023. While many others missed out on the occasion, the Danish royals received a coveted invitation, signaling their significance to the British royal family.
Princess Mary arrived in a beautiful purple dress that exuded regality, showing her support for the British royal family on an important day. Though she and Catherine were not able to have a personal reunion during the busy day, they were seen together at a royal reception the day before, per People.
The bond between the Danish and British royals has been significant to history and seems to continue today with the friendship between the princesses (and future queens).